If you made the investment to purchase a stunning leather bag, we can only guess how happy you are with your purchase. Whether you take your leather bag everywhere with you or just save it for special occasions, cleaning it regularly is an important part of maintaining its brilliant appearance and keeping the leather healthy. Leather is a unique material, and your go-to cleaning methods may not be the best fit for your prized leather bag. Read on to learn how to clean leather bag properly to protect your investment.
How often should I clean a leather bag?
If you want to keep your bag looking its best and help ensure that the leather stays in excellent condition, it is recommended to clean leather women's wallets and bags about once a month.
Women's Wallet
How to Clean Leather Bag at Home
Follow the steps outlined below when cleaning leather handbag.
Empty the Contents of the Bag
Before attempting to clean leather bags, it is important to make sure they are empty. Remove any wallets, journals, or other belongings from the bag. Take care to open each pocket and remove any small items, such as trash or crumbs, that could be hiding. Turning the bag upside down to shake it out can help make sure anything loose comes out.
Use a Lint Roller to Clean Interior
The next step when you're trying to figure out how to clean patent leather bag or other types of leather bags is to use a lint roller to remove any loose debris left in the interior of the bag. Even after shaking out the bag, there are likely smaller pieces of debris left that will stick to a lint roller.
Wipe the Bag Down
Next, fill a small bowl about half way with warm water. Then, add in a few drops of leather soap and stir the cleaning solution. Whether you're looking for how to clean a white leather bag or a brown leather bag, you'll want to use a soft white damp cloth to wipe the bag down with the solution. Avoid any colored cloths as their dyes could transfer to the bag.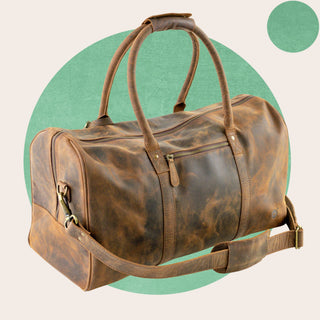 Leather Duffle Bag
Buff the Bag with a White Cloth
After wiping down the entire leather solution, grab a clean and dry cloth (again, use only white). Use this soft cloth to buff the bag dry. As the bag begins to dry, you should notice that the leather begins to appear shiner.
Refresh the Hardware
If you want to know how to clean Coach leather bag or any other bags with metal hardware, the next step is to use a cotton swab and a metal polish to refresh the look of the hardware. After applying the polish with the swab, buff the tarnish away using a clean white soft cloth. Take care to work gently so you don't cause any of the metal to flake off. You also want to make sure that none of the metal polish gets on the leather itself, as it could discolor it.
Apply Leather Conditioner
As you're thinking about how to clean a leather purse, the final step is to apply a leather conditioner. Cleaning leather with water can pull out moisture and leave the bag prone to cracking. Leather conditioner will help restore this moisture, keep the leather soft, and help extend its lifespan.
Removing Stains from Leather Bags
Treating stains on leather bags promptly is the best way to keep the stain from setting into your bag. If your leather bag is unfinished (drops of water sprinkled on the bag are absorbed into the leather), then it will require professional cleaning. 

You should be able to carefully remove stains on finished leather bags at home yourself. The right stain treatment will vary based on the nature of the stain. Look at the tips below to choose the best cleaning products for ink, wine, and oil or grease stains.
Leather Messenger Bag
Ink stains: Apply a small amount of isopropyl alcohol to the stain using a cotton swab. Blot the stain using a clean white cloth until it lifts from the bag. Then, use a second white cloth to continue dabbing the spot until it dries. You may need to repeat these steps for more stubborn stains.


Wine stains: To remove wine stains from your leather bag, create a paste by combining equal parts lemon juice and cream of tartar. Apply the paste directly on the stain and leave it to sit for about 10 minutes. Use a clean white cloth to wipe the paste away. Most of the wine stain should be wiped off with the paste, but if not, you can repeat the steps again. After removing the stain, let the leather bag dry completely.


Oil and grease stains: Baking soda, cornstarch, and talcum powder can all be helpful when removing oil or grease stains from leather. Sprinkle the powder of your choice over the stain and leave it to sit overnight. The following morning, use a soft bristled brush to remove the powder and the stain. Repeat if needed.
Keep Your Treasured Leather Bags Clean
Regular cleaning of your leather bag will help extend the lifespan of your bag. Working quickly to remove stains will protect the leather finish and help it maintain its beautiful appearance. Now that you've read our tips for cleaning leather bags, do you feel ready to give your patent leather purse or leather messenger bag the TLC it needs and deserves?
FAQs
What is the best way to clean a leather bag?
The best way to clean a leather bag is to gently wipe down the leather using warm water and a few drops of leather soap. When cleaning leather, always use a soft white cloth to prevent any colored dyes from transferring to your bag. After cleaning the bag, use a second dry white cloth to buff and dry the leather. Then, finish up with a leather conditioner to restore moisture and keep the leather supple and crack-free.
Can I wash a leather bag?
You cannot wash leather bags in the washing machine or by submerging them in water. Rather, use a clean and soft white cloth with warm water and a few drops of leather soap to wipe down the bag.
Leather Hanging Toiletry Bag
How do you clean genuine leather?
To clean genuine leather, begin by removing any loose dirt or debris. Then, mix warm water and a couple of drops of leather soap. Dip a clean white cloth in the soapy water and wring out the excess water. Use the cloth to wipe down the bag. Then, buff the bag dry with a second clean white cloth. If there are stains on the genuine leather, choose the right cleaning product based on the type of stain: rubbing alcohol for ink stains, baking soda for grease stains, and lemon juice mixed with cream of tartar for wine stains. If your bag has any small tears, you may be able to find an adhesive at fabric and craft stores that will help.