Got some nasty stains on your most recent leather purchase? Can you wash leather? Are there rules and regulations for these things? Or, can you just do what you like?
All this and more today, as we explore some of the dos and don'ts around washing leather, as well as exhibiting for you in detail the process of hand-washing leather yourself.
Well, Can You?
Apparently not, at least not in the sense that you are thinking of. Maybe you have used soap and water yourself in the past to simply rid your leather jacket (or leather jackets, as the case may be) of any scuff marks and the like.
Research has shown that long-term use of soap and water can rid the leather of its natural smoothness and, eventually, the color altogether. Indeed, it can also make the leather more permeable - i.e. can introduce a whole bunch of holes into the material that was not there previously.
This is to say nothing of putting your leather garments in a machine wash. To machine wash leather really is to do it a grave disservice.
Sure, leather is an incredibly durable material. As well as being both comfortable and practical, they can last a long time, with a patina that ages with you like a fine wine. However, despite how durable they might seem, machine washing is a strict no-no, unless you want it to look like distressed leather.
This goes for leather clothing and leather duffle bags, and anything else made of leather that you can think of off the top of your head. The trick to making your leather clothes and leather garment of choice last longer is not to get rid of all the scuff marks straight away with soap. If you are thinking of washing leather, you have to do it smartly.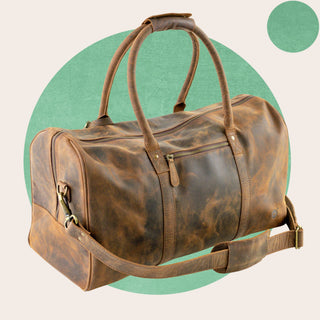 Leather Duffle Bag
Hopefully, we have been able to impart to you the fact that washing leather items is a serious business. If you are going to do it yourself, you at least need a microfiber cloth, leather conditioner, as well as other leather cleaning products.
The trick, though, is to know when you are in over your head and, thus, to know when to turn to professional help.
Hand-Washing Leather
So, if you are going to risk taking on the task yourself, here are the steps to follow to ensure that you do not destroy your leather items.
Fill a washtub or your basin with a solution of warm water and a small amount of cleaning fluid - if you do not have any cleaning solution specifically for leather then use a small amount of baby soap at your own risk. Some sources suggest that you can also use a fabric softener or an otherwise very mild soap, though laundry detergent is to be avoided at all costs.
Place the item of leather into the washing area and move it around gently so that the soap can do its work and flow through the item. Then, leave it to soak for around 10 minutes.
Once the 10 minutes have elapsed, take out the item and squeeze it gently to remove the water. Ensure that you do not twist or wring it out, lest you cause the garment to crease or wrinkle at a later stage.
Place the leather item on a clean and dry towel which will best absorb this extra moisture. Leave to dry in this way at room temperature away from direct sunlight or any other heat source that might affect the drying process.
Barring suede, most other leathers can be further protected with a leather conditioner after every wash. Apply with a damp microfiber cloth and allow to sit and condition the leather for the time specified on the bottle.
Needless to say, hand-washing leather in this way makes for a far gentler experience on the part of the leather item itself. You have full control over how gentle the process is, the temperature of the water, how many solutions you use, etc. If you are looking for a more specific tutorial, then try learning how to clean a leather bag at home today!
Leather Messenger Bag
Last Words
So, there you have it! Hopefully, you are now feeling better equipped to understand your leather item. Given how much you love it, do not be too harsh on your leather, lest you kill it too young.
FAQs Can You Wash Leather
Does leather get ruined in the wash?
This will depend on the severity of the washing process. Certainly, without enough care and attention, a leather item could easily be mangled by a washing machine, for example. In such instances, it may as well stay at the bottom of the mesh laundry bag where the rest of your laundry goes. If you are gentle enough, though, leather can easily be washed and given a new lease of life.
Can you wash leather with soap and water?
You will only want to clean leather with soap and water if it is to remove a small stain from the surface. This is very often the case, say, for a leather jacket, or a sofa. In these instances, dip a clean and damp cloth into some warm and soapy water and use it to gently wipe away the stain on the leather. In such circumstances, it is best to use a soap specifically designed for leather, though if circumstances do not permit it, you can just as well use some you have around the house. Do so at your own risk, though.
How do you clean genuine leather?
This will depend on who you ask and what specific leather item you are cleaning. Old wives will tell you that you can just as well clean, say, a leather sofa with a 50/50 solution of vinegar and water applied with a microfiber cloth. This might work for a sofa, but for some leathers, this might prove fatal. Proceed with caution and use your own judgment. You might even be able to use soapy water to get the job done, though make sure to use products specifically designed for leather as often as possible.
Can I wash a leather bag in the washing machine?
Sure, you can, but you are best advised not to do so. Over time, leather softens and will mold to your shape. Washing leather in a machine accelerates this process of softening rapidly, leaving you with a limp hunk of leather that is frankly good for nothing. It might be possible to wash a leather bag in a washing machine, granted that you would need to do so at an incredibly low temperature. Still, it is best to clean anything made from leather by hand so that you can control each part of the process and be as gentle as needed.