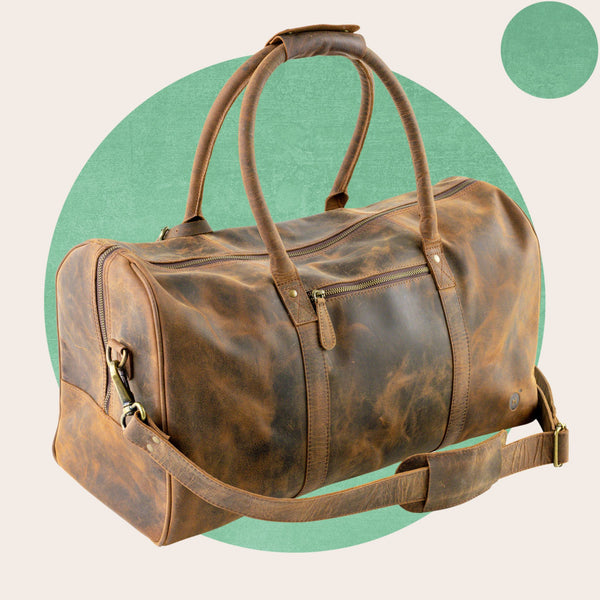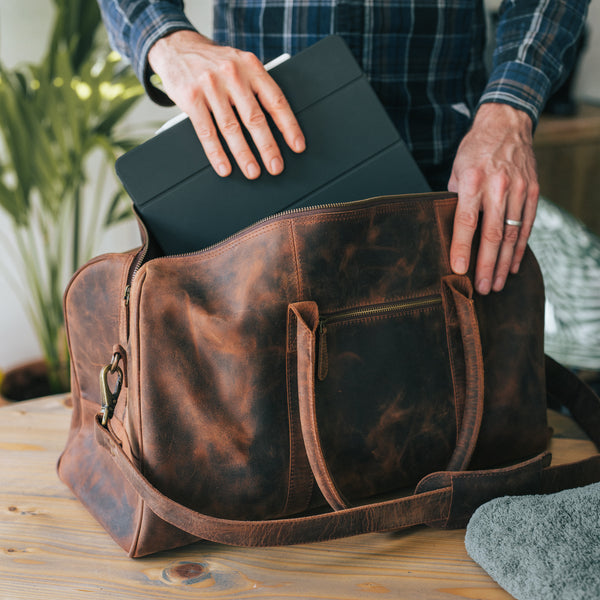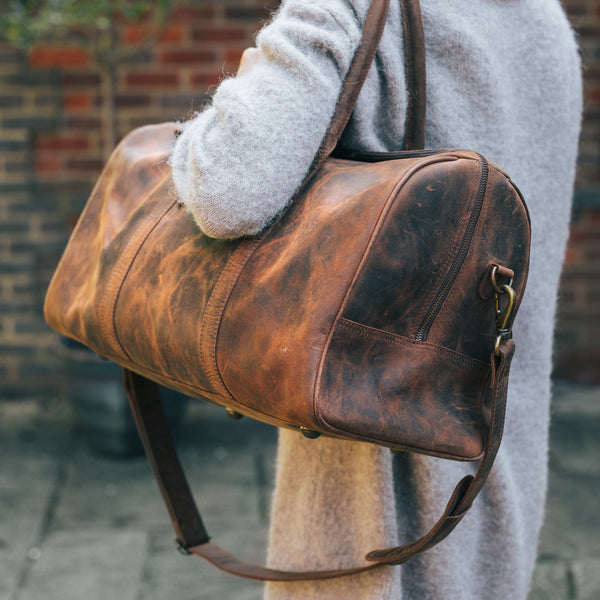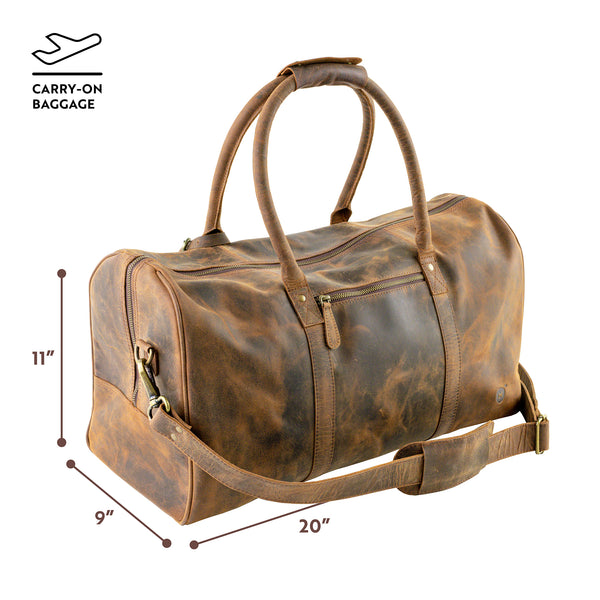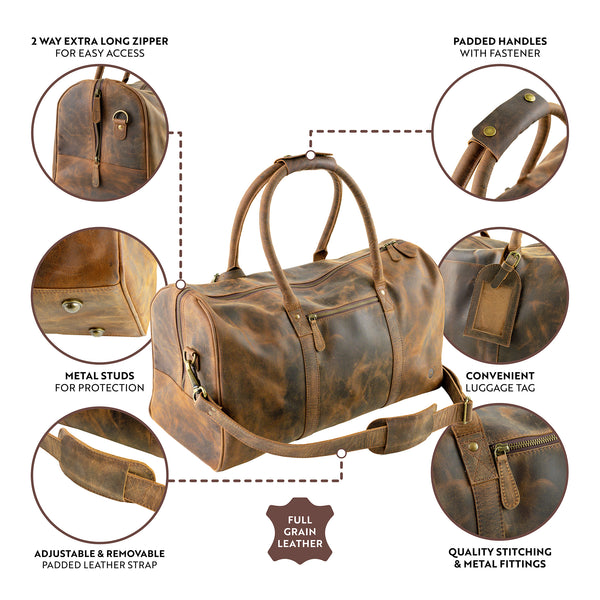 WHEN IT COMES TO DUFFLE BAGS YOU NEED QUALITY YOU CAN TRUST
Moonster Leather Duffle Bags are made with durable, quality materials from its high-grade leather to its expert stitching and smooth, durable zippers to its secure, comfortable straps. Every detail of our men's leather duffle bag is made for the ultimate in luxury without compromising on strength.

A LARGE LEATHER TRAVEL BAG DESIGNED WITH ORGANIZATION IN MIND
Our Large Leather Duffle Bag features:
Double Zipped Main Compartment
ON SIDES: 1 Open Pocket, 1 Zipped Pocket
INSIDE: 1 Large Zipped Pocket, 1 Small Zipped Pocket, 1 Phone Pocket, 2 Pen Holders
Double Leather Handles that can be buttoned together
Padded, Detachable Shoulder Strap
Leather Luggage Tag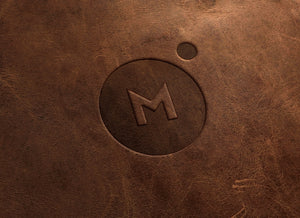 At Moonster, our women & mens weekender travel bag is masterfully handcrafted with genuine, full-grain buffalo leather from India.
From weekend getaways to everyday work, the 20" long x 11" high x 9" wide Moonster Leather Duffle Bag is designed to keep you organized anywhere in the world life takes you.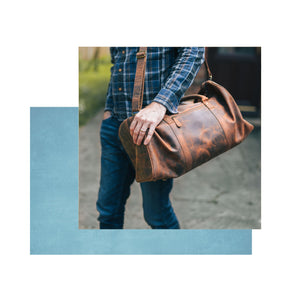 TRAVEL IN RUSTIC STYLE WITH OUR GENUINE BUFFALO LEATHER DUFFLE BAG
There's nothing as luxurious as a supple leather travel bag with that classic, leather scent. Stiff, chemical-smelling alternatives just can't compare. At Moonster, every duffle bag is masterfully handcrafted by local artisans using the finest quality genuine, full-grain buffalo leather from India.
Our distressed duffle bag is an ode to vintage style with the soft yet durable feel and expert, lasting craftsmanship you expect of modern luggage.
QUALITY YOU CAN TRUST
When it comes to transporting your valuables, you need a dependable duffle bag, with zippers that don't stick and straps that won't break. That's why we expertly handcrafted each detail of our leather duffle bag for the ultimate in luxury without compromising on durability.
Smooth and secure zippers, expert stitching, strong straps, and reliable leather make the Moonster Travel Bag your trusted companion for your day-to-day life and your next great adventure.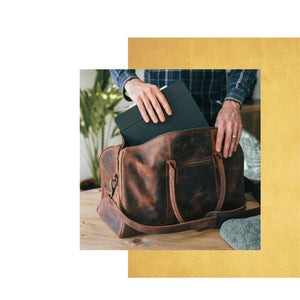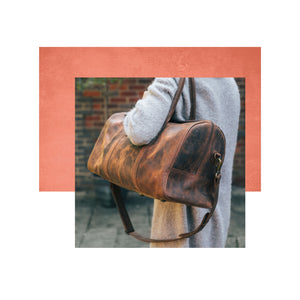 DESIGNED FOR IDEAL ORGANIZATION
Our Leather Duffle Bag features 1 open pocket and 1 zipped pocket, double zipped main compartment, 1 large and 1 small zipped interior pocket, 1 phone pocket, 2 pen holders, leather luggage tag, double leather handles with buttons, and a padded, detachable shoulder strap. At 20" L x 11" H x 9" W, our leather duffle bag for women is the perfect size for workdays or your next weekend getaway.

The Moonster Leather duffle bag
This spacious leather duffle bag is the perfect carry-on for a weekend getaway or short business trip. Its hardy construction and large interior will keep all your essentials secure, so you can focus on making the most of your travels. It also makes an ideal gym or overnight bag. What sets our leather duffle bags apart is how they are made as well as the high-quality materials we use.
100% genuine leather
Built to last a lifetime, our full-grain buffalo leather duffle bag is the perfect carry-on piece for a weekend away. Whether your trip requires you to pack lightly or your suitcase is already filled to the brim, this bag has what it takes to stand up to lots of knocks and wear and tear whilst keeping your luggage safe. Our 100% genuine leather is sourced from ethical tanneries based in India. Our ethical practices also mean we treat all of our employees like family, no matter where they are in the supply chain.
Main features of the leather duffle bag
This leather duffle bag is really supple, so you'll be able to store everything you need inside easily. The duffle's main feature is its versatile strap configuration, which enables you to carry it on your shoulder or across your body, allowing for complete flexibility. When an adventure calls for an all-weather bag that can withstand a harsh climate, moisture-resistant leather, and metal zipper details are just two welcome features that will keep your gear safe and secure.
Some of the main features of our leather duffle bag include:
Durable zippers
A multitude of compartments
Phone pockets
Pen holders
Double leather handles
Padded straps
A detachable shoulder strap
A leather luggage tag
Multipurpose
This bag is ideal for a variety of uses. It can be used as an overnight bag, a sports bag, a carry-on bag, or a business trip bag. The leather material and the large central compartment allow you to store clothes, shoes, and accessories in an organized way. The interior pockets keep your belongings safely within reach as well, and because of its sleek and stylish design, traveling light has never looked so good!
The perfect gift
Our leather duffle bag is everything you need for your next big adventure. With a vintage look and handcrafted design, this leather bag is the perfect gift for someone who travels a lot, whether for business or leisure. As this vintage bag ages, it will slowly develop a deeper and richer patina, adding even more character to the bag and it's guaranteed to last a lifetime.
About us
Our leather duffle bags are in a league of their own. We believe that every detail counts, and this is evident when you see our incredible products. The leather is soft, yet sturdy and sleek, crafted with a beautiful hand stitch ensuring each item has a unique look.
We merged our skills to create products that are simple, customizable, and perfectly crafted with quality materials. Each Moonster item is carefully handcrafted using only premium materials and craftsmanship, with an emphasis on design, quality, and longevity. Also, because we're committed to giving back to our community, we donate 5% of the profits from each sale to charity organizations. At Moonster, we believe that everyone deserves a quality product that is both ethically produced and sustainably sourced. By designing, sourcing, and creating the highest quality ethical goods, we can provide the genuine and reliable service that our customers value.