Have you always wondered what patina leather is? Perhaps you've heard the term and know that it has something to do with leather aging, but don't really understand what makes patina leather goods so special. Patina leather goods come from items made of the highest grade of leather. Read on to learn more about patina leather and whether it is the right fit for your leather collection.
What is a patina on leather?
So, what is patina on leather? Let's take a brief step back before answering this question and discuss what patina means. Patina is a term that indicates changes to the surface of a material. These changes are caused by the material being exposed to the elements (rain, sunlight, wind, etc.) and natural aging. 

Leather is far from the only material that can develop a patina. Wood, metals such as brass and copper, stones, and other materials can develop a patina. If you've ever seen the Statue of Liberty, you've seen a patina.

Today, Lady Liberty has a green coating. However, when France first gifted the copper statue to the United States, she was reddish-brown in color. As the air and water reacted to the copper, it oxidized. The patina we see today helps to protect the copper metal that sits below it.
High quality leather products will develop a patina over time. It is part of the natural leather aging process and occurs gradually as leather is exposed to the elements and body oils. The appearance and texture of patina leather is different from when it is new. The leather is even more supple than when first purchased, the colors may be deeper, and there is a bit of a visible sheen. However, because the environment and aging process varies for each piece of leather, each patina is unique.
Leather Portfolio
Why is patina leather popular?
Aged leather is quite popular with many consumers. If you've ever owned patina leather goods or seen them up close, you probably know why it is so highly sought after.

Here are a few reasons that a patina leather bag, leather wallet, or other goods like leather portfolios are so desirable:
Appearance: Patina leather has a unique and timeless look. It can give a leather bag an attractive vintage appearance. While all high quality leather items are beautiful, there is something absolute stunning about the natural imperfections, deep colors, and texture of patina leather.
Top-quality leather: Because only high quality leather forms a patina (we'll get into this in more detail below), it goes without saying that patina leather goods are made using high grade leather. This type of leather is not only the best quality, but it is also the most expensive. As these high quality leather goods age, they soften and develop a natural protective layer.
Uniqueness: Each piece of leather will age in its own unique way. The ways the piece is used and its exposure to the elements will impact the patina and specific markings that develop. For example, how much direct sunlight or exposure to rain an item gets or where it is scratched or rubbed by different items will impact the patina. 
Which types of leather form a patina?
As we mentioned above, not all types of leather will form a leather patina. Only the two highest grades of leather—full grain leather and top grain leather—will form a patina. However, the patina that forms on top grain leather will be less distinct than what forms on full grain leather. 

Corrected grain leather and genuine leather, the two other types of leather, will not form a patina. Yet another reason why these lower quality leathers are less desirable than their higher quality counterparts.

The tanning method used when manufacturing leather will also impact the darker patches and whether the leather will develop a patina. Chrome tanned leather doesn't tend to develop a patina, but vegetable tanned leather does.
How to Form a Leather Patina Faster
The natural aging process and length of time it takes until a patina develops can vary based on numerous factors. In some cases, it could take just a few weeks, while in others it may take several months or more.

If you love the look of patina leather and want to speed up the patina, there are a few things you can do to facilitate the natural leather aging process. The most important thing you can do is to use your leather good (e.g wallets, bags, or leather folders).

Leather is a durable material that is meant to be used. Don't be afraid to carry your leather duffle bag with you every day, exposing it to different elements, such as direct sunlight and splash marks. Doing so will help age your leather much faster than would happen if you left that leather bag sitting in a dust cover on a shelf in your closet. 
How to Slow Down Aging Leather?
Do you want to slow the rate at which leather ages? While many people love the end result of the patina process, some prefer to keep their leather goods looking like new. While you can't completely prevent a patina from developing because it is part of the natural aging process, there are a few things you can do to slow it down a bit.

A few things you can do include:
Applying leather conditioner with a soft cloth on a regular basis
Using a waterproofing spray
Taking care when handling your leather pieces
Trying not to expose your leather goods to direct sunlight or rainy weather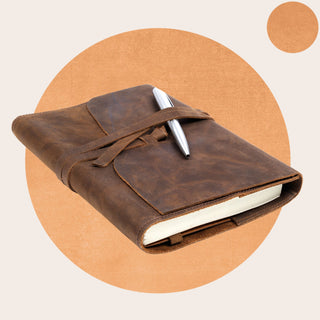 Refillable Classic Journal (Blank)
Leather Patina: Closing Thoughts
Leather patina refers to high-quality full-grain or top grain leather that has aged and developed an enhanced texture and sheen. Patina leather is popular among consumers because of its attractive vintage look, high quality craftsmanship, and unique patterns and markings. What do you think? Do you want to add some patina leather goods to your collection?
FAQs
What is aging of leather?
Aged high-quality leather is referred to as patina leather. Patina leather has a unique appearance, subtle feel, slight sheen, and vintage look that make it highly desirable for many individuals.
How long does it take for leather to age?
The length of time it takes for leather to age can vary from piece to piece, depending on a multitude of factors, including frequency of use and exposure to the elements.
Does leather look better with age?
High quality full grain and top grain leather will look even better with age as a patina develops.
Is patina on leather good?
Yes, patina on leather is an indication that the leather in question is made from one of the highest grades of leather—full grain or top grain.