Have you heard that Crazy Horse leather messenger bags, saddles, and other leather goods are among the highest quality options out there? Are you interested in learning more about this special kind of leather and what makes it so unique? If so, you're in the right place. Today, we're going to take a look at Crazy Horse leather and learn more about how it is made and why it is such a durable leather product.
What is Crazy Horse Leather
So, what is Crazy Horse leather? Crazy Horse leather is a full grain leather made from cowhide. Many people are even more confused by this because they assume it is a type of leather horse. However, the "horse" in the name actually comes from the fact that Crazy Horse leather is traditionally used as saddle leather. The word "Crazy" refers to how crazy durable and strong the leather is compared to other materials. 

As the highest quality leather, Crazy Horse leather is full grain leather. Compared to other types of leather, such as top grain leather or corrected grain leather, full grain leather is seen as the crème de la crème. It is durable, weather-resistant, long-lasting, and offers a gorgeous vintage appearance.
How is Crazy Horse leather made?
Once you learn more about how Crazy Horse leather is made, you'll understand what makes this material so unique. Making Crazy Horse leather begins with a rich full grain cowhide. Beyond the hair, nothing else is removed from the cowhide. Experienced leather craftsmen apply natural wax to the cowhide. This special wax coating helps improve the look and feel of the leather, making it sleek and polished. Moreover, the wax also helps to make it a water resistant leather.
Crazy Horse leather has a very unique appearance because of the way the fibers in the leather respond to the wax. With its durability and weather resistance, Crazy Horse leather can last a lot longer than other leather pieces.
Why is Crazy Horse leather special?
So, what makes Crazy Horse leather so special? We touched on a few reasons above, but here is a more comprehensive list of why Crazy Horse boots, jackets, saddles, and other items are such a good investment:
Crazy Horse leather is water and weather resistant.
It is extremely durable and long-lasting.
The special wax coating makes Crazy Horse leather able to withstand damage from insects, sunlight, fungus, and other causes.
Each piece of Crazy Horse leather is unique. The individual scratches in the leather help contribute to the natural beauty of the items.
Crazy Horse provides a gorgeous, and timeless vintage look that will add style and charm to any wardrobe or home.
Crazy Horse Leather Care
Crazy Horse leather is an investment, so you'll want to make sure that you take good care of your leather goods: shoes, leather pencil cases, jackets, or leather duffle bags. While Crazy Horse leather is much more durable and long-lasting than other types of leather, that will only remain true if it is given proper care.

Below are a few pointers that can help you give your Crazy Horse leather the care it needs to protect your investment and keep your leather items looking their best: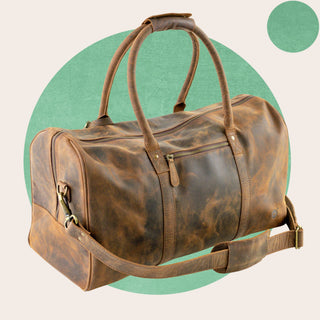 Leather Duffle Bag
Dry Quickly if Wet
Even though Crazy Horse leather is water resistant, you'll keep your items looking their best if they stay dry. In the event that your Crazy Horse leather does get wet, don't panic. Just work quickly to wipe off any excess water with a soft cloth. Do not use a blow dryer to dry the spot, just let it air dry after you have soaked up as much water as you can. Always follow up with a leather conditioner after the spot has fully dried.
Regular Cleaning 
To keep Crazy Horse leather looking its best, it should be cleaned on a regular basis. The best thing to clean Crazy Horse leather with is mild dish soap and warm water. Harsher cleaners, even those designed for leather, may have a negative impact on the color or texture of Crazy Horse leather 

To clean a Crazy Horse leather product, mix a few drops of dish soap with warm water. Using a soft microfiber cloth, gently rub the solution over the entire surface to remove dust or light stains. After cleaning, let the leather dry fully, and then follow up with a leather conditioner.
Stain Removal
Crazy Horse leather can stain a bit more easily than other types of leather. While this may seem like a huge problem, it really isn't too difficult to remove stains from Crazy Horse leather. If anything spills on your goods (whether it's your favorite jacket, a journal or a leather photo album), or you notice a stain, it is important to act quickly to clean them up. When spills are cleaned up right away, it is more likely to leave behind a stubborn stain.

To remove stains from your items, gently rub some warm water over the affected area using a soft cloth. If plain water isn't sufficient, mix in one or two drops of mild dish soap. Once the stain has been removed, allow the Crazy Horse leather to dry fully. Then, finish up with a leather conditioner the following day.
Photo Album
Conditioning
Any time you clean your Crazy Horse leather, you should apply a leather conditioner (after the product has fully dried). Conditioning after cleaning is essential because the cleaning process can remove some of the natural oils in the leather. This can cause it to dry out or become stiff.

Applying a good leather conditioner helps moisturize the leather and leaves it supple. Aim to condition Crazy Horse leather about four times each year, or more frequently depending on use and climate.
Storage
Never store Crazy Horse leather until it has had a chance to fully dry. Once dry, you can store your items in a well-ventilated space that is dry and cool.
Try Crazy Horse Leather
Now that you've learned more about this special kind of leather, do you think you're ready to try some unique Crazy Horse leather pieces? Perhaps a new Crazy Horse leather bag or shoes? Crazy Horse leather is such a top quality leather that we're confident you'll be happy in your decision to give it a try!
FAQs
Can Crazy Horse leather get wet?
While Crazy Horse leather is a type of weather resistant leather, it is still best to try to keep it dry. However, if it does get wet, it shouldn't be the end of the world. Simply dry Crazy Horse leather with a soft, dry cloth if it gets splashed or rained on.
Which tannery makes Crazy Horse leather?
Various tanneries make Crazy Horse leather. The individuals who craft Crazy Horse leather must be skilled and experienced.