If you have an upcoming trip, whether for business or fun, you may be on a quest to find the best travel bag. You want to find a bag that will hold all of your travel essentials, keep them safe and organized, and be easy to carry and maneuver through the airport and other locations. So, which bag should you pick? Continue reading, and we'll help you learn more about the different types of travel bags. We'll also share some tips to help you focus your search to select the right bag that matches your specific criteria.
Different Types of Luggage and Bags
When you're looking for a new travel bag, there are a wide range of bag types to consider. The first thing you'll want to do is to decide which category best matches what you're looking for. In the next few sections, you can learn more about the general characteristics and properties of each bag type to help make this decision a little easier.
Rolling Luggage and Bags
The first category of travel bags is rolling suitcases and bags. These bags include spinner wheels and a handle that make them easier to pull along as you walk through an airport or another location. Rolling bags are available in several sizes—some of which are small enough to carry on a plane, while others are larger with multiple compartments to help you keep dirty clothes separated.
Rolling bags are also a good choice if you want to use packing cubes to organize your clothes for your trip. If you're looking for the best travel bag for women or men, a rolling suitcase or rolling duffle bag may be the right choice if you're going on a business trip, visiting family, or staying in a hotel for an extended period of time.
Duffle Bags
Duffle bags are another popular type of travel bag. The best travel duffle bag will offer comfortable handles or shoulder straps and plenty of space to hold all your essentials.
Duffle bags offer a more basic design than many other bag types and often have just one main compartment with a few smaller outside pockets. You can also find smaller bags, which could be the best travel duffle bag carry on choice for you.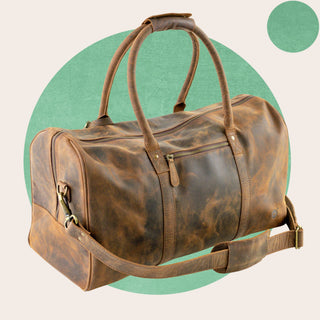 Leather Duffle Bag
Travel Backpacks
Compared to other bags, travel backpacks may be the best choice if you're going on a hiking trip or other adventure where you'll need to carry your bag along with you.
As a top option for the best mens travel bag, these bags often have a main compartment and other smaller pockets to help you keep everything organized. Some may offer additional features, like hip belts, locking zippers, and padded shoulder straps.
Weekender Bag
The best weekend travel bag may also be right for your trip. Weekender bags typically feature a large interior compartment to pack your items. Some even have a separate compartment on the base to hold shoes or other bulky items. These bags typically have carrying handles along with a shoulder strap.
Leather Messenger Bag
Travel Totes
Travel totes can make excellent travel carry on bags. They are smaller than a weekender bag, but large enough to hold the essentials you'll need for a short trip or when flying on a plane.
Laptop Backpack
If you'll be traveling with your laptop, you may want to bring a laptop backpack. With a laptop sleeve, this bag will help protect your computer from getting damaged.
Laptop backpacks are also small enough to use as a carry on bag and can hold a few other essentials beyond just your electronics.
Crossbody Bag
Crossbody bags don't hold as much as some of the other bag types, but they can still be an excellent choice when traveling. They make excellent carry on bags or bags to use when exploring a city.
The best travel crossbody bag will allow you to keep your wallet, passport, and other important belongings close to your body, making it more difficult for someone to try to steal them.
Toiletry Bag
Packing toiletries can be very difficult without toiletry bags. The best travel toiletry bag will help you keep all of your grooming essentials organized for easy access. Many offer separate compartment options and a mesh pocket or two to help you carefully pack everything you'll need.
Leather Hanging Toiletry Bag
Makeup Bag
If you're looking for a very small travel back to hold your makeup and skincare essentials, look for a makeup bag. The best travel makeup bag will be water resistant and offer a few different compartments to keep your makeup organized and protected.
How to Choose the Best Travel Bag
As you're shopping for the best travel bag, keep the following features in mind to help you make the right choice for your needs. Also, keep in mind that your needs may vary from one trip to the next, so you may want to have a few different travel bags on hand to choose from.
Size and capacity
Easy of transport
Carry-on restrictions
Durability and material type
Desired features (i.e. wheels, telescoping handles, locking zippers, a dedicated laptop sleeve, a hidden laundry bag to keep dirty clothes separate, padded straps, water resistant material, etc.)
Time to Travel!
That was a lot of information to share, but do you feel ready to choose the best travel bags for your needs now? Think about where you'll be heading, how long you'll be staying, and how much space you'll need in your bag to help you make the right selection. Then, get packing, and enjoy your trip!
FAQs
What is the best bag for international travel?
There are many different types of traveling bags that are well-suited for international travel. If you want to check a bag, a rolling suitcase will offer the most space to pack clothing for multiple days and have space to bring home souvenirs. There are also plenty of carry on bags that will work well for lighter travelers, such as travel backpacks.