Looking to buy a bag for your better half for their birthday or perhaps for Christmas? Want to know some of the major types of bags for men so that you can better navigate the capitalist sprawl of consumerism at this time of year in the western world?
Then step right up, for today we will be exploring all this and more and listing for you ten of the most popular types of bags for men throughout the western world.
1. Backpack
This is easily one of the most ubiquitous types of bags for men out there. This is one of the most simple forms a bag can take, with the main body that has a shoulder strap or two attached to it so that it can be worn on the back of the user.
Yes, these shoulder straps can tackle just about you throw at them, functioning as a laptop bag, a man bag, a camera bag, a shopping bag, a courier bag, and a gym bag. These bags are, like all others, entirely unisex, but you get the point.
2. Messenger Bag
Messenger bags are similarly ubiquitous throughout the western world. These are often favored by those who like the backpack's sack-type design but who would rather have something different, something that might be more comfortable for their needs.
These can very often take on the appearance of a sling bag, sporting a variety of different pockets and compartments for the messengering of things from place to place.
Leather Messenger Bag
Mostly found as a cloth bag, there have been several trends towards fashioning it into a leather bag, making these a great option for everyday use that elides extreme weather conditions.
3. Weekender Bag
A weekender bag is less a type of bag than an idea of a bag. By this, we mean that instead of being a specific type of bag, a weekender bag is any bag that is used for weekends away.
The main criteria for such bags are likely the size. The size will be welcoming of smaller quantities of cargo that are still substantial enough to need this kind of bag.
Often, a duffel bag will be used for this purpose, though you can really use anything - except a tote bag of course.
4. Dopp Kit
A Dopp kit is perhaps better known as a holdall bag and is largely defined as a small bag that is tasked with holding all of the toiletry essentials. In this way, they are more often called upon to transport essential toiletries from place to place, either on a business trip or on a fully-fledged holiday.
The idea is that these smaller bags fit into larger bags. For this reason, many are designed to be as compact as possible, so that they could even fit into tote bags, for example.
Leather Hanging Toiletry Bag
These kits became common during the second world war and continued to be used by American soldiers once they had returned from the fight.
5. Tote Bag
Speak of the devil and they shall appear! It seems we can't turn a street corner in the western world today without seeing one of these types of bags.

And for good reason! Not only are they lightweight and convenient, but they are also incredibly compact and a great way for manufacturers to advertise their wares.
Tote bags are very often used as merchandise by bands who are looking to make a buck outside of the capitalist entertainment matrix that streaming services are a wreath for.
6. Carryall Bag
This is another type of bag that is less a specific type of bag than the idea of a bag, namely any type of bag that carries all of the necessary cargo between locations. In this way, they are often referred to as the best travel bag.
This is commonly for the purpose of carrying all of the necessary luggage onto an airplane so that it can pass through customs.
In order to codify all of the relevant luggage, it will usually feature one larger compartment alongside a bunch of sub-compartments and some pockets on the outside for easier access. These can come in the form of a hobo bag or a crossbody bag, though never a waist bag (this, of course, would not be big enough).
7. Crossbody Bag
Again, it seems we have summoned the very object of our interest!
Crossbody bags are a kind of bad specifically designed to strike a balance between your pockets and a larger-scale backpack or messenger bag.
When you need to take more things than your pocket can carry but would rather not take a whole bag, then a crossbody bag will step to the rescue. These have many bag features and can even sport an optional shoulder strap if you would rather.
8. Waist Bag
Often pejoratively referred to as a man purse, these kinds of bags have become all the rage with festival attendees throughout the western world. Even though the two names are used interchangeably, they are actually the same bag.
Also referred to as a fanny pack, this is a type of bag that has gone in and out of fashion as times have come and gone. There has, however, always been a demographic that has favored this kind of bag, no matter what kind of relationship it might have with the fashion of the time.
9. Duffel Bag
Set out in a category all its own, this is one of men's bags brightest shining stars - even though there are plenty of women who use just such bags for their own purposes.
A duffel bag is typically very spacious and usually comes in the shape of a cylinder, typically made of canvas and big enough to hold everything you need.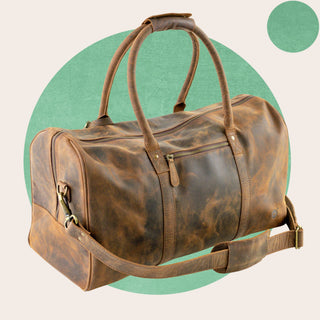 Leather Duffle Bag
In the modern day, this kind of men's bag is more often than not called upon to transport gym gear from the home to the gym and vice versa.
10. Briefcase
This really is a classic and, though its design and utility have evolved throughout the years, it has been a staple of western fashion since the very beginning of modern civilization as we know it.
How else would a business person transport their belongings from home to work and vice versa? How would they do so without oozing style and contempt for the lazy?
The briefcase has become a symbol of affluence and high-mindedness by being associated with the working man. All workers at one time or another would have felt socially required to have a briefcase, even if all it contained was their lunch.
Laptop Folder
Final Words
So, there you have it! Hopefully, you are feeling better able to understand some of the most popular types of bags for men in the western world. It is also our hope that this information has better equipped you to navigate the consumer market and to purchase a gift for a loved one the Christmas time.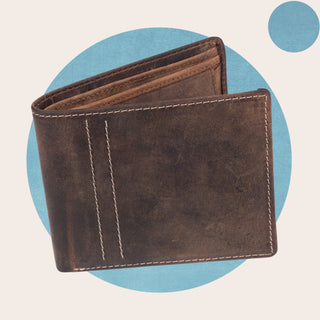 Men's Wallet
FAQs Types of Bags for Men
WHAT KINDS OF BAGS DO MEN CARRY?
Men carry a whole host of different kinds of bags. Most important to consider is the fact that these kinds of things are less and less gendered with each passing day, as women come to use men's bags and men come to use women's bags. Thus, the duffel bag and the briefcase, so often associated with the affluence working man, have been reassumed by the working woman. Likewise, the so-called fanny pack is now often used by men in a whole range of different situations and contexts.
WHAT ARE MEN'S BAGS CALLED?
There is no one kind of bag that all men use, nor is there a name for the umbrella under which all kinds of so-called men's bags reside. There are certainly a number of different kinds of bags that have often been associated with the male working man - the briefcase and the duffel bag, for example. These are more and more being reassumed by the opposite gender in favor of a more even plain of gender and sexuality.