Looking to stick to your new year's resolutions for good this time? Thinking of starting a new year's resolutions bullet journal?
Then you are in the right place, as this is precisely what we intend to explore today, ensuring that you stick as closely as possible to your resolutions this year.
1. Goals
A great way to at least begin chronicling your new year's resolutions bullet journal-style is simply to write these goals down in the first place.
Perhaps you do not yet have a concrete idea what you want your new year's resolutions to be, and that is okay. Bullet journals are actually a great to work these things out, an apt way to edge yourself toward revelation of the self.
Who knew bullet journaling could be so powerful? We did - and you can too by following the rest of these life goals to their completion.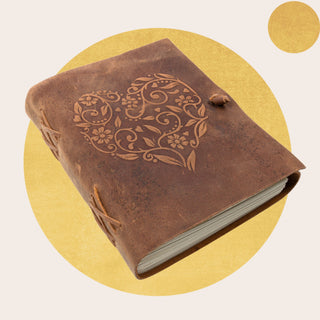 Heart Journal (Blank)
2. Cleaning Schedule
Even if your new year's resolutions have nothing much to do with cleaning, having a schedule for these kinds of things will ensure that you have more time to focus on your resolutions.
If, on the off chance, this does happen to be one of your yearly goals, then bravo! Use a cleaning schedule to collate all of your feelings on this particular area into one place.
Cleaning schedule are perhaps better realized by taking those yearly goals and turnign them into more manageable monthly goals. Heck, you can even write a blog post about it!
3. Driving Log
Perhaps one of your new years resolutions is to try to drive your car less - we are in a climate crisis after all and using a car is one of the greatest contributors to this issue that almost all of us engage in.
This can also be a great way to simultaneously save money. The fuel crisis that is spreading throughout the western world as a result of the war in Ukraine can easily be combatted on a personal level by simply using less fuel by using the car less. Screw eating healthy - why not get fit and use a bike!
4. Monthly Calendar
As previously elucidated, it can be very valuable to digest things in smaller chunks. Not too small, mind, unless you are that way inclined. A week passes by too quickly while a year passes far too slowly to even be felt sometimes. For many, the perfect amount of time within which to process all that passes is a month.
Important dates within a month can easily be seen in one glance. Why not use the first page for this task so that you have it readily available to flick back to whenever?
5. Daily Goals
Alternatively, you might feel as though months are a far too long as stretches of time within which to capture the passing of time. Instead, working with daily goals might better suit your needs, for you might be bullet journaling for work.
By using daily passing goals you can, for example, more intimately capture your personal thoughts as well as more detailed information that might be pertinent to your requirements.
Indeed, some people swear by it - they simply would not be able to stay organized without the setting of daily goals, they say. Screw the upcoming year, have a fresh start in the time-bound realm of work - start fresh this new year and work by the day.
6. Goal Tracking
In a more generalized fashion, you could simply use your bullet journal as an abstract goal tracker. Instead of making the tracking of goals time-specific, you might simply prefer a place where you can capture all of your goals.
This kind of bullet journaling is perhaps better suited to those who simply want to add illustrations to a bucket list or other big goals.
You can use journals in anyway - in fact, this is the way that they work best. You can craft and create a journal into anything you need in that moment so that you can achieve the success that is local to you.
7. Meal Planner
With all this success going on throughout the whole year, it can be difficult to keep track of healthy eating and the like.
Thankfully, the bullet journal is also here to help with this. If you are handy with illustration, then great - you can use this skill to craft a meal planner. The time-scale will vary on your depending on your own preferences - see above. Goal setting is an art all of its own. Learning how to set goals with your meals will be of the utmost importance.
Refillable Classic Journal (Lined)
8. Shopping Lists
Of course, if you simply want a way to keep all of the things you need to purchase at the store in one place, then why not use your bullet journal for precisely this purpose.
Indeed, instead of just writing your shopping list at the last minute on a stray receipt, you can use a journal to keep track of all the little things you think to buy in the week that you might otherwise forget. Who knew shopping lists and the like could be so much fun?!
9. Gratitude
Gratitude journaling is a classic way to start out your journaling journey. Even if you are not willing to take it all the way and start a full-on gratitude journal dedicated to the purpose, you can always use your bullet journal to keep track of the things you are thankful.
There is plenty of research to suggest that doing so will be beneficial to your own mental health over time. This can, however, even be a quick fix. If you are really dedicated to it, chronicling the things you are immediately thankful for can be an enormous release.
10. Saving Goals
If you are wanting to save some money, then why not avoid buying a journal that you are likely never going to use anyway and just get a therapist for all these issues?
Of course, if you are wanting to save a certain amount toward a particular thing, then you can use your journal to keep track of this kind of thing. In much the same way as a journal can be of use in keeping track of other goals, it can also be used to track saving goals and anything related to it.
Psalm 46:10 Journal
Last Words
So, there you have it! Hopefully, you have been able to glean some insight into your own psyche and feel better prepared to properly implement at least one of those resolutions into your life.
FAQs New Year's Resolutions Bullet Journal Ideas
WHAT ARE THE TOP 5 NEW YEAR'S RESOLUTIONS?
The most common new year's resolution tends to center around exercising more - hence why you tend to see a rapid growth in joggers after the new year. This is followed closely by the related resolution of losing weight. Many opt also to light a fire beneath them and learn a new hobby, however half-heartedly they begin the exercise.
HOW DO YOU JOURNAL A NEW YEAR'S RESOLUTION?
The best advice anyone could offer anyone with regard to journaling their new year's resolutions is simply to tell them to write it down. So, do it - write it down. In the process of writing, you will no doubt come up with a starting point from which you can continue to write. If not, try chronicling in detail exactly what you intend to glean from pursuing such a resolution.