Our leather laptop sleeve elevates your style, whether you're based at the office, working from home or your favourite café.
Hand crafted using high quality buffalo leather
14″ x 10″ x 3″ inch, the perfect size for all your work or study essentials
Fits up to a 15.6 inch laptop
Two sets of snap closures depending on how full your folder is
Comes in a cloth Moonster presentation bag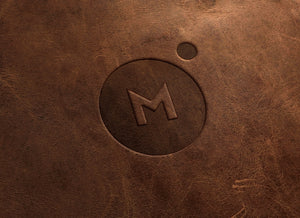 Handmade and ethically sourced using sustainable and recycled materials wherever possible. Our interview portfolio & laptop bags are handcrafted & handstitched in India, employing local artisans in a tradition that extends back to Indus Valley Civilization. With the handmade quality, no two business folders are ever alike – a true ONE OF A KIND gift.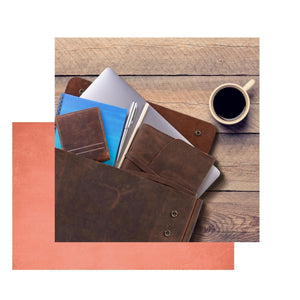 CLASSIC LEATHER FOLDER FOR MODERN NEEDS
Many companies sell laptop and work bags using cheap, fake leather and poor craftsmanship. At Moonster, we use nothing but the highest quality materials, handmade and handstitched by leather artisans. Ideal for its longevity and stunning aesthetics, our folio bag is made with gorgeous, deep brown, 100% buffalo leather that wears beautifully.
Whether you work in a high-rise or write at your favorite café, our bag is the perfect way to showcase your style for years to come.
UNPARALLELED, VERSATILE DESIGN FOR ALL YOUR NEEDS
While many leather laptop bags and padfolios are too small and cramped, our leather laptop carrier is designed for unmatched versatility.

We did extensive research and landed on the perfect 14" X 10" X 3" dimensions. Large enough to hold a 15.6" laptop or your work essentials without being bulky.

Sleek, strapless design and rustic, distressed leather make our bag stand out from the crowd. With added snap closures for security, it adapts to suit all your needs.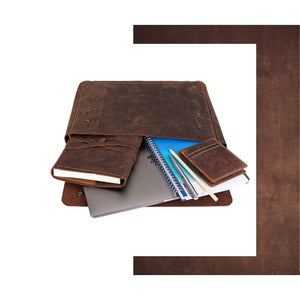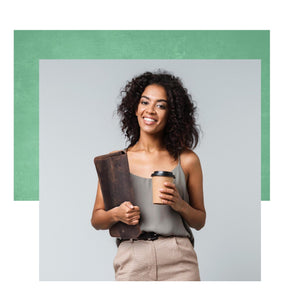 Leather folder for travel
Whether you're traveling for business, going to an interview or starting a new job, you need a folio that can hold everything you need. A must-have for busy professionals or students who want to save time organizing!

Now you can keep your work accessories organised in style to ensure you always look your best on the go.
Leather folder
Leather folders are a great way to keep your documents organized and safe. They're also a great way to add a touch of sophistication to your office. Leather folders can be used for anything from storing important papers to storing your laptop safely. Leather folders are made from high-quality leather that is durable and long-lasting, so you know it will last through all of your projects. The leather is available in many different colors, so you can choose one that matches the rest of your office decor or one that will stand out as unique. When you're looking for a way to keep your belongings safe, look no further than leather folders!
PORTABLE DESIGN
If you're looking for a folder that's both portable and durable, look no further than our leather folders. They feature sturdy metal clasps that snap shut with metal rings inside the folder so that you can keep track of your papers easily. The folder consists of one large compartment on the inside, which is perfect for holding both bigger and smaller documents or notes. These folders are made from high-quality leather that will last through years of use.
LARGER SIZE
When you're looking for a folder that will fit your laptop, it can be hard to find one that's large enough. That's why we designed our Moonster Leather folder. A great choice if you need something that will fit up to 15.6" laptops and large documents. The folder is made from high-quality leather, so it looks great and feels good in your hands. The inside pocket can fit any item up to 10" wide, making it a great practical solution for work or study.
SECURE DESIGN
The security of our leather folders is something we're proud of. We designed them with two sets of snap closures, depending on how full your folder is. The first set is for when you have a lot of papers in your folder, and the second set is for when it's just a few sheets. This way, you can always be sure that your documents or laptop are safe and secure!
CLASSIC CRAFTSMANSHIP
A leather folder is a timeless piece of craftsmanship. It's the perfect gift for someone who appreciates the finer things in life, or just wants something that looks good on their desk. Our leather folders are hand stitched using 100% buffalo leather, so you can be sure that every stitch was done with care and attention to detail. Our skilled artisan craftsmen take pride in their work and want to ensure that your folder stands out from the crowd. We know you'll love it!
SLEEK DESIGN
Sleek, simple, and sophisticated. These leather folders are perfect for any business of any size. They have a strapless design that allows the user to keep their hands free while still being able to access everything they need in one place. There's no feeling of cramped documents in a small file with this folder, which makes them great for all kinds of businesses, but especially those with a lot of paperwork.
Suitable for:
Business owners
Students
Professionals
We're here to help you find the perfect leather folder or carrier for your business or your work or study needs. Our selection of leather folders and carriers will help you keep your documents organized, so you can focus on what matters most. Browse through our selection of folders and carriers today.