Leather bags, whether a leather handbag, leather purse, briefcase, or weekend bag, are designed to be timeless. As they age, they take on a new character as they develop that beautiful patina that only real leather can.
But this doesn't mean that your bag is indestructible—it takes a little care to ensure your leather bag lasts a lifetime. Leather care isn't rocket science, but you will want to research the method and leather protector products that are right for your bag.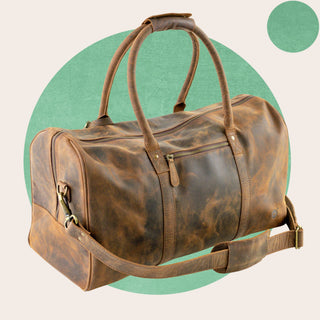 Leather Duffle Bag
4 Tips – How to Clean Leather Purse or Bag
Here are a few tips for how to clean a leather purse or bag, with everything from how to store leather to how to remove stains and keep the leather supple.
Tip 1: Day to Day Care for Keeping a Clean Bag
The first thing to do is keep your leather goods clean on a daily basis. This doesn't have to be an arduous task—it simply means wiping them with a soft cloth before putting them away for the night and minding how you store them for the next day.
To avoid a build-up of dirt and grime, it's best to get a suede brush or dedicated dry cloth that you can use to clean leather daily. Gently rub it down, and ensure no new stains or wear and tear has occurred. Prevent dust build-up, and note if it's due for a more thorough cleaning.
It's always best to remove all items from the bag, as these can distort the bag's shape. Never hang leather handbags by their handles because this can cause stretching. Instead, sit the bag on its base.
If you aren't going to use your bag for a while, check out the fourth tip below for how to store it for the long term.
Tip 2: How to Clean a Leather Purse When Soiled
If you remove dust daily, deep cleanings won't be necessary often. For example, if you use the bag every day, you might tackle this chore once a month. On the other hand, if it's a weekend bag you only occasionally use, then cleanings might be annual.
Start each cleaning with clean hands, a clean microfiber cloth, and an empty bag. Open all the zippers and compartments and remove everything. Then, shake the bag upside down to dislodge any small items or dirt.
If your bag has a liner, use a lint roller to collect any dust. If you can pull the liner to the outside of the bag, the job will be easier. If your bag doesn't have a liner, you can use a damp cloth with just a bit of water to wipe it down.
Next, wipe the exterior leather surfaces. It's a good idea to use a good-quality leather soap, which will help lift grime and condition the leather at the same time. Use a little warm water and never use too much water in the process—you don't ever want to saturate the leather. Just use enough to work the soap in and wipe the bag off.
Once it's washed, use a clean towel to buff it dry. If your bag has hardware, use a cotton swab and some tarnish remover to shine it up. Be careful to keep these harsh chemicals off of the leather, however.
Next, you'll want to condition the leather. Our favorite products are leather creams that keep the leather supple without making it shiny or greasy. Alternatively, many people like using natural oils for leather, like mink or neatsfoot oil. Either way, the bag must regain some moisture and oil that the cleaning process and aging remove. They also make the bag stain resistant.
Best Options: Leather Cleaner for Bags
There are many products to help you keep your leather looking its best. There are no hard and fast rules beyond the simple need to keep your bags clean and condition them regularly.
As previously mentioned, you can find the ingredients on your own. In most cases, all you really need is mild soap and a leather-friendly oil. However, many prefer the perfectly blended solutions available from leather companies. These products have just the right combination of oils and conditioners to make maintenance and upkeep easy.
Here are some basic dos and don'ts when it comes to cleaning leather bags.
Do:
Air dry the leather
Wipe wet leather dry quickly with a soft dry cloth
Regularly clean the entire bag with a clean cloth or brush
Keep it supple with conditioner every few months
Spot-test any cleaners in a hidden place before using
Don't:
Machine wash or dry leather
Iron it
Use harsh chemicals, especially bleach or ammonia
Soak or immerse in water
Store in the sun or near heat sources like your radiator
Tip 3: Fixing Stains or Scratches when Cleaning Leather Bag
In the process of cleaning your bag, you will start to get to know it and notice little changes as it ages. Mostly, these are minor aging marks that only add to the piece's character. Nothing beats the look of a worn leather item that has stories to tell.
However, sometimes things happen. For example, light-colored leather purses sometimes pick up dyes from other garments, like the blue from jeans. If you have ink stains, attempt to remove it with some methylated spirits or rubbing alcohol. If it's oil or grease stains, absorbent powders like baking soda or corn starch are good solutions.
Light cracks in the leather surface are best repaired based on how deep they are. A good leather cream conditioner may be all you need unless the bag is deeply damaged. For deep scratches, your best bet may be a leather repair shop.
Tip 4: Long-Term Storage for Clean Leather Bags
Surprisingly, storing your bag may be the thing that can cause the most damage. It's easy to inadvertently leave the bag smashed, hung, or near an item that will bleed color onto it. So, a big part of keeping your bag safe is simply storing it properly. To keep the bag's shape, fill it with tissue paper.
If you have the original dust bag your leather good came in, it's best to store it in that. Silica gel packets can help reduce excess moisture, as well. Whatever you do, don't store leather in plastic bags or bubble wrap. These won't let the material breathe—it needs airflow. A white cotton pillowcase is a good substitute if you don't have a dust bag.
Always store leather away from direct sunlight and heat sources that might dry it out. And, of course, keep your bag away from sharp surfaces.
Leather Messenger Bag
Final Words
Well, there you have it! How to clean a leather purse is as simple as investing in a leather bags cleaner and keeping dust off its surface. If you regularly apply a purse cleaner and leather conditioner, your leather items will last years.
Cleaning a Leather Bag FAQs
Should I oil my leather bag?
A leather surface is a natural material that will dry out over time, so replacing its natural oils is important. There are many products on the market that get the job done, but some enjoy using natural oils like coconut, mink, neatsfoot, or lanolin.
What is the best way to protect a leather purse?
The best protection method will depend on the precise material used in the bag. Different leathers have different best practices. For example, suede and nubuck should be treated with a waterproofing leather spray to prevent damage from moisture. On the other hand, smooth leather or patent leather may only need a simple wipe-down occasionally. As a general rule of thumb, keep your leather clean and treat it with conditioners for maximum life.