Figuring out how to clean your leather goods can be challenging. The internet is flooded with products to buy and elaborate tutorials on how to use them. But, as is often the case, the best solutions are the time-tested ones. Equestrians know all about keeping their leather goods, or tack, clean and conditioned. They've been doing it for hundreds of years. 
With that in mind, here's a look at the best leather cleaner for any accessory, from sofas to leather journals. 
Refillable Classic Journal (Lined)
How to Clean and Condition Leather in 3 Easy Steps
The steps are always the same, no matter what leather product you're trying to clean, be it leather furniture, leather car seats, or small leather items like portfolio cases. Cleaning leather the right way is a multi-step process that should be done more often than most of us like to admit. Makers of car leather cleaners, for example, recommend using them every few months. 
Always double-check that you're using the right product for the leather fabric. Many faux leather pieces look real enough to fool you, and many leather seats and accessories are made with suede or nubuck, which requires a different cleaning regimen. 
Step 1: Wipe It Clean Often
Routine maintenance for your leather will involve little more than keeping it clean and wiping up spills. The tidier you keep it, the less work big cleanings will be. Spot cleaning it with a clean microfiber towel and some water. That should be all that is necessary for spot cleaning. 
You can also purchase handy leather cleaner wipes in most auto parts stores. Leather wipes are handy to keep around if you have a lot of leather goods (leather clothing, bags, wallets, or leather portfolios), and they work equally well on car leather, leather boots, or even faux leather. 
Step 2: Deep Cleanings (Every Few Months)
Occasionally, however, you'll have to deep clean leather goods. Some grime will inevitably build up on its surface, causing stickiness or discolourations. When leather wipes no longer work, it's time to break out the soap. But, of course, you don't want to use just any soap on your fine leather. In this case, the right tool for the right job is saddle soap. 
Saddle soap comes in small tins and is a hard bar of soap. It is very mild and specially formulated to not damage leather goods. As with anything, it's always wise to do a spot test to ensure no discolouration occurs. Saddle soap is specifically formulated for leather goods and often contains a few ingredients that condition the leather, too. 
Using a soft-bristle brush and water, apply a little saddle soap to the leather and work it into a lather. Don't be overly aggressive with the brush. Just work it evenly around the surface and in any nooks and crannies to get all the dirt out. If you're cleaning leather upholstery, you might need a selection of different-sized brushes to work in small patches.
Once the surface is lathered and scrubbed gently, wipe the excess cleaning solution with a clean lint free cloth. Rinse it with a little water, and wipe it again. The surface should be as clean as ever, but if there are any residual traces of grime, you could repeat the process. 
Once you've got it where you like it, wipe it off and let it dry for at least a few hours. You don't want to seal in any moisture before conditioning it. Also, note that you don't want to use soaps on your leather too often. They will break down the leather, so they should only be used for occasional cleanings or restorations.
In addition to saddle soap, you can use other leather cleaning products. Some options include the following products. 
White vinegar
Baking soda
Rubbing alcohol (for blotting out stains)
A leather cleaning solution, like Weiman leather cleaner
Step 3: Condition It After Deep Cleaning
Leather cream or conditioner keeps the surface from getting brittle and dried. This is especially important if the leather is often exposed to sunlight, as with car seats. If you used saddle soap to clean your leather, check the label because it might already have conditioners. If not, or if you want even more protection, you can purchase another product.
There are tons of leather conditioner options available. Some are sprays that combine cleaners and conditioners, while other leather conditioners are more like lotions. No matter which you use, it's always best to start with a saddle soap or dedicated leather cleaner that foams up, as described in step two.
The best leather conditioners will not leave the leather glossy or slippery. Instead, they leave it supple, smooth and feeling hydrated. They protect the leather from cracking while offering a slightly waterproof and dirt-repelling layer of wax.
In addition to commercially available leather creams, you can use other products for leather conditioning. Some other options include the following, but remember, many saddle soaps and cleaning solutions already contain these.
Coconut oil
Flaxseed oil
Beeswax
Neatsfoot oil
Commercial leather creams, like Leather Honey Conditioner
Various Cleaning Options for Leather Goods
Overall Best Leather Cleaner and Conditioner
For any deep cleaning job, saddle soap is the best answer. There are tons available on the market today, but Fiebings is one of the top-rated.
Remember, you'll also want a microfiber cloth or two and a few soft leather cleaning brushes.
Best Leather Cleaner for Sofas
Use care when cleaning sofas, as many are made with faux leather or alternative leather surfaces like suede or nubuck. Read the manufacturer's instructions and understand exactly what the product you're dealing with is.
We like Chemical Guys Leather Cleaner and Leather Conditioner to clean leather seats and other big jobs.
Best Leather Cleaner for Furniture
For routine maintenance on home furniture, having a handy spray bottle of cleaner makes cleaning up a snap. We like Weiman Leather Cleaner and Conditioning Spray, but they also sell handy leather wipes.
Best Leather Cleaner for Shoes
The precise right cleaner depends a lot on your shoes. If they are made of smooth, heavy boot leather, see the next section for the best leather cleaner for boots. However, if they are sneakers or dress shoes, you might want to use something less powerful. If they aren't smooth, you'll want to find an appropriate suede cleaner like Otter Wax Suede and Nubuck cleaner.
Best Leather Cleaner for Boots
Sturdy boots are subject to more dirt and grime than your average piece of leather upholstery or car seat. For this reason, using good-quality saddle soap more often is recommended on boots. Kiwi Outdoor Saddle Soap is one of the best.
Best Leather Handbag Cleaner
Handbags are best spot treated often with a soft towel and water. Leather wipes are good for spills and can add just the right amount of conditioners. 
Best Cleaner for White Leather
Light coloured leather requires extra attention only because it will need to be cleaned more often. Remember not to overdo it with the saddle soap, as this can dry leather out in the long run. Leather Honey has a great line of cleaning and conditioning solutions that can be used more often.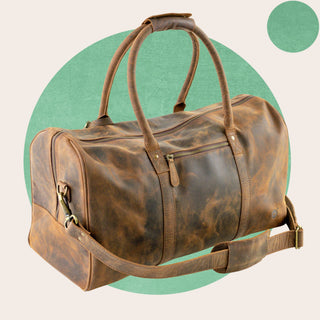 Leather Duffle Bag
Final Words
Well, there you have it! Many people are intimidated by cleaning leather, but it's not that difficult. With the right tools and a little know-how, you can restore your leather goods to looking new in no time.
The Best Leather Cleaner FAQs
What do professional leather cleaners use?
Most leather goods are deep cleaned and restored with saddle soap. This special soap is formulated for all kinds of leather goods. It foams up, so it will remove dirt and grime while restoring the leather's original colour. It also contains conditioning ingredients, like beeswax or neatsfoot oil.
What is the best way to clean dirty leather?
The best way to clean leather is with saddle soap. You'll want to apply it with a soft bristle brush and a little water to work it into a foamy lather. This lifts the dirt away and restores the leather's original appearance. You can follow up with leather cream or conditioner if you desire.