WANT TO ENSURE YOU ALWAYS LOOK YOUR BEST AT WORK OR IN AN INTERVIEW?
Keep your Resume & work documents organized and accessible with this stylish leather portfolio from Moonster. Whether you're taking notes or going to your first job interview, this essential piece of kit will help you organize your things easily so you can take them with you wherever you go.
We've also included a premium metallic ball pen for your business use! Made from real leather its simple yet sturdy design will withstand being thrown into your bag time after time to last you for years.
Always look sharp and organized when working.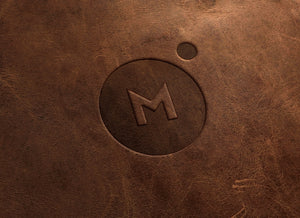 Being handmade from 100% natural leather, our leather portfolios can vary in look and shade, producing a beautifully unique item - no two are ever the same! As the leather is naturally distressed & tanned, it can mark - but this is what gives the leather its vintage look.

Don't worry if it gets scratched, rub the blemish with your thumb and it will fade away!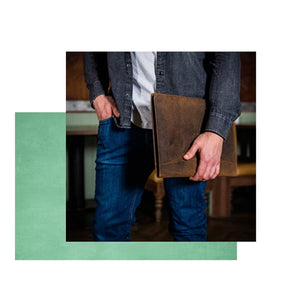 A RUSTIC LEATHER LOOK FOR THE DISTINGUISHED BUSINESS PERSON
We use 100% hand-made buffalo leather; naturally tanned with special oils. This means our products vary in color and shade; no two leather portfolios look the same. It's also what gives the leather it's beautiful, rich, earthy scent.
Stylish and practical, the soft, distressed finish provides a vintage feel.
​SIZE MATTERS
We've made our padfolio compact to ensure there's plenty of smart storage space for all your work needs. Measuring 13" x 10", it will still fit effortlessly into your bag or brief case.
Store your Letter-Size or A4 refillable notepad in the right side, and in the left side there's one main opening for filing sheets, one medium pouch that holds smaller documents and 2 v-shaped pockets for business cards. There's also 2 leather pen holder loops.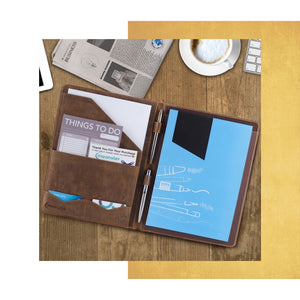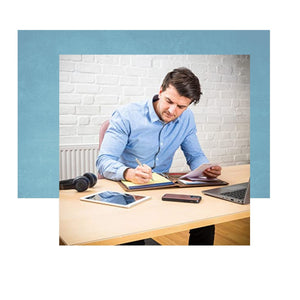 HAPPY ORGANIZING with our leather portfolio
Whether you're travelling for business, going to an interview or starting a new job, you need a portfolio that can hold everything you need.
A must-have for busy professionals or students who want to save time organizing and the frustration of crumpled and messy paperwork!
Now you can keep your work accessories organised in style with the Moonser leather portfolio to ensure you always look your best on the go.
Leather portfolio
This portfolio is designed to keep your resume and work documents organized, safe, and accessible. The leather material allows for a professional look, while the multiple pockets provide ample space for storage. If you're looking for a way to organize your documents to make them more accessible and easy to carry around, this portfolio is ideal for you. The leather portfolio is a minimalist solution for business professionals and students to store their essential documents with modern convenience.
Our leather portfolio includes:
A deluxe silver ballpoint pen
Space for a notepad
2 v-shaped pockets
2 other separate pockets
100% buffalo leather
Made from 100% natural buffalo leather, this leather portfolio case will last you a lifetime. Its vintage look and timeless appeal make it the perfect accessory. Every one of our portfolios is different due to the finish of the leather, meaning each portfolio looks unique. This rustic leather portfolio is perfect for keeping your documents safe, as well as light enough to carry with you wherever you go. Each one varies in color and shade, so no two of our portfolio products are alike.
The perfect size of your leather portfolio
The Leather Portfolio is the perfect size for carrying with you, whether to meetings or seminars. Compact and lightweight, it's made of leather that feels soft and supple. Measuring 13" x 10", this portfolio can hold an A4 refillable notepad on the right side, allowing you to always have your notes by your side. The other main opening is designed for A4 pages. The center also features a medium pouch that holds documents as well as 2 v-shaped pockets for business cards or credit cards. This portfolio comes with 2 leather pen holders as well so you can always keep your tools close by!
Easy access
This portfolio is sophisticated and simple. The leather will stand the test of time and keep your documents organized stylishly. It features no zips, so items can easily be added or removed without fuss. Everything is ready for you, laid out in front of you in their different compartments.
The leather portfolio is the perfect gift
This elegant portfolio is perfect for giving as a gift to a student or someone who is starting a new job. Made from high-quality leather, it comes in a cotton gift bag which can help protect our unique leather and ensures the bag can be stored safely and neatly.
About Moonster
At Moonster, we have created a line of responsibly sourced leather goods. We source our leather from sustainable practices and pay fair wages to support the workers in our supply chain. Our mission is to create products that are not only beautiful but also ethically made.
Bags from Moonster are made from 100% genuine full-grain buffalo leather, and all our products are ethically sourced from expert tanneries. We also give 5% of our profits to five communities across five different continents to give back to local communities. We take pride in the craftsmanship that goes into each and every one of these fine products, which we believe represent the best in modern luxury. We strive to provide a long-lasting product for you and your family as well as an exceptional customer experience.
In the digital age, we believe that having a physical portfolio is essential. And at Moonster, we believe that only using ethically sourced leather is another must. With this in mind, we designed our Leather Portfolio to combine both form and function with a modern yet discreet aesthetic. Supplied in a soft felt bag, its classic elegance is sure to impress whomever you are meeting.