Is your leather slowly wearing itself out toward a dusty death? Do you want to revitalize your leather but are unsure how? Want to learn how to dye leather so you can do so and teach others in turn?
All this and more today as we explore the 7 key steps to dyeing leather at home for yourself.
Leather Craft Bundle
Step 1: Workstation
Arguably the most important preparatory step to follow is to begin by readying your workstation.
If you are working indoors, work at a large table or on another such surface:
Open the windows and turn on a fan to dissipate the strength of the fumes.
Try to keep the room temperature at around 70 degrees Fahrenheit.
Protect the surface from the leather dye by cutting open a trash bag and lathering the surface with it.
Alternatively, if you are working outdoors, choose a warm day that is not too windy and try to stay in the shade, making sure to wear gloves and put down old towels to catch any spills.
Step 2: Deglazer
Using a clean cloth, apply some deglazer or leather preparer to the leather item, thereby removing the seal on the leather so that the fibers can more easily absorb the dye.
If, for example, you are working with leather shoes, then you will want to remove the shoelaces first and add some balled-up paper to the insides to keep them dry. Use your common sense and modify any other leather item as you see fit.
Step 3: Water
Now, in the process of dyeing leather, you will want to gently dampen the surface of the leather. This thin layer of water lets the leather evenly absorb the dye, meaning that the dyed leather will prosper from such a maneuver as result.
Make sure to use only thin coats of water as you see fit.
Step 4: First Coat
Now you can begin applying the first coat of leather dye. Use a paintbrush to lightly add some olive oil-based dye, painting to the very edges of the leather material.
If you are finding it difficult to mask the brush strokes, then use a cotton ball, sponge, or some soft cotton rags to fill in the rest of the surface, dabbing gently all the while. Add dye to the cotton balls and apply in circular motions The dyeing process can be as intricate or as laidback as you like, so if you are not as into these kinds of particulars, then do not fear, for it is your process to define.
Step 5: Drying
Now is the time to let your hard work sit and dry for a while. Take this opportunity to sit and reflect on the actions of years ago, when alcohol-based dyes were in the mainstream and grain leather never knew the touch of jojoba oil.
It will take more or less a full day for the leather to dry completely, so leave it in a cool and dry place with plenty of air and perhaps some indirect sunlight. There's no greater dye reducer than the direct touch of the too-hot sun, for it can leave the leather cracked and chapped to no end.
Step 6: More Coats
Now that the first coat is completely dry, you can go ahead and another thin layer of dye to ensure that there is a uniform coating of dye all over the leather item.
Some of you might be inclined to leave the work here, though you are advised to paint on at least 3 layers of dye, though this can easily exceed 3 in the search for your desired color. Dark brown, for example, or any other darker hue is likely to take considerably more layers in this way.
Step 7: Buffing
Now that you have reached your desired color, you can get the leather looking truly marvelous.
Try using a leather finisher or leather conditioner to get a shiny finish, buffing the surface with a clean and dry cloth in conjunction with such products to achieve a perfect finish and make your leather look new again.
Now would be a perfect time to clean up any excess dye - especially useful if you are working with an oil dye or another such material. Some leather conditioners are great for this too!
Once you are fully satisfied with the finished product, you can go and clean up your work surface while you allow the leather to dry (again!), finally enjoying your newly-dyed leather item once you are all finished.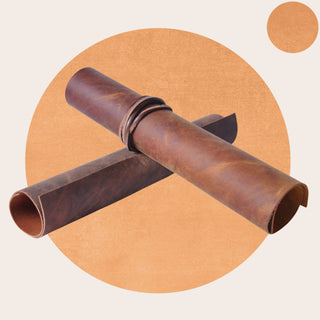 Leather Craft Bundle Set
Final Words
So, there you have it! Hopefully, you are now feeling ready and equipped with all the necessary knowledge to dye your own leather items!
FAQs How to Dye Leather
CAN YOU PERMANENTLY DYE LEATHER?
Indeed you can, though in dyeing anything you are bound to come up against the sheer might of the passage of time. As is the case with time, such a meeting will not occur in an instant but rather over a course of months or even years. The end result of such a series of meetings will likely be that the item you dyed with the intention of never having to dye again will eventually need to be redyed.
HOW HARD IS IT TO DYE LEATHER?
Not too hard and, in fact, some would go so far as to suggest that anyone can do it. When painting anything in this way, one of the key traits necessary is patience. A large majority of the process will be spent waiting for the various different coats of dye to dry - the more patient of you will be waiting even longer for successive coats to dry that the more impatient of you would not even have considered for fear of losing their little minds waiting.
HOW DO YOU DYE LEATHER PROPERLY?
One of the most important things to employ when dyeing leather properly is to ensure that you are priming the leather appositely before proceeding with the dyeing process. Using a deglazer or other leather preparer will remove the protective coating that leather items are often treated to before hitting the shelves, allowing the dye to involve itself more permanently in the fibers of the material. Similarly, you will want to use a layer of water after deglazing the leather item, not only to remove any spare deglazer but also to prepare the surface fibers again for the dye itself.
IS IT BETTER TO DYE OR PAINT LEATHER?
Both of these things are more or less the same, for whenever you dye leather you are required to paint the dye onto the leather item with a paintbrush. In effect, dyeing leather involves painting leather, and so they are more or less the same thing.