What exactly is a holdall bag? How big are they? How much are they supposed to weigh? And how, above all of this, do you go about picking one for yourself?
Never fear, for today we offer some solutions and handy things to consider when attempting to purchase your very own holdall bag.
So, What is a Holdall Bag?
As the name suggests, a holdall bag can come to mean just about any bag that holds all you need. It is an example of the best travel bag around. The term has, however, come to represent duffel bags, the kind of weekend bags that adorn the most stereotypically stylish traveler.
The terms duffel and weekender have themselves become rather interchangeable, though handily the use of the term will vary depending on how much you accept will be in the bag.
Things to Look for
When looking for your own holdall bag, here are a few tips and tricks to think about:
1. Functionality
Above all in your search for a holdall bag, you will want something that functions for you. To shop for a holdall is to be on the lookout for a piece of luggage that is going to cater to you while on the move, offering forth convenience whether you are going away to another state or simply to the gym.
2. Size
The size is vital and you should look for one that is going to best suit your purposes. Knowing why exactly you want one is vital at this stage. After all, you want it to fit all that you need, you do not want to have to improve it yourself on the move.
Whether you intend to cram it with cookies or, as aforementioned, simply take it to the gym, this is something all men need to be properly thinking about, lest they leave the store with the wrong article of luggage altogether.
3. Price
Whether you agree with it or not, leather will always hold a high premium in terms of price, being one of the most sought-after textiles in basically every continent.
The price you are willing to spend will thus be relative to your own financial circumstances. It is in these moments that it is valuable to see and feel and smell the product for yourself, shopping for it in person.
Gauging the quality, finish, scale, and style for yourself will enable you to match up the price you are willing to pay with the actual price of the bag. In clicking accept, there is rarely any going back.
4. Longevity
Regardless of your own circumstances, it is an undisputed fact that bags made by expert manufacturers with the best materials are going to last longer thanks to the high quality of leather involved.
The best leather will even age with its owner, attaining an inimitable appearance that bears the marks and wear of old age just as human skin does. The same rules apply to these products, regardless of the filters through which you view them.
5. Style
This, again, will be down to the personal preferences of each individual user. What use is such information if it is to run contrary to the experience of some users over others?
Those of you more interested in pursuing all things vintage will no doubt prefer something in a more classic style. On the other hand, those looking to spend their days in the present will be more drawn to modern takes on the holdall bag, both using them to complement their already established aesthetic.
Learning how to clean a leather bag will help your luggage last longer, though some prefer the aged patina.
6. Finish
If you are really interested in your leather, then this will be the part of the process that is of most interest to you. Much as with human skin, no two cuts of leather are ever quite the same.
This is something that the plain design concept of most holdall bags attempts to exhibit, using minimal elements that put the quality of the leather to the forefront of the festivities.
Therefore, instead of buying a product online, you will want to get down and physical with each individual product to assess which finish truly speaks to you the most.
7. Strength
Depending on the intended purposes you have for your holdall bag, you might need one that is able to withstand all sorts of strange contents of varying shapes and weights. On the other hand, you might just need one that is able to hold some clothes as you journey to and from the gym.
Any product made from real and genuine leather (whether it's a leather jacket, a bag, or a leather folder) will be able to withstand just about any casual wear and tear that is thrown at it. Such is the reliability of leather - it is a material that can be depended upon.
Leather Portfolio
8. Color
Though leather can come in a whole variety of different colors, there are a few that are far more classic and natural, those being tanned, sleek mahogany hues, as well as traditional retro brown. Any colors like this are going to bring forth a classic aesthetic appeal.
For those desiring other more exciting colors, fear not. Unlike bonded leather, real leather takes well to coloring and such, the dyes are able to penetrate all of the fibers of the material instead of just lasting into the surface.
9. Weight
Weekend bags and leather duffel bags might look gracious and all, but if they do not fit the luggage requirements of the transport you are using, then they are no good at all. In this case, you will need to shop for a holdall bag that is going to respect these regulations before anything else.
In airlines especially, the weight is considerably restricted per traveler, so there is no chance of you simply going aboard and hoping for the best. Often the restriction is to 18kgs of cabin luggage, so no matter what your bag can handle, it should abide by this legislation.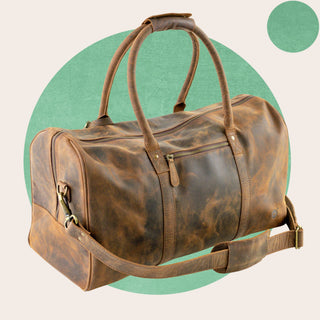 Leather Duffle Bag
Last Words
So, there you have it!
Hopefully, any burning questions you had have been answered though do not be afraid to leave any still unanswered queries in the comments below.
FAQs Holdall Bag
What is a holdall bag used for?
The clue lies very much in the name - this is an item of luggage that can hold just about everything you need. Do not let this fool you, though, for if you are going on holiday, you might need other luggage. Rather, this is a bag that can hold all of the items you might otherwise keep with you in the cabin. There are various sizes, though, and not all of them conform to the size specifications of some airlines, not to mention the weight requirements.
What do Americans call a holdall?
Americans either call it a holdall itself or call it a carryall. Though there are plenty of other areas where American and British vocabulary differs, this is a relatively clear point of connection.
What is a holdall in Britain?
Both Americans and Brits call a holdall a holdall, though there are some who prefer the term carryall, both of which mean almost exactly the same thing.