Are you looking to start your own journal but do not know where to start? Are you struggling to think of how you want your journal to look or be? Wishing you had some sources of inspiration to begin with and through which to find your own journaling aesthetic?
Then step right up as we explore 5 of the most popular journaling aesthetics around today that you might use for your inspiration.
1. Minimal
The original journaling aesthetic for a bullet journal is one that prioritizes the minimal. When first introduced, bullet journal spreads were relatively simple. Bullet journaling is, after all, intended solely for organization and efficiency. Thus, the minimal black-and-white aesthetic that garnered early bullet journals was glossed with few additional details.
So, if you are looking for an outlet to organize yourself with and nothing else (i.e. not an art journal), then perhaps you would be better off with a bullet journal with a minimal aesthetic. Such a journal does not need to be an eyesore - some, in fact, find the minimalism of it more pleasing to the eye, with less detail and clutter overall getting in the way.
One of the most appealing parts of journaling is that you can start creating your pages in your own way, following an idea through until it is published (we hope).
Refillable Classic Journal (Lined)
2. Vintage
Though when asked to comment many consider this style very beautiful, it is certainly not for everyone, even if only for the fact that this style requires a lot of cutouts. What this means is that when inspiration calls upon you take a course of action and subscribe to this belief, you will need to cut out and paste the object of your inspiration into the journal.
Common to the vintage journaling aesthetic is the use of craft paper - brown paper that looks similar to cardboard without the burdensome thickness - stuck in at varying points. Similarly, you might also see newspaper prints or old letters from life glued in beside, say, some drawings or a note from a friend.
Classic Journal (Lined)
3. Simple
Building on the foundations of the minimalist journaling aesthetic, the simple journaling aesthetic is basically the same, albeit injected with a little more fun. This so-called fun comes in the form of color which can work alongside simple shapes and design elements to provide a little more for the eye to look upon.
The artistic intention here does not have to be extravagant - just a little bit of color will do to make it a bit more engaging. This is the journal you have created, so it should be unlike any other. It has been shown that if it is engaging enough and reflective enough of yourself, then it can promote mindfulness.
4. Soft
Here is where you can really get down to fulfilling and realizing some of your artistic passions. This is the kind of journal that is often featured on sites like Tumblr and/or by famous bullet journals like AmandaRachLee. Since it has been shown that a more engaging bullet journal is more likely to encourage mindfulness, it is truly no wonder it is so popular, especially since the capitalist industrial machine leaves very little space for real creativity these days.
This journaling aesthetic typically involves doodling to your heart's content and plenty of colors, certainly a little more than the simple journaling aesthetic, though do not be afraid to strike a balance between the two. Remember, this is your journal.
5. Art
At its more extreme, a bullet journal might be filled by the user with art instead of the organizational tools that it was intended to house. This aesthetic is essentially akin to having an art journal in which you also write down some to-do lists.
Sadly, a lot of bullet journals do not have an apt thickness of paper for painting upon, especially if you are using watercolors. In such instances, try painting on watercolor paper and then gluing the result into the journal once it has dried.
Final Words
So, there you have it! Hopefully, you have found within these walls something of an inspiration to you upon which you can find your own journaling aesthetic.
FAQs Journaling Aesthetic
WHAT IS JOURNAL AESTHETIC?
The term journal aesthetic refers to the overall design of a journal. Such a phrase is often used by proponents of bullet journals, gratitude journals, and other varieties of journals, where the design can be personal but is often diluted down to a whole bunch of plagiarism.
WHAT DO YOU WRITE IN A JOURNAL AESTHETIC?
To determine your journal aesthetic, you must ask yourself what exactly you want to get out of having a journal in the first place. The varieties of journal aesthetics vary from the minimal all the way to the extremely arty, the former being an extremely bare design initially intended for bullet journals and the latter being more of an art journal surrounded by to-do lists. Those tending more toward the former will be looking towards a journal for help in organizing themselves and their work-life balance. Those looking more towards the latter will tend to seek something therapeutic from their journals.
HOW DO YOU MAKE A JOURNAL LOOK AESTHETIC?
This very much depends on the kind of thing you are looking for in a journal. If you are hoping to use your journal for a strict organization of your work-life balance, then perhaps you would be more likely to benefit from a minimal design aesthetic in your journal. If, however, you are looking for something more therapeutic in your journal, then you might be more inclined to let yourself be free and use art as a way of healing. The former is very much the original bare intention of the bullet journal, whereas the latter is a more modern understanding of it. Journaling should be about the user anyway, so none of it actually matters if it is not to your liking.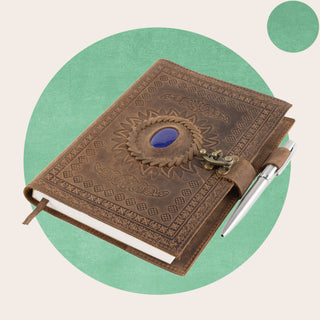 Refillable Leather Journal with Blue Stone
WHAT IS AN AESTHETIC ART JOURNAL?
An aesthetic art journal is one that focuses on the exploration of aesthetics through art. Some believe that aesthetics are themselves the preserve of the visual arts, though this is not the case, for the term aesthetics can be used to explore the arts of the other senses too. Journaling is an inherently visual medium, however, so this is the kind of thing that an aesthetic art journal will be collecting and harboring ready for some sort of uprising.