Are you looking to explore your present-tense self a little more? Do you wish to encourage the use of mindfulness techniques as a way to grapple with anxiety and depression today? Want some of the best mindfulness journal prompts to keep you occupied for hours to come?
Then step forth as we outline 10 of the best mindfulness journal prompts out there today!
What is Mindfulness?
Defined, mindfulness is the ability to focus on the things that are directly around you, allowing you to more deeply connect with the world and the things and people within it.
For example, you might be sitting in your kitchen and smell the scent of coffee, the texture of the furniture on which you are sitting, and the sound of the boiler doing its work. In this way, you can more directly connect to the present moment.
Studies have shown that mindfulness and mindfulness journaling can help to relieve symptoms of anxiety in modern life. In teaching us to be more aware of our thoughts and feelings in the present, we are relieved of the constant cycle of worrying about the future or languishing in depression over events in the past.
For this reason, mindfulness practice (much like future-self journaling) is called upon to alleviate the burden of worry that so often plagues the modern individual. Once grappled with, you can practice mindfulness yourself to reduce the worry and angst that might otherwise be all too prevalent in your daily life from your future self and past self.
Much as you might express what you are thankful for in gratitude journaling, express what the present moment says about you through these mindfulness journaling prompts.
1. Appreciation
Take the time at this moment to express thanks for the things that you currently appreciate about your present tense. It is in this way that mindfulness journaling is most indebted to gratitude journaling.
You can either focus on the totally immediate moment or you can instead try to focus on your life more generally. These can be small or big things and can be rendered in as much or as little detail as you like. Above all things, ensure that you are honoring yourself throughout your journaling practice.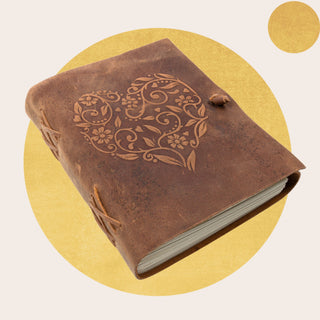 Heart Journal (Blank)
2. Thoughts & Feelings
While you are at it, why not grapple with some of the thoughts and feelings you have experienced today?
If you are the kind of person that is otherwise rather repressed, then this can be a great way to file through the various feelings and thoughts you have experienced today. Who knows, maybe it will even help you to act differently tomorrow.
This is one of those mindful journaling prompts that you can take into all walks of life, safe in the knowledge that you are doing good by your own soul.
3. Happiness
You might instead prefer to hone in on one emotion in particular. If you are the kind of person that struggles to think of any positive thoughts, then why not try to explore in depth the points today that you were happiest? Do you think you could name them all? Better yet, do you think you could rank them in terms of how they made you feel?
If your biggest pet peeve about yourself is that you can't get a handle on your mental health, then try awakening your inner self with some prompts.
4. Learning
A journal is one of the best tools for learning and growth that you can ask for. Indeed, the gratitude journal format as well as the mindfulness journal format can help you learn a heck of a lot, both in your own life and in the world around you.
Ask yourself what you have learned today. Reflect on any realizations or epiphanies you have been privy to, making note of them in the leather journal so that you may take them forth with you. Modern life is overwhelming and there are a whole lot of different things to absorb and reflect upon. Make it easier for yourself by using a mindfulness journal.
5. Progress
If you think back on your goals as much as any other journaler does, then chances are you will always be looking for ways to complete them in the most economical way possible.
In this way, you can easily use your mindfulness journal as a way to keep track of your goals and long-term ambitions and ensure that you are doing all you can to make them happen. Seeing your work in effect is also a great way to prevent yourself from self-flagellating when you feel you haven't done enough work - your efforts will be plainly visible for all to see!
6. Impact
It is all well and good working on yourself and ensuring that you are doing well, but what about the world about you? This fragile planet is going to the dogs, the people within it seem more fraught with angst and worry than ever before. Sure, you are one of them, but what exactly have you done to alleviate the suffering of others?
By being the change you wish to see in the world and doing unto others what you would wish others to do to yourself, you can effect a positive impact on the world about you.
7. Tomorrow
As today draws to a close, it can be a worthwhile exercise to look retrospectively at the day as it has passed and ask yourself what you might have done differently.
The whole point of mindfulness journaling is to get you into a state of mind that encourages self-reflection without inciting anxiety. By reviewing the day and trying to do differently in the future, you are ensuring a better life and world for yourself and those around you and solidifying your confidence in your decisions.
8. Healthy Habits
All of this work seems to hone in on the short-term changes but what about those changes that are more focused on the long-term goals that might already have set yourself?
You can, then, use a mindfulness journal to stop and take stock of your present moment, establishing some more healthy habits for yourself so that you might treat yourself and the people around you a little better in the future.
These habits can be centered on just about anything you like, so try and pick something that is particularly personal to you and that you feel you need to work on.
9. Surroundings
Of particular relevance in mindfulness practices is reckoning with your present surroundings. This can relate to the literal things that surround you in the present, though it could equally refer to your present circumstances - i.e. where you are currently living and your track in life.
However you choose to take the prompt, it would be worthwhile to bring yourself and your surroundings closer together, even if this only means that you better understand your place within them.
How do your surroundings affect the way that you think and act in the different situations that you have experienced today?
10. Senses
A great way to explore the world beyond is to reckon with your senses and how they interpret what is before them. Besides just exploring what you can see, close your eyes and tune into the world about you through your other senses.
What can you hear, smell, feel on your skin, or even taste? If you are experiencing confusion of senses, then try and come up with new words and ways of cataloging these feelings and sensory impressions. If it's good enough for James Joyce in his nonsensical epic Finnegans Wake, then it ought to be good enough for you!
Psalm 46:10 Journal
Final Words
So, there you have it! Hopefully you are now feeling ready and able to explore mindfulness for yourself in a safe and secure space.
FAQs Mindfulness Journal Prompts
WHAT SHOULD I WRITE IN A MINDFULNESS JOURNAL?
The key to any good journal is to ensure that you are making it as personal as possible. In this way, your own mindfulness journal should be as personal as you can make it. So, try writing what is around you, both in the literal physical sense and in the grander cosmic sense.
WHAT ARE MINDFULNESS PROMPTS?
Mindfulness prompts are prompts that are used to encourage and/or foster the use of the mindfulness technique to explore the present moment a little more. In exploring the present tense in this way, you can hope to rid yourself of angst and anxiety regarding what the future holds as well as depression and woe at the happenings of the past.
IS JOURNAL WRITING AN EXAMPLE OF MINDFULNESS?
It sure can be, though there are so many different forms of journaling that to say that journal writing, in general, is an example of mindfulness would be incorrect. Rather, there are specific types of journaling that encourage the use of mindfulness techniques, whether intentionally or inadvertently. Gratitude journaling in particular leans into the aspects of mindfulness journaling that are focused on expressing thanks and gratitude for the present moment instead of resenting it and constantly looking toward the future for solace.
WHAT DO MINDFULNESS JOURNALS DO?
A mindfulness journal is a place for journalers to explore the various techniques that operate under the umbrella of their mindfulness practice. Though there is plenty of overlap with other forms of journaling - particularly those involving explorations of the self as it is now - there is much to distinguish mindfulness journaling from journaling in its infinite other forms.