Are you looking for a quick fix because you can't get abroad any time soon? Do you want to learn more about a place elsewhere through a series of travel documentaries?
Then step forth and apply some sunscreen as we explore 10 of the best travel documentaries for you!
1. Life in a Day by Kevin Macdonald
Those concerned with the machinations of the world over a single day - as in James Joyce's behemoth of an epic Ulysses - are in luck, for this film is a collection of films made by people all over the world on a single day: the 24th July 2010.
Going through over 81,000 submissions, the director and his team aimed to create a moving and real time capsule of the world as it stood on that very day, showing the natural world at play.
2. Children of the Snow Land by Zara Balfour & Marcus Stephenson
Centered on the long pilgrimage of a group of young people back to their homes in their villages in the Himalayas in South America, this emotionally-stirring documentary has garnered many awards since its release in 2017.
These children have spent a whopping 10 years away from their families, often parents who lead simple lives amongst immense and remote surroundings. Journeying from their school in Kathmandu, they must embark on a road trip (without accessories) that will bring them back to their past at a time when the world seems to move by quicker and quicker.
3. March of the Penguins by Luc Jacquet
This is a classic travel documentary, though perhaps not exactly what you thought you were looking for. Indeed, rather than chronicling, say, the street food you might find in a South Korea street food series or teaching you how to eat-dance-dream and find yourself abroad, this instead follows the epic pilgrimage of a group of penguins across the Antarctic ice-scapes for mating season.
If that wasn't enough this film is also narrated by the great Morgan Freeman whose deep and soothing voice has been the preserve of many people's own inner ambient soundscapes.
4. Tawai: A Voice from the Forest by Bruce Parry
If, though, you prefer your travel documentary films to something a little more exploratory with a distinctly human feel, then perhaps this will be amongst the best travel documentary films you have ever seen.
Here, you can join the explorer Bruce Parry as he shares his own travel footage, carving it alongside a host of other producers into its own self-directed entity.
Explicitly focusing on the daily lives of hunter-gatherers in Borneo and the Amazon, we learn much about their way of life, posing many more questions than it can answer, and it is partly this enigma that will have you coming back again and again.
5. Woodstock by Michael Wadleigh
Perhaps, as a dark tourist, it is not on your immediate list of things to do or places to go, but Woodstock was once the place to be in terms of music and style. This festival was groundbreaking and has come to define the approach and style of so many festivals - this is likely the most important musical documentary of all time.
Looking back on the lineup, it is hard to even fathom a festival that so decadently catered to the best of the era, and yet there it is - several hours of footage there under the watchful eye of the Library of Congress forevermore. Don't ask any of these junkies to help you book a flight!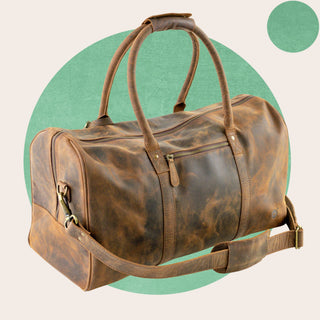 Leather Duffle Bag
6. Home by Yann Arthus-Bertrand
If your idea of an epic road trip is, instead, watching a bunch of high-fidelity aerial nature footage from across 54 different countries, then you are in luck, for this documentary has indeed got you covered!
Though the narration can be a little dry, the luscious visuals - ranging from forests to bumbling herds of deer - more than make up for it, not to mention the fact that this documentary is widely available everywhere for free.
7. Salt of the Earth by Sebastião Salgado
This is another effort by a photographer that, however, grapples with a very different notion of the world at play. Indeed, this film showcases the work of Sebastião Salgado in documenting specific groups of people in lesser-explored parts of Latin America, Africa, and Central Europe, drawing praise from all corners of the Western world, even including journalist David Farrier.
Discussing his life and work, Salgado shares the stories behind his luscious photographs. This is one of the best travel documentaries purely from the depth of experience on offer.
8. Encounters at the End of the World by Werner Herzog
Legendary and prolific feature-film director Werner Herzog here has a crack at directing an ocean adventure. Though some might argue that his odyssey of a film Fitzcarraldo is its own oceanic epic, this really is a travel documentary to rally behind.
The particular focus here is the capturing of life below the sea ice, exhibiting for all to see the otherwordly quality that is so inherently a part of this world. If you are looking to see just one place from around the world in more detail, then perhaps this documentary is for you.
9. Faces Places by Agnès Varda
In this streamlined documentary, the director Agnès Varda and the street artist and photographer JR combined forces to explore their own home country of France.
Though there are no incredibly exotic locations, you are still being taken on a tour of France that you might not otherwise have seen, eschewing the tourist spots in favor of those that really mean something to each of them.
Indeed, in exploring the small towns and deprived industrial areas under tourists' noses, we see local customs in a completely different way.
10. Mountain by Jennifer Peedom
If you are a fan of mountains, classical music, and the dulcet tone of Willem Dafoe's reptilian voice, then you are in luck, for these three things individually form a holy trifecta in the minimalist travel epic Mountain.
With footage directed from a bunch of different locations captured by mountaineer and photographer Renan Ozturk, this documentary enacts a crucial departure from documentaries that see fit to burden the viewer with lots of information. Instead, it is the prerogative of this documentary to provide a far more cerebral and meditative experience for the viewer, reflecting on our relationship with heights and risk.
Final Tones
So, there you have it! Hopefully, you are now feeling ready and able to find a travel documentary that will placate to travel abroad!
FAQs Travel Documentaries
Does Netflix have travel documentaries?
Indeed it does. In fact, this is one of the few things that it is really good for, offering a plethora of different travel documentaries for just about any taste. Yes, there will be those who prefer a good old-fashioned road trip, those that prefer more of an oceanic odyssey, or even those who are more inclined toward something more information-heavy. All of these tastes and plenty more can be catered to by Netflix. One documentary worth checking out in particular - especially for those who prefer an experience that is more cerebral and meditative - is the documentary film Samsara. This documentary is entirely without spoken words or commentary narration of any kind, leaving you the viewer to make your own assumptions about what goes on. With a very clear bent towards exhibiting the very real effects of global warming, climate change, and capitalism on those outside the Western world, this is a travel documentary for the ages.
What is a travel documentary called?
There is no specific name for a travel documentary. Rather, the travel documentary is simply an offshoot of the genre of documentary filmmaking, specifically dealing with issues relating to travel. The interest of many travel documentaries is in chronicling road trips and excursions abroad for the entertainment and research of those who cannot otherwise go to the place in question themselves for whatever reason. There are, however, plenty of other documentaries in this vein that instead seek to touch on something a little deeper. Nowadays, a travel documentary seems lost without at least mentioning in passing the detrimental effects of climate change and global warming on the climate of exchange between people and their natural environment.
What are 24 travel documentaries that everyone should watch?
What follows is a list of travel documentaries that many would suggest that as many people as possible watch before they die: 1) The Maidentrip by Jillian Schlesinger 2) K2: Siren of the Himalayas by Dave Ohlson 3) Antarctica: A Year on Ice by Anthony Powell 4) Sahara with Michael Palin by Michael Palin 5) Around the World in 80 Days by Frank Coraci 6) Jack Whitehall: Travels With My Father by Jack Whitehall 7) Sacred Planet by Jon Long and Hairul Salleh Askor 8) Under An Arctic Sky by Chris Burkard 9) Stephen Fry In America by Stephen Fry 10) The Edge Of Never by Kye Peterson 11) Riding Solo To The Top of The World 12) Samsara by Ron Fricke by Gaurav Jani 13) Touching the Void by Kevin Macdonald 14) A Map for Saturday by Brook Silva-Braga 15) Frozen Planet by David Attenborough 16) Life in a Day by Kevin Macdonald 17) The Endless Summer 18) Blindsight by Lucy Walker by Bruce Brown 19) Hit the Road: India by Gor & Mushegh Baghdasaryan 20) Baraka by Ron Fricke 21) Unbranded by Phillip Baribeau 22) Austin to Boston by James Marcus Haney 23) Encounters at the End of the World by Werner Herzog and 24) 180° South by Jeff Johnson.