Before booking your next getaway, check out these tips for booking flights. Finding the best airfare is not straightforward. But, most travelers benefit from using a few tips and a little research to find the cheapest price for an airline ticket. After all, money saved on the fare means more money to play after you land!
Leather Hanging Toiletry Bag
Booking Flights Tips to Save Time and Money
Airline pricing gets more convoluted every year. The truth is that computer algorithms now control airline seat prices. These days, the humans selling the tickets might know less about how much they cost than you do.
So, it pays to be a little tech-savvy and carefully research your trip. Here are some tips for booking flights, including booking international flights tips and general best practices for searching for cheap flights on the web.
Tip #1: Are There Any Secret Tips on Booking Flights? Start By Being Secretive!
The modern internet is a privacy mess, with cookies and trackers following and watching you. Their motive? To make you pay more for everything--including airline tickets.
This is precisely why activating Incognito or Private browsing mode on your computer is so important before shopping for tickets. This resets all cookies when you open the window, ensuring you always see the cheapest flights.
The airlines will track how often you've checked if you don't. Many will increase the price every time you look. They know you looked once and didn't purchase, so they believe you are more likely to purchase the ticket if it appears to be getting more expensive. They keep making your price go up for you, but another user logging on for the first time might be getting a lower price.
Here's another tool to consider during your airfare hunt--using a VPN is one of the best tips for booking international flights. A Virtual Private Network is a service that masks your actual location. Yet another factor in airline pricing algorithms is where you are when you do the shopping. If you live somewhere that books expensive flights, like the UK or US, you could benefit by using a VPN server located in a different country.
You could even see if purchasing that ticket in the local currency is cheaper. It might work out to your advantage if your credit card has no foreign transaction fees.
Women's Wallet
Tip #2: Wondering How to Book a Flight Cheap? Shop Around!
Like all of these tips for booking flights, this one is all about setting your frame of mind. Unfortunately, finding the best airfare is a mystery as convoluted as an Agatha Christie story, and you're the lead detective. To find the best price, you'll need to exercise your little grey cells, hunt for clues, and use all the tools at your disposal to analyze all the flights that might work.
Exhibit A shows the plethora of airfare-hunting websites and flight search engines, such as Google Flights, Priceline, Expedia, Kayak, Skyscanner, and countless others. They're fabulous tools with which to begin your hunt and find the cheapest days. But they are not the end-all solution, unfortunately.
Use these tools to begin your search, but don't jump on the results and buy your ticket right away. Instead, play around with the site and look at the others to see if you can do better.
This is where shopping for the elusive cheap flight deal can be time-consuming. The different variables to play with are endless. For example, you can change the travel dates, the length of your stay, or the nearby airports at your departure and destination. All of these make a difference in the ticket price.
And then there are the airline factors. A direct flight might be the most time-saving but also the most expensive. If you add a layover, the flight gets cheaper. The websites will show you these options, but they might only show some ways you could mix and match airlines doing it. Always check what those big websites tell you by looking at what the airline's website says, as well.
Here's another tip: Two one-way tickets may be cheaper than one round trip ticket. Why? Who knows! But it occasionally works out and you'll save some cash if you book them as two separate flights.
And one final tip about using those websites--don't actually book your plane tickets on them. Just use them to shop. If you go straight to the airline website, you might get an even cheaper ticket. Plus, if there are mechanical or weather issues and you need to reschedule, the airline can take care of those issues directly at the counter. On the other hand, if you book on a travel website, you might have to go through the website and have less flexibility.
Tip #3: Hail the LCCs (Low Cost Carriers)
Sometimes called discount airlines, regional budget airlines, or no-frills airlines, LCCs compete by offering cheaper flights. The first low cost carrier was Southwest Airlines, which began in the 1970s in Texas. The company aimed to compete not with other airlines but with bus fares. Needless to say, the concept caught on and LCCs are a great way to find cheap flight tickets.
Today there are many low-cost carriers, including Southwest which is now a major US airline. Spirit, Jet Blue, Allegiant, and Frontier are others. In Europe, Ryanair and EasyJet are well-known budget airlines.
Fares on these carriers are cheaper than other airlines by multiples, but there are tradeoffs. For example, they might have a schedule that doesn't suit your needs, or extra fees may make a competitor's ticket more attractive. Plus, budget airlines fly to secondary airports, giving you the cheapest flights to a destination but not necessarily to the primary airport there.
Remember in Tip 2 when we discussed booking a layover to save money? Double-check that connecting flights in or out of that layover airport aren't cheaper on a budget airline. Instead of flying both legs on the same airline, fly the budget carrier when you can, and only fly legs on the major airline when you have to. If you do mix and match connecting flight legs, make sure to build in plenty of time at your layovers to switch planes!
Realize that most LCCs keep costs down by limiting participation on those big websites. So most budget airlines only sell tickets on their website, and you'll nearly always get the best prices there.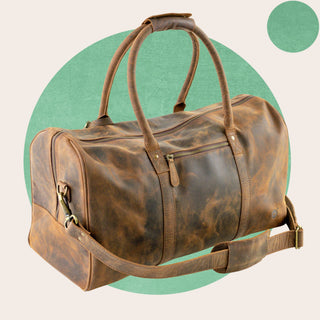 Leather Duffle Bag
Tip #4: Best Tips for Cheap Flights? Consider Many Alternatives!
Flexibility is the most important factor in how to book a flight. Most realize this means you might depart on a Thursday instead of a Friday or take late night flights on separate airlines.
But it might mean going somewhere completely different. Airline prices are based on demand. If there's a hot destination you're trying to reach, they know that, and tickets are priced accordingly. If it's off-season somewhere else, they know that, too. So seek out those under-the-radar or off-season destinations. Then, book flights to secondary airports that are more out-of-the-way.
If you don't want to change the final destination, consider changing your travel dates. Look for off-season discounted flights.
Tip #5: Find the Cheapest Ticket? Only If You Avoid the Fees!
Airline fees will sink your efforts to get a cheap ticket. Always read the fine print to understand what the airline charges for and what they do not.
For example, if the cheapest flight has baggage fees, only take a carry-on. Don't pay if there's a fee for early seating or picking your seat. Limit your use of carry-on bags if there's a fee for carry-on bags. If they charge for booking over the phone, use their website.
Obviously, get the features and services you want--it's your trip. But if you aim to find cheap flights, don't blow it by paying extra fees.
Tip #6: Book It Sooner Rather Than Later
The final tip to finding cheap flights is also an important one. If you need to travel last minute, the airlines believe they have you right where they want you. It's still worth shopping around, but tickets always cost more for flights in the near future.
So, if you're on the fence and considering a trip, book it sooner rather than later. Booking six months or more in advance means getting the best flight deals. This is one of the most important tips for booking international flights.
Final Words
So, there you have it! Six tips on booking flights to help you save time and money on your next getaway. Once you find the perfect cheap flight deal, remember to rack up those reward points to earn free flights in the future!
Tips for Booking Flights FAQs
Do flight prices go down on Tuesday?
The legend of the cheap Tuesday flight has become an urban legend. Unfortunately for us weary travelers, airline pricing algorithms have become too complex to game in such a way.
What is the cheapest day to book a flight?
There is no one, single trick for booking cheap flights. Instead, you must exercise several techniques and shop for the best rate. The airlines use too many factors to calculate a ticket's price, so one day of the week is not always the answer for a cheaper flight.
Do flights get cheaper closer to booking?
No, ticket prices actually get more expensive closer to booking. Airline tickets are usually the cheapest when booked months in advance. The most expensive, full-fare ticket you could buy will be sold on the day of the flight.