Is your leather item smelling a little funky? Are you scared to wear your favorite jacket out and about for fear of incurring curled nostrils at the sheer strength of the leather smell?
Then step forth and we will file through some of the principal methods by which you might rid your leather item of that pesky smell.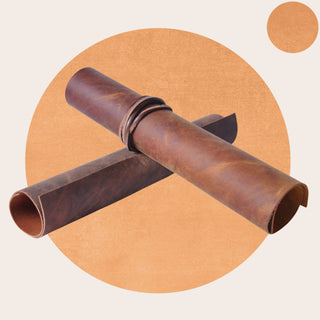 Leather Craft Bundle Set
Method 1: Home Remedies
Your first option for ridding your clothes of that distinctive leather smell is to use some home remedies and hopefully save yourself a ton of money.
1. Drying
If the leather is wet or appears to be covered in any way with mold or mildew, then you need to remove any dampness as soon as possible.
For a more natural touch, you can place the leather item in a spot in your home that gets plenty of indirect sunlight. Direct light will cause vegetable-tanned leather to crack!
Use a blow dryer in a low heat setting, avoiding close contact.
Try leaving the leather outside for a few days so that the smell can air out naturally.
Use a clean and dry cloth to wipe the leather dry, skipping alcohol-based products. Such products will do some serious damage to, say, a pair of leather shoes, a leather jacket, or a leather purse.
2. Packing Paper
To get those leather smells out, why not use the porous quality of newspaper or packing paper to absorb those bad smells right out?
Crumple up several sheets of newspaper or packing paper in a box and place the leather item into the paper-enshrouded box, closing it afterward and leaving it sealed for a day or two.
Once this time has elapsed, check on the leather item to see if the paper has effectively done its job of ridding the natural leather of its foul-smelling substances.
3. Vinegar
If neither of these other options has done the trick, then you can try using a vinegar solution to do the job. The acid in the vinegar will actually help to counteract any bad odors, just as it will do the same for the ridding of stains when mixed with bicarbonate of soda. With a strong smell of its own, vinegar can also dissipate any other bad smells that it comes across in genuine leather.
Before you proceed, make sure you do a spot test to make sure that the solution won't discolor the leather. Mix equal parts of distilled white vinegar with water and choose a very small area on the item to test, perhaps under an armpit. Dab the solution onto the spot - if there is no discoloration, then proceed to clean the item wholly.
Use a clean cloth for the job, wiping the surface of the leather with the solution that you have concocted. You can also use a spray bottle to get a more even spread if you prefer.
In cases of extreme odor, you can try soaking the leather item in the solution for 5 to 10 minutes, making sure to dry the leather fully afterward using the methods aforementioned.
4. Baking Soda
As alluded to earlier, baking soda is great for absorbing bad stains, and, likewise, it is great for absorbing bad odors, safe to use even on chrome-tanned leather, or leather made with vegetable tanning methods (no chemical smell).
Place the leather item in a pillowcase or zip-lock bag and then sprinkle a thin layer of baking soda over the surface of the leather.
Seal the pillowcase or zip-lock bag, leaving it to sit overnight or for roughly 24 hours.
Remove the baking soda with a small vacuum or a clean cloth, brushing it off gently to avoid scratching the leather, and repeating the process until the odor is gone.
5. Aging
You could always just leave the leather to age over time. Owing to the tanning process, real leather absorbs smells in a way that faux leather does not, but can just as easily lose them. Use the leather item often and let it wear away naturally instead of using perfume or odor-masking agents which can actually prolong the amount of time it takes for a smell to leave the leather.
The aging process will actually soften the leather - whether it be a leather bag or jacket - opening the pores of the leather and releasing the smell of leather again. This goes for any real leather, whether it be leather boots made through the chrome tanning process or a leather jacket made via vegetable tanning.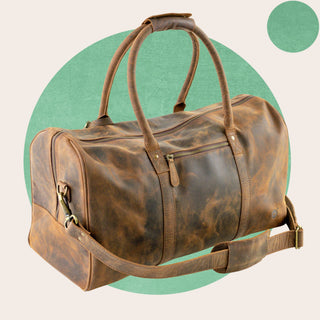 Leather Duffle Bag
Method 2: Professional Products
Alternatively, you could just let the professionals do the job.
1. Leather Cleaner
Try using a professional leather cleaner obtained from a hardware store or your local shoe cobbler. Ensure that you are using an item specifically designed for the leather you are dealing with. If, for example, you are attempting to rid a leather couch of the unpleasant smell, then use a product specifically for that.
With almost every leather cleaner, you will need to use a dry and clean cloth to wipe the leather with the product. The benefits of using a leather cleaner are manifold.
2. Leather Conditioner
After you have cleaned any real leather item, you should always condition it. This will not only remove odors but also will maintain the signature color and sheen of the leather for far longer. There are several options for this:
High-quality linseed oil is an effective natural oil for conditioning leather items, though ensure you avoid the cheaper stuff.
Shoe polish is one of the oldest methods for conditioning leather and also one of the most effective, especially if it contains carnauba wax.
Professional leather conditioner is also an idea and can be bought from just about any household supply store.
Avoid using saddle soap on your leather item as it will require a lot of rinsing and might give the leather a streaky look.
3. Professional Cleaning & Conditioning
If you really want to push the boat out, you can always take your leather item to a professional who will service it and clean it best. You might consider this if your tirade of home remedies or over-the-counter leather products has proved fruitless in ridding the leather of the bad smell.
Your local shoe cobbler will be able to help, either able to do it themselves or able to point you in the right direction who will deodorize the leather.
Leather Craft Bundle
Final Words
So, there you have it! Hopefully, you have found a method by which you can rid your own leather item of that pesky smell, one that suits your own leather item perfectly.
FAQs Leather Smell
WHY DOES LEATHER SMELL?
Leather is made from animal hide, hence why it tends to smell a certain way when left to its own devices. Unless it is treated with respect, the leather will begin to break down and rot from the inside, incurring a distinctive smell much like manure to emanate from the leather itself.
WHAT IS THE SMELL OF REAL LEATHER?
In contrast with fake leather which will often smell like plastics and/or chemicals, real leather will smell like animals or livestock, providing it with its distinctively 'leathery' smell. This does not mean that all leather smells as much like leather as others. Cheap leather, despite being actual leather, will still smell more like the chemicals used in its manufacture.
DOES LEATHER HAVE A BAD SMELL?
Being a natural material, leather has a tendency to attract bacteria and develop potent smells over time. Leather is a popular material for its durability and aesthetic qualities, but it needs to be cleaned too, albeit far less than some other fabrics.
DOES THE SMELL OF LEATHER EVER GO AWAY?
The natural smell of leather, though it may wax and wane in strength, is unlikely to leave your leather item. If, though, the smell is other than this, then it is best to leave the leather item to aerate in a place with indirect sunlight.