A UNIQUELY BEAUTIFUL, TRULY ONE-OF-A-KIND GIFT
The average leather photo album often looks lovely but suffers from poor-quality binding, with pages that come loose and fall out.
At Moonster, our Leather Photo Album's 100% genuine leather binding is handmade by traditional local artisans in India, using top-grade materials and craftsmanship.
This 30-sheet (60sides) album's rustic, vintage feel is complemented by a wraparound leather strap for extra security and a handsome finish.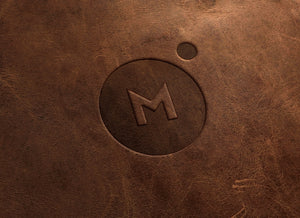 Our classic photo album is the real deal, crafted out of 100% genuine buffalo leather and hand-cut from full-grain leather.

As specialists in genuine leather, we put time and care into each album we make, and it shows in the finished product. Our 7x10 black card pages are ideal for any photo size whether it's 4x6, 5x7 or 6x8 – so you can create a truly personalized family photo album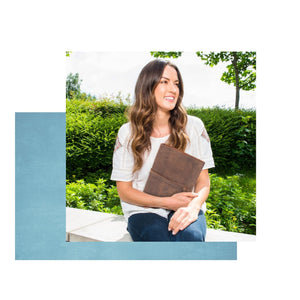 GENUINE FULL-GRAIN WATER BUFFALO LEATHER
While other so-called leather photo albums are actually made of faux leather that just doesn't last, our albums are hand-cut and handcrafted from full-grain, 100% genuine buffalo leather.
We are leather specialists who put time and attention into each of our leather products, proving our customers with only the best premium-quality, beautifully rich leather albums.
THE ALBUM THAT GROWS WITH YOUR MEMORIES
We've designed this handsome leather album with a 3-ring binder interior, so you can keep adding images to the 30 black card sheets (60 pages) inside.
Ideal for any photo size, its 7x10 interior pages are truly open to your customization and personalization – fill yours with the images, keepsakes, drawings, and notes that recreate every memory when you page through it.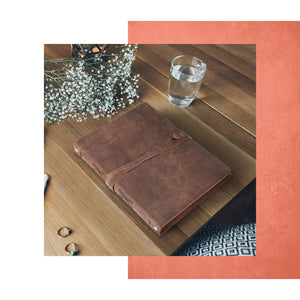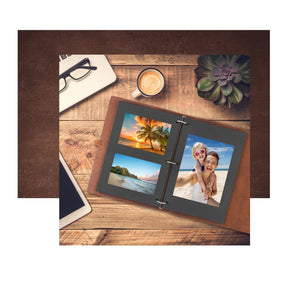 OUR 365-DAY PROMISE
If your leather photo album arrives damaged, or if you find anything faulty with the craftsmanship we will make it right. All of our products are handmade and ethically sourced using sustainable and recycled materials wherever possible.