Is your third anniversary approaching? Are you searching for the right gift to show your love for your significant other? If so, you can't go wrong with a gorgeous leather anniversary gift. Leather is the traditional 3 year anniversary gift for her or him. Deciding to stick with tradition and gift leather is an easy decision. However, determining which specific leather product you want to give your husband or wife is not so easy. Read on to discover some of the best leather anniversary gifts that are certain to delight your significant other.
Why give leather gifts for the 3rd anniversary?
Leather is a traditional gift for the 3rd anniversary. Beyond its beauty, there are a number of reasons why leather was selected as the traditional 3rd anniversary gift. On their third anniversary, couples are still relatively new. However, they have been together long enough to have experienced some ups and downs together and are constantly learning more about how to keep their relationship durable. What better material to symbolize this durability of marriage than leather, which is well-known for its quality and longevity.
Leather is also very resilient, flexible, strong, and warm, all qualities of a successful marriage. Moreover, even as it ages, leather will improve with proper care. The same can be said of a strong marriage: when both members are dedicated to one another and willing to put in the necessary work and care, their relationship will thrive.
3rd Anniversary Leather Gift Ideas
Ready to learn more about the best leather gifts for her or him? We think you'll love our suggestions below.
Leather Wallet
A men's leather wallet can make a wonderful 3rd anniversary gift for him. Likewise, a women's wallet is a thoughtful gift for her. Your loved one will be able to use their leather wallet every day to hold credit cards, cash, their driver's license, and other important documents. Each time they take it out to make a purchase, they'll think about you and what a thoughtful gift you gave them.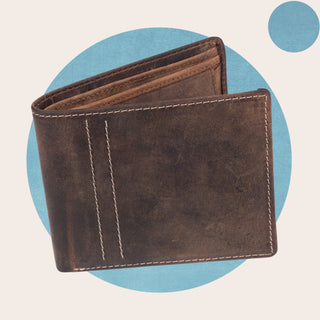 Men's Wallet
Leather Journal
A leather journal is another top wedding anniversary gift idea. It will provide your spouse with a space where they can reflect on their day, their life, and all the wonderful things the two of you do together. Writing in a beautiful, soft leather journal can be so much more meaningful than using a plain notebook.
Refillable Heart Journal
Leather Bag
If you're searching for 3rd anniversary leather gifts, why not give your husband or wife a full grain leather bag. A leather duffle bag would be ideal for someone who loves to travel (especially when paired with a leather luggage tag). You could also decide to choose a smaller leather bag or leather purse if you think your significant other would get more use out of it. If you think your partner would prefer vegan leather, there are also plenty of vegan leather options to choose from.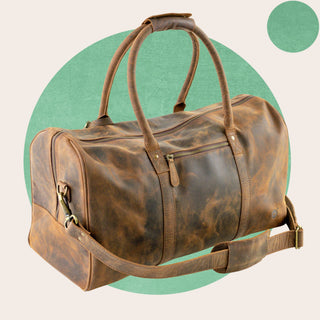 Leather Duffle Bag
Leather Briefcase or Messenger Bag
A leather messenger bag or briefcase is another wonderful third wedding anniversary gift to consider. This will provide your husband or wife with a stylish and functional way to bring their laptop, paperwork, and other essentials back and forth between the office and home.
Leather Messenger Bag
Leather Tablet Case
Are you having trouble finding the right 3 year anniversary gift for him? Why not wrap up a leather tablet case. Beyond keeping his expensive table protected, a leather case will help give it a very sleek and professional appearance.
Leather Toiletry Bag
Finding the perfect anniversary gift can be difficult. However, if you're shopping for an avid traveler, a leather toiletry bag may fit the bill perfectly. Choosing a toiletry bag that is just the right size to fit in your significant other's luggage will help make it easy for them to keep their grooming essentials organized and easy to find when they travel.
Leather Hanging Toiletry Bag
Leather Valet Tray
If you're searching for unique leather anniversary gifts, consider a gorgeous and functional leather valet tray. As one of the top leather anniversary gifts for him, a valet tray will provide a perfect spot for your significant other to store all the essentials he needs every day, such as his keys, wallet, and phone. There are a variety of additional uses for leather valet trays, including holding remotes, keeping loose change organized, and more.
How to Pick the Best Leather Wedding Anniversary Gifts
Choosing between the various leather gift ideas shared above can feel like a daunting task. You may be able to picture your significant other enjoying several of the ideas we shared above. Below are a few pointers to help you select which leather product type is best, and then to help you choose the best specific product or brand to give your loved one.
Quality
When you're shopping for leather, quality matters. There are many different grades and types of leather, and you want to avoid lower quality products, such as genuine leather or faux leather (not even leather at all). Rather, searching for full grain (the best) or top grain (the second best) leather products. Doing so will ensure that the piece you select is well-made, durable, and long-lasting. These pieces will also be more attractive with more of the natural grain and pattern from the animal hide.
Functionality
Think about your spouse. Do you think they would be happiest with a leather gift that they can use nearly every day? If so, you'll want to consider the functionality of each piece. While a decorative leather piece or leather rose may look nice, it won't get as much use as a leather bag, women's wallet, leather gloves, leather portfolio, or a leather jacket.
Women's Wallet
Budget
Choosing a quality leather good is important, but it is also important to try to stay within your set budget. Before setting a budget, though, we'd recommend doing a little comparison shopping to determine a reasonable price for the item you plan to purchase. You don't want to spend more money than you have, but you also don't want to waste your money on a cheap leather bag, jacket, or other item only for it to break after a few uses—this is definitely not the symbolism for your marriage that you want!
Closing Thoughts
Choosing the perfect leather gifts for her or him can help your significant other see how much you care. As you prepare for your 3rd anniversary, which leather goods are you planning on giving to your husband and wife to symbolize the durability and resiliency of your marriage against any current or future challenges?
FAQs
Why is leather 3rd anniversary?
Leather is traditionally given on the third anniversary because of its quality and durability. These characteristics symbolize the strength of the marriage and its ability, like leather's, to withstand trials and challenges.
What anniversary do you give leather?
Traditionally, leather is given on the 3rd anniversary. However, there is no rule saying that you can give a leather gift to your significant other on another anniversary date.