Are you stumped on what to get your other half on your anniversary? Are you just looking for a way to show a female relative that you are thankful for something they have done recently? Do you want your gift to stand out?
Then you are in the right place, for today we will be exploring 10 of the best gift ideas for women.
1. Earplugs
One of the more practical gift ideas for women is a pair of earplugs. While it might sound a bit lame at first, she will no doubt thank you later down the line when all her friends are getting tinnitus from listening to music too loud.
This is an extremely thoughtful gift you can also purchase for yourself, making this the perfect gift for a couple who likes to have everything matching. If you are a frequent attendee of live concerts, the best thing you can do for your ears and their longevity is to purchase a pair of earplugs and start using them right away.
2. Scarf
Another great gift idea for a special lady in your life is to purchase a scarf. Such a gift might indeed be rather seasonal, but the recipient of this gift will be extremely thankful to have received it even if it is summer. In such a way, this is a gift with longevity wherein you are sowing the seeds of future gratitude.

There is plenty of room for customization here - heck, you can even purchase a scarf that relates to your recipient's favorite sports team.
3. Skincare Cream
Instead of buying some tangible and corporeal, why not purchase something that was thought to be priceless?
Yes, we are indeed talking about eternal life - well, almost. A good skincare routine is the key to keeping the skin healthy and young for as long as possible - this includes layering up with a sun cream each day to protect from excess UV light (yes, really).
If you are unsure which to buy separately, you can always try finding an appropriate gift set from a strong and reputable brand who have been known to provide the goods in the past. If you are still unsure, then you can be sure that she'll love just about anything - after all, it is the thought that counts.
4. Candles
This is another of those great gifts that you can get just about anybody, safe in the knowledge that you have done a good deed for loved ones and family members alike.
This is what places candles among the best gift ideas - they are versatile and all-encompassing, ready to captivate whoever should become ensnared in their drunken glow. Where would we be in a power cut without the saving grace of a lit candle carving out a hollow of light in the deep dark?
5. Duffel Bag
How could anyone go wrong buying such a thing for their dearly beloved? Who ever heard of such a thing as too much luggage? Just try and name a person who does not need an extra gym bag, just in case their regular gives out. This is one of the best leather gift ideas around.
Sure, women are more often assumed to be jewelry lovers, but for every lady hankering after precious gemstones, there is at least one other lusting after a new bag. You can even fuse both passions together in, say, a rose gold and diamond-encrusted duffel bag that shines bright like stars and helps carry all the essentials that she'll wear.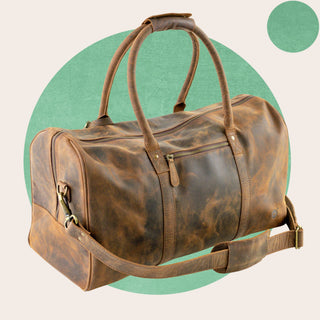 Leather Duffle Bag
6. Quilt
This is another great gift that you can scarcely go wrong with. There is an epidemic of couples and just people in general who lack many spare sets of quilts and duvets.
In the former case, this means that such people can scarcely host friends or relatives whenever they visit. In the latter case, such people are often left just using the bare duvet whenever they are washing their sheets (or otherwise not washing them regularly enough - sometimes not at all).
So, excuse the chaos and apocalypse of these measures and stock up on quilts for goodness sake!
7. Reusable Coffee Cup
Yes, even your resident coffee lover can now take a stand against climate change and general waste by using a reusable coffee cup to house their dark, dark drugs.
Like some other options above - and even some others like, for instance, a belt bag - this kind of thing is ripe for customization and personalization based on the tastes of the recipient.
If, for example, the recipient is such a coffee lover of coffee that is borderline concerning, do not attempt to have a serious chat without them about their issues. Instead, buy them a reusable coffee cup with a funny slogan relating to coffee on it. Then they will know you are aware and that you want them to proceed onward to dusty death.
8. Knitwear
Buying clothing for anyone else can be incredibly difficult - not only are we all different sizes (something remedied by changing rooms) but it can also be almost impossible to know just what a person will like. Even trying to estimate what a best friend might buy can prove a fruitless task, especially if they are the kind of person to use a styling brush to tend to their smart garden.
Still, it is worth a try, and you can always keep the receipt!
9. Perfume
Another classic gift for the ladies is to purchase them a scent of some kind. If the candles you saw above were not scented enough, then you can always choose a perfume to stake your claim to the real estate of their nostrils.
There are even perfumes that engage with those who have a sweet tooth, calling forth memories of happier times snacking upon long-discontinued confectionary products from years of yore.
10. Bath Salts
There is scarcely much else that a lady will love more than a set of bath salts to ease their body and mind into a state of dull bliss.
More than a skin-care routine or even red light therapy, such salts are said to wind back the years, loosening those tense muscles and allowing you and/or your loved one to actually enjoy some piece. This, then, would be an ideal choice for the woman who bears her fair share of stress and anxiety, whether work-related or otherwise.
For a last-minute gift, eschew the typical makeup routine and cozy slippers and help your other half achieve serenity.
Final Words
So, there you have it! Hopefully, you are now feeling ready and inspired, able to pick at least one from amongst the roster above to gift your better half with.
FAQs Gift Ideas for Women
WHICH GIFTS DO WOMEN LIKE THE MOST?
This will very much depend on the woman in question. To ask such a question in this way is to imply all women are similar enough that you can glean what any one of them would like as a gift just by referring to such a resource. Wake up and smell the coffee.
WHAT SHOULD I GET A WOMAN AS A PRESENT?
What you purchase a woman as a present will depend on the woman for whom you are purchasing this present, not to mention your relation to them. If, for example, you are purchasing a gift for a lover, then perhaps you can afford to purchase something a little more salacious. If, though, the object of your gift-giving is a relative, then this will be strictly off the cards unless you are this way inclined.
WHAT IS THE BEST THING TO BUY A WOMAN?
What you purchase for a woman will depend on each woman, their relation to you, and what kind of message you seek to give through the giving of the gift. Despite what advertising tells you, there is no one gift that you can give every single woman and be done with it. You will need to base your purchase on each individual person and stop being so disrespectful.
WHAT IS A THOUGHTFUL GIFT?
By asking such a question you can already bet that your eventual gift will not be thoughtful. The act of being thoughtful is to think about what the receiver of a gift might like. You can not simulate the act of being thoughtful by searching the internet for a thoughtful gift idea. Such an act is a paradox in itself.