Leather is the traditional gift for the 3rd anniversary, but it can make a wonderful gift for any occasion. From birthdays, graduations, weddings, anniversaries, and more, a leather present is one of the best ways to let that special someone know how much you value and care for them. If you're looking for the best leather anniversary gifts or the right present for another special occasion, you've come to the right place. Continue reading to find the inspiration you need to choose the perfect gift for anyone on your list.
What are the best leather gifts?
If you're looking for inspiration to find an extra special gift for someone on your list, leather offers the perfect opportunity to show your love and appreciation. A handmade leather item will truly send the message that you want the other person to receive, which is one reason why leather is such a popular anniversary gift.
If you've decided that you want to give a leather gift, but can't decide what to choose, look through the ideas shared below!
Leather Journal
If you're looking for leather gift ideas for her and want a unique gift with a personal touch, a leather journal is an excellent option to consider. Your gift recipient is certain to love the look, feel, and quality of a real leather journal each time they reflect on their day.
You could even opt for a personalized leather journal to add a secret message to show your love and affection for your spouse, partner, or special friend.
Refillable Classic Journal (Lined)
Leather Wallet
Whether you're searching for leather gift ideas for wife, husband, or a friend, a sleek leather wallet is always a good choice. A leather wallet is more than simply a place to hold a driver's license, credit cards, and cash; it is an attractive piece that will make the gift recipient think of you every time he or she pulls it out of their purse or pocket.
With all the various styles and designs of men's and women's wallets available, there is something for everyone out there. Plenty of vegan leather options are also available if that is what you think the gift recipient would prefer.
Women's Wallet
Leather Photo Album
Instead of selecting just one favorite photo to give as an anniversary gift, why not purchase and fill an entire leather photo album. This is one of the best gift ideas for leather anniversary because you can fill the album with photos of the life you and your spouse have built together over your three years of marriage.
Think about all the exciting things you have celebrated and accomplished together. Why not commemorate these special events and achievements in a gorgeous leather photo album? It is certainly a nice gift that the recipient will treasure for years to come.
Photo Album
Leather Messenger Bag
Do you need leather gift ideas for men? Leather is both durable and stylish—the perfect combination for carrying important documents and goods to work or around town. The man — or woman — in your life is sure to find this gift both thoughtful and functional.
Leather Messenger Bag
Leather Toiletry Bag
Another idea for the 3rd wedding anniversary is to give your loved one a leather dopp kit or leather toiletry bag with a bit of a rustic look. Whether for travel or home use, a toiletry bag can help keep grooming and self-care supplies organized and easy to find.
Think of everything your loved one could store or carry in their new bag—from shaving cream, shampoo, deodorant, body wash, and more.
Leather Hanging Toiletry Bag
Leather Valet Tray
A leather valet tray is a simple, yet functional and attractive, gift idea. Leather valet trays are designed to hold personal possessions and keep them organized and ready for use. For example, your gift recipient may decide to use their new valet tray to hold all their essentials when they walk in the door—including their car keys, wallet, sunglasses, and phone. This way, everything will be easy to find for their next trip out.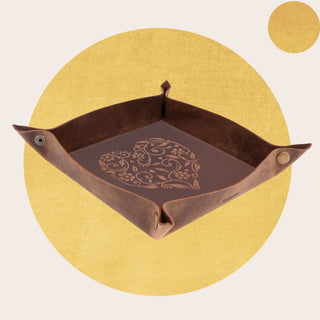 Heart Valet Tray
Alternatively, a leather valet tray can help keep other items organized and easy to find, such as the remote, earbuds, loose change, and more. A valet tray is one of the best leather gift ideas for him.
Leather Case for iPad or Kindle
When you're searching for the best leather gift ideas for anniversary, think about what your spouse will really be able to use. If they have an iPad or a Kindle, chances are they would really appreciate a handcrafted vegan leather or genuine leather case.
A leather case will help keep their electronic device clean and protected, while also giving it a professional and attractive look. You could also add in a pair of leather touchscreen gloves with the new case.
Leather Luggage
Do you and your spouse have an upcoming trip planned? Help get them even more excited about this special time together with the perfect leather accessory for travel—a leather duffle bag or suitcase. This great gift is certain to be well-received given how durable, attractive, and functional leather is.
Whether you're planning a weekend getaway to a nearby cabin or flying across the globe, leather bags will be put to good use. A smaller leather tote bag could also help complete the set and provide more packing options. This can make a wonderful 3rd anniversary gift or the perfect gift for any special occasion.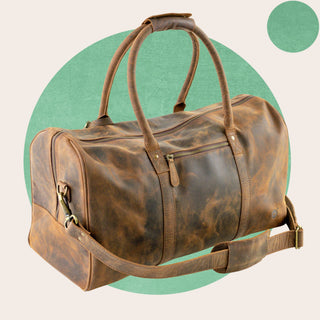 Leather Duffle Bag
What Leather Gift Is the Best for You?
There truly are so many possible options to consider when you're searching for a leather gift for an anniversary, wedding, birthday, holiday, graduation, or any other special event. Now that you've had a chance to read through our suggestions, have you decided which leather product will be perfect for the special person in your life?
FAQs
What anniversary do you give leather?
Leather anniversary gifts are traditionally given on the third anniversary. However, anytime is the right time to celebrate someone you love with a beautiful leather luggage, a leather makeup bag, a leather journal, leather jewelry, a personalized leather mousepad, or another extra special leather gift.
Why do you give leather on the third anniversary?
Leather is the traditional third wedding anniversary gift. It was selected for this milestone due to its durability and flexibility, meant to symbolize the flexibility and learning that newly married couples are doing to help them maintain a long-lasting and strong marriage. A leather bracelet, leather keychain, leather luggage tag, leather dopp kit, leather journal, leather messenger bag, leather accessories, or leather shoes are just a few of the many anniversary gift ideas to choose from.