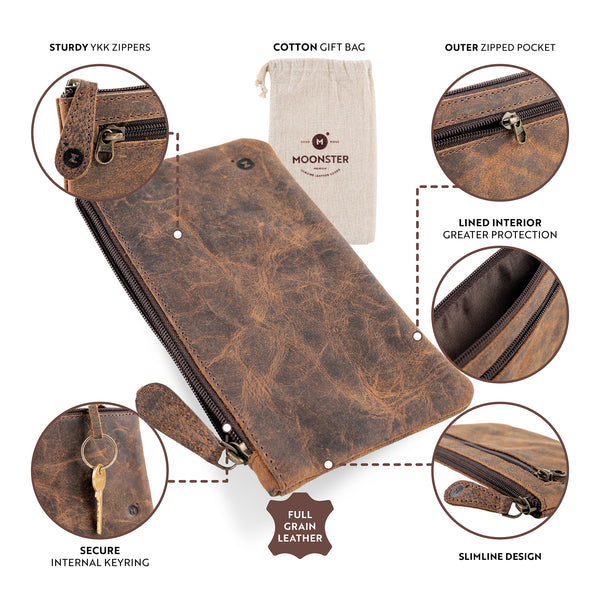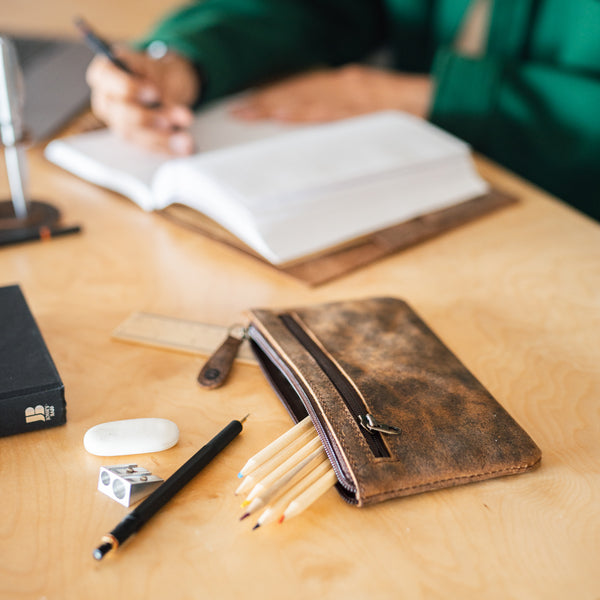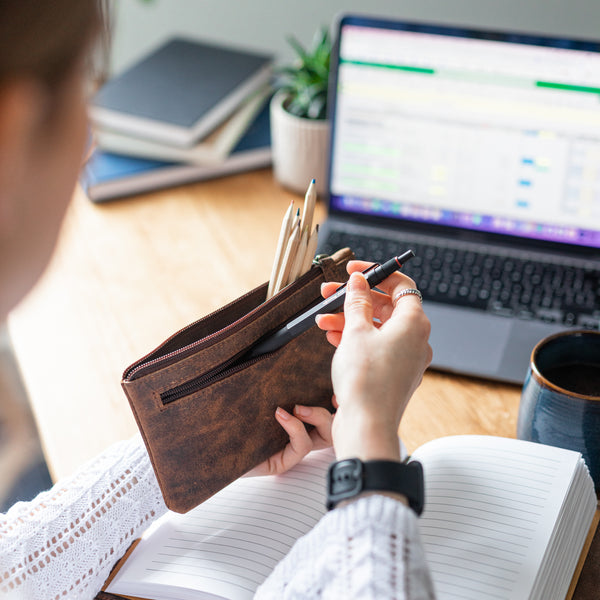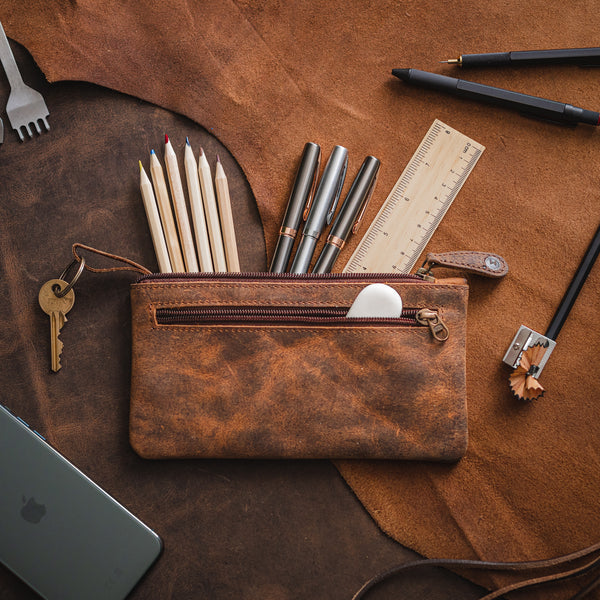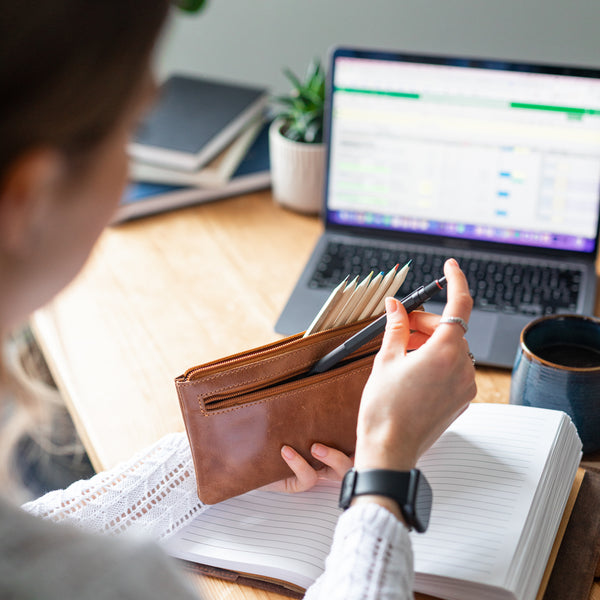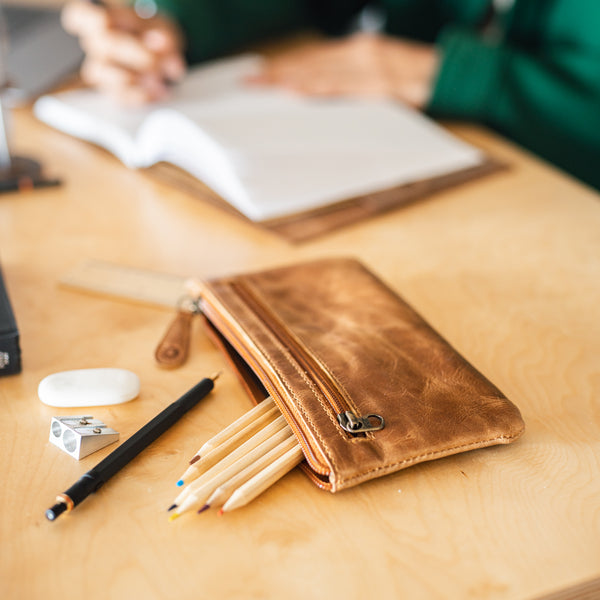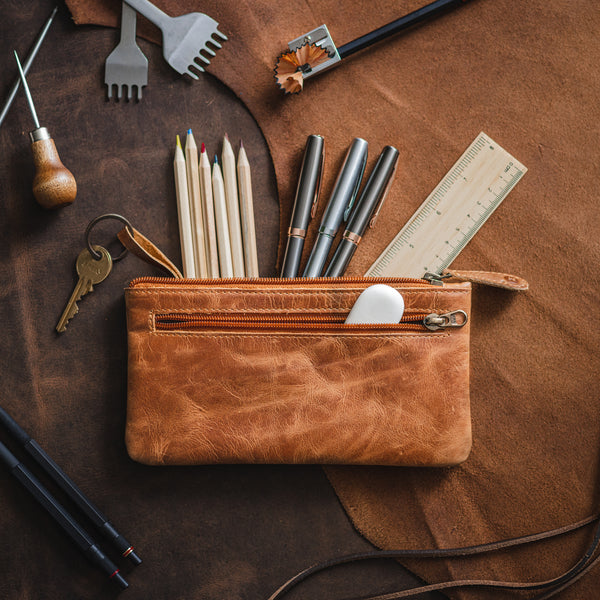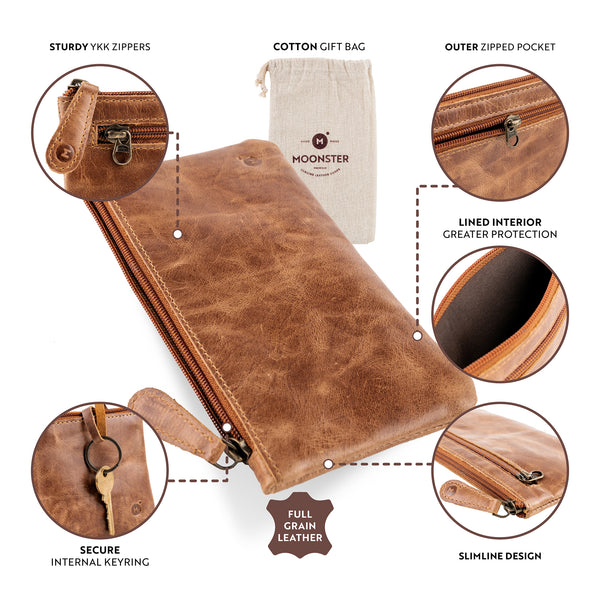 WHEREVER YOU SIT DOWN TO WORK, ALWAYS HAVE YOUR PENS AT THE READY
This stylish leather pencil case from Moonster is a must-have for any stationery junkie. It's more than just a place to store your favorite writing utensils, it's an expression of your personality. The spacious pen holder is functional, luxurious and durable all at the same time. The super soft, full grain Buffalo leather can take a beating - and will look all the better for it.

Our pen carrying case is the perfect solution to organizing your desk, or being able to find a pen in a pinch without having to dig through your bag or purse. Suitable for men and women.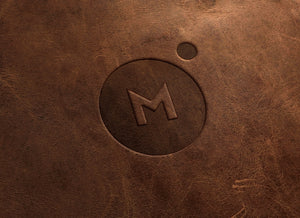 Unlike most other pencil pouches and bags, our leather pen case is made from full grain buffalo leather. The vintage design and artisanal craftsmanship oozes quality. Luxuriously soft to touch yet hard wearing with a distressed finish will get better with use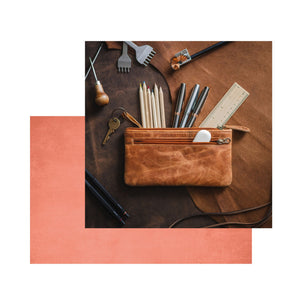 A RUSTIC LEATHER LOOK FOR YOUR DESK
We use 100% genuine buffalo leather; naturally tanned with special oils. This means our products vary in color and shade; no two leather pencil cases look the same.
It's also what gives the leather its beautiful, rich, earthy scent.
Stylish, small and practical, the soft, distressed finish will get even better with age.
SIZE MATTERS
We've made our pencil pouches compact whilst ensuring there's plenty of space for all your everyday essentials without them getting squashed. Measuring 8" x 4", the leather pen case will still fit effortlessly into your handbag, college bag or briefcase.
Store your stationery in the main zipped compartment, with integral keyring holder for keys or USB memory stick. And keep your erasers and other small items in the side pocket.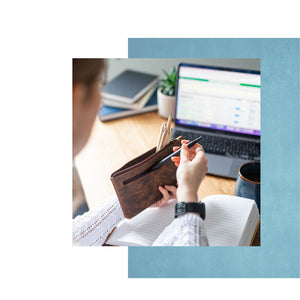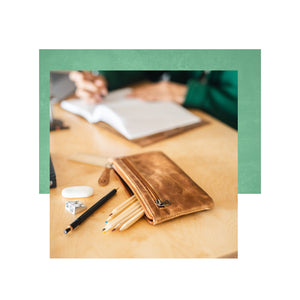 Leather Pencil Case for travel
Whether you're travelling for business or going to college, you need a compact pencil bag that can hold everything you need.
We've got you covered no matter what stationary you need to take with you.
Now you can keep your desk accessories organised in style to ensure you always have your favourite pens with you for work or play.
Leather pencil case
The leather pencil case is a timeless accessory. It's the perfect way to store your pens and pencils, and it looks great while doing it! With this leather pencil case, you can carry all of your writing tools in one place. It's the perfect size for holding all of your favorite writing instruments. Our leather pencil case is made from genuine leather, so it's durable enough to last through years of use. The materials of the Moonster Leather pencil case make it easy to keep your pens safe while they're not in use.
STYLISH AND PRACTICAL leather pencil case
A pencil case is a great way to show off your style, and leather pencil cases are no exception. Leather is a sturdy material that will last for years, making it a great investment when you're looking for a quality product. We offer dark brown and light brown colors, so you can find the perfect match for your personality. Our cases are stylish and practical, making them perfect for anyone who wants to keep their pens and pencils organized.
We use genuine water buffalo leather in our pencil cases because it is durable and soft, which means it will last longer than other types of leather. This leather pencil case features:
Rustic leather
Portable size
Compact size
High-quality
SECURE FEATURES OF THE LEATHER PENCIL CASE
Our leather pencil cases are designed to keep your pens, pencils and other stationery items safe and secure. The sturdy YKK zippers on one side of our cases make them ideal for storing your most valuable items, while the outer zipped pocket allows you to store additional items such as business cards or credit cards. The secure internal keyring keeps your keys safe from theft or loss, ensuring that all of your valuables are kept together in one place.
BENEFITS OF USING A LEATHER PENCIL CASE
If you're looking for a pencil case that's going to last you a long time, then look no further than our leather pencil cases. We know that nothing is more frustrating than getting a new pencil case and having it break after just a few months. That's why we've made sure that all of our leather pencil cases are made from high-quality materials that will stand up to the test of time. Leather pencil cases can also be cleaned and are easy to look after. So if you're ready to invest in something that will last, check out our selection today!
SLIMLINE DESIGN
Looking for a slimline pencil case that's easy to take everywhere? We've got you covered. Our leather pencil cases are made of high-quality leather and come with a cotton gift bag. They're slim enough to fit into your pocket or purse without taking up too much room, but they're still big enough to hold all your writing utensils. And they look great!
PERFECT ORGANIZATION
We know that your life is busy, and we want to make sure you can keep up with it. That's why we designed our leather pen and pencil cases with the same attention to detail as our other products. Our unisex design makes them perfect for all your needs: whether you're a student or an executive, this case will help you stay organized and look good while doing it. Its spacious interior has room for everything from pens and pencils to highlighters, erasers, and even mobile phones - all these items can be easily carried in your backback or a leather messenger bag.