If you own any leather products, you probably already know how lucky you are. Leather is gorgeous, supple, durable, and so much more. However, if you want to keep your leather belts, jackets, leather journals, and furniture pieces looking their best, proper leather care is essential. In the next few sections, we'll share some tips and suggestions to help you with leather cleaning, storage, and maintenance to ensure that your treasured pieces retain their luster and beauty.
Day-to-Day Leather Maintenance and Care
Leather is a durable material, but that doesn't mean it is immune to scratching, stretching, or getting dirty. When using leather, it is important to take a few key steps to protect your items and prevent excess wear and tear. Doing so will help ensure that you're able to enjoy your items for many years to come. Keep in mind that leather is a skin, and just like our skin there are things you should do to protect it. Here are some tips to help you learn how to care for a leather bag, leather jackets, and other leather items on a daily basis:
Try to keep leather goods away from direct sunlight or heat.
Bring an umbrella if the forecast calls for heavy rain to avoid getting leather wet.
Each week, use a soft bristled brush or soft cloth to remove dust or debris from your items.
Do not overfill leather duffle bags, purses, or wallets. Doing so can cause the material to stretch and appear misshapen.
Be careful to keep any sharp items, bulky jewelry, large buttons, or anything else that may scratch leather away from it.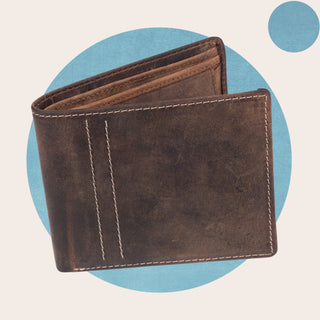 Men's Leather Wallet
Cleaning Leather
Keeping your leather clean is important. As mentioned above, regular dusting of leather is important. Beyond that, aim to deep clean leather about two times each year. Never wash leather in the washing machine. To give your leather a good cleaning, use a soft cloth with warm water. Squeeze out most of the excess water from the cloth, and use a circular motion to carefully clean the entire surface of the item and remove any dust or dirt. After your cleaning, allow the leather to dry naturally (away from heat or direct sunlight) for at least 10 to 12 hours. After cleaning, follow the steps below to condition your leather.
Removing Scuffs and Scratches from Leather
If your leather has a scuff or a scratch, you likely won't be able to remove it completely due to the organic nature of leather. However, you can definitely take steps to minimize the scratch's appearance and maintain the beauty of the leather piece. 
After leather cleaning, you can work to reduce the appearance of scratches on the piece. Begin by finding the scratch and then use your hand to bend the leather over the scratch. Bend it back and forth a few times. Add a little leather oil or conditioner to the scratch during this step to help further minimize the appearance.
If your leather product has a spot or scuff, you will want to address it quickly before it turns into a permanent stain. When removing scuffs from leather, you should not use any wipes formulated with alcohol, fragrances, or dye. Rather, use a cloth dampened with warm water or a baby wipe. Use a little bit of pressure to gently wipe or cloth over the spot. However, take care not to press so hard that you cause the leather to become discolored.
Conditioning Leather
Maintaining soft leather will require regular conditioning. When you're thinking about how to care for leather, aim to condition your leather goods at least twice a year. However, if you live in a dry climate, whether the weather is hot or cold, you should condition leather more frequently (once you notice that the leather is not as soft or looks faded).
Refillable Classic Journal (Lined)
Conditioning leather helps maintain the material's gorgeous look. It can also help leather remain more durable and add some protection against staining or damage from water. You can find many leather care products designed to help you condition leather, such as neatsfoot oil. You can also use other oils, such as mink oil, olive oil, or coconut oil. To condition your leather goods, begin by removing any straps, laces, or other accessories from the item, when possible. Then, clean the leather following the steps outlined above and let it dry overnight.
The following day, apply a spot test of the leather conditioner you plan to use. Test the conditioner in an inconspicuous location and let it sit for about an hour. After an hour, check to make sure that the conditioner didn't discolor the item. The color should naturally look a bit darker because it is now moisturized, but if it looks way off, you may want to try one of the other leather conditioners instead.
Next, apply a small amount of the conditioner to a microfiber cloth and use a circular motion to rub the conditioner into the leather. Taking care to evenly apply the conditioner over the entire item will help ensure a consistent finished look. Leave the leather to rest overnight. The following day, use a dry cloth to remove any excess residue from the items. Then, you can reattach any accessories that you removed.
Storing Leather Products
Properly storing your leather goods is just as important as knowing how to clean and condition them. Without proper storage, your leather belongings are more likely to get damaged, dusty, or faded. Below you'll find a few tips to help you store some of the most popular leather goods.
Leather Journals and Albums
The best way to store leather journals and albums is on a bookshelf that is out of the line of direct sunlight. Take care to leave the journals room to breathe, so you'll want to avoid squeezing them into a tight shelf, as this could cause the spine to crack. On the other hand, you want to make sure that the refillable leather journal has some support so that the cover doesn't sag and become warped. Caring for office items (e.g. leather portfolios) falls under the same rules.
Photo Album
Leather Handbags and Toiletry Bags
Empty leather handbags before storing so they do not warp. Then, fill the bag with acid-free tissue paper before placing it on a shelf. If you do not have plans to use the bag in the immediate future, you will also want to cover it to keep it dust and dirt free. Do not use plastic bags as a cover, as they will not allow the leather to breathe. Rather, use the dust bag that the handbag came in or a clean white cotton pillowcase for a toiletry bag.
Leather Briefcases and Messenger Bags
Try to avoid overfilling briefcases and messenger bags so as not to place too much strain on the hardware or zippers. Stand these bags up to store them, and leave them covered if they will not be used in the near future.
Leather Messenger Bag
Leather Shoes and Boots
Keep leather dress shoes and boots in a cool and dry location. Use cedar shoe trees of acid-free tissue papers to stuff the shoes and help ensure that they maintain their shape. Once stuff, wrap the shoes with acid-free butter paper or muslin cloth and place them on a shoe rack or in a shoebox. If you have patent leather shoes, they should be stored in a cloth bag to protect their high gloss finish and unique characteristics.
Leather Belts
Hang leather belts in a cool and dry space where they will not be exposed to direct sun. Gently brushing dust away with a soft cloth or a soft bristle brush is a good idea before hanging a belt for storage. Try to rotate which belt you wear to help all of the leather belts you own last longer.
Wrap Up: Leather Care
While it may take a little time to keep your leather goods looking their best, the results will be well worth it. Not only will your leather journals, jackets, shoes, belts, and other products look like new, they'll last much longer too. We hope you've found our tips and suggestions helpful and that you feel ready to give your leather the love it deserves.
FAQs
What is the best thing to condition leather with?
If you want to make your leather soft, the best thing to use is a leather care product such as neatsfoot oil.
Is Vaseline good for leather?
You can safely Vaseline on most types of leather. However, using too much Vaseline may lead to a buildup and clogging the leather's natural pores. Vaseline should also never be used on suede or nubuck leather due to their more delicate finish.
How do you rehydrate leather?
If your leather feels dry, you can rehydrate it using a conditioner for leather, such as mink oil, neatsfoot oil, coconut oil, or olive oil.