Being prepared for business trips or vacations is essential. You don't want to pack your bags and head to the airport only to realize that you don't have something you need or want in your bag. From making sure your flight is on time to checking that your hotel stay is confirmed, there is always so much on our mind when we're getting ready for a trip. Use the list of travel accessories for women below to make sure you don't forget anything you'll want to have with you during your journey or when you arrive at your destination.
The Best Travel Accessories for Women
Gather all these must-have travel accessories for women to make sure you're ready for your next trip. When you're able to relax during your travels and at your destination, you'll be glad that you took a few minutes to get everything organized and ready for your trip.
Carry-On Bag
When you're looking for vacation accessories, a high-quality carry on bag (e.g., a leather duffle bag) is a must. Carry on bags meet the size restrictions (which can vary by airline) and allow you to keep your belongings within easy access when flying. 
As you're shopping for a new carry on bag, remember to consider the overall layout of the bag. Look for something that offers different pockets and compartments to help you keep everything organized and easy to locate. You want the bag to be comfortable to hold and carry, which is why we would recommend something with padded shoulder straps.
It is also important to choose a well-made bag. You want the bag to be durable and long-lasting so you won't need to worry about it breaking during your travels. Leather is one of the most durable—and stylish—materials to choose when looking for a new travel bag.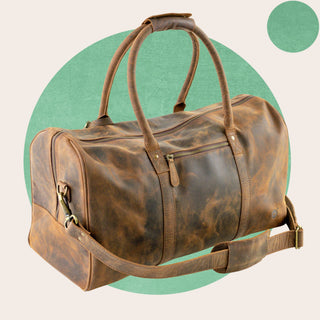 Leather Duffle Bag
Toiletry Bag
When you're looking for must have travel accessories, you can't overlook the importance of a toiletry bag. Toiletry bags keep all of your hair products, razors, creams, lotions, and other grooming essentials organized. Rather than digging through your suitcase looking for a product, you'll enjoy easy access with everything organized and where it belongs. 
A hanging toiletry bag can be particularly helpful, especially if you're staying in a hotel room or home with limited counter space. By hanging your bag on a hook, you'll still be able to easily get at whatever you need. You can find toiletry bags in a variety of different materials. A clear toiletry bag will make it easy to grab what you'll need, but you can't match the quality and sleek appearance of a beautiful leather toiletry bag.
Leather Hanging Toiletry Bag
Blackout Sleep Mask
One of the best travel items you can get—especially for long flights—is an eye mask. Being able to let your body rest and sleep, even if all the lights are on around you, is important. Your schedule is often off when traveling, or your body is in a different time zone than you're used to. Taking advantage of opportunities to sleep will help ensure that you're able to enjoy the rest of your trip.
Noise-Canceling Headphones
Similarly, noise-canceling headphones are another one of the best travel accessories. When you're ready to get some shut-eye, just put on the headphones to drown out background noises on a loud plane or bus and make sure your body is able to get some rest.
Travel Journal
A travel journal is one of the best travel accessories for women who are frequent travelers. A travel journal for women allows you to document your trips so that you'll be able to look back and reflect on them in the future. With a travel journal, you can add pictures and descriptions to go along with the writing about your trip. Think about what you'll most want to remember about each trip, and add it to your journal.
Refillable Classic Journal (Lined)
Travel First Aid Kit
Accidents can happen at any time. For this reason, one of the top travel accessories you'll want to pack in your suitcase or carry on bag is a travel first aid kit. Doing so will make sure you have access to bandages, gauze, and other items you could need to tend to an injury. If you take medications, be sure to also pack enough for your trip (plus a few days extra) in your bag.
Cross-Body Purse
Cross body bags are more than just cute travel accessories for women. They are very functional and can help keep your women's wallet, passport, keys, and other personal information protected when you travel. Using a cross body bag, instead of a traditional over-the-shoulder purse, keeps your belongings closer to your body and makes it less likely for someone to try to steal your purse. When you're deciding on your travel purse, we recommend a cross body bag (a messenger bag)!
Jewelry Organizer
If you find yourself saying, "no more tangled necklaces" every time you travel, you'll find that a travel jewelry organizer is a true lifesaver. Travel jewelry organizers keep necklaces, bracelets, earrings, rings, and other small items organized. Their design helps prevent tangled necklaces—making them a worthy investment for your next trip.
Portable Charger
Another one of the best travel products you can buy is a portable power bank. We're all so reliant on our cell phones, that it can be a major issue if your battery dies with no way to recharge it. With a power bank and your charging cable, you can recharge your phone or other devices from anywhere.
Packing Cubes
Are you looking for travel bag accessories to keep your wheeled luggage organized? Try using packing cubes to pack clothes and shoes for your next trip. With these women's travel accessories, you can organize your clothing by outfit or type, making it easy to find things in hotel rooms. Then, just put the cubes in your suitcase (secured with TSA approved locks), and you're good to go. You'll also notice that everything fits more easily in your suitcase when it is organized with packing cubes.
Ready to Travel?
Now that you know more about the best travel accessories, are you ready to embark on your next adventure? Use the suggestions above to gather everything you'll need whether you're traveling by plane, train, bus, or car—you're certain to have a smooth and enjoyable travel experience! Don't forget to buy travel insurance if you think your plans could change or something could interfere with you taking your trip.
FAQs 
What essentials are needed for traveling?
The essentials you'll need when traveling will vary based on your mode of transportation (plane, train, car, etc.) and your destination. However, some essentials that are useful for nearly any trip include a travel bag, toiletry bag, travel first aid kit, noise-canceling headphones, packing cubes, a jewelry organizer, a powerbank, and a water bottle. A travel journal is also a great addition to pack in your suitcase if you want to keep a record of your trips and experiences.
What I should not carry while travelling?
If you're flying, always confirm TSA regulations before packing your bag. All liquids must be packed in containers that are no larger than 3.4 ounces. Additionally, all of your liquids must fit in a quart-size zippered bag. Prohibited items include aerosols (with some exceptions for personal toiletries), gasoline, weapons, bleach, explosives, and flammable substances.