If your travel dreams seem way bigger than your tight budget, you may be wondering whether traveling is even possible. While traveling on a budget may require a bit more planning and flexibility than if you had access to an endless stream of money, it is certainly possible. And, come on, who wouldn't want to save some money on their next trip? Continue reading to learn some of the top budget travel tips so that you can get started on planning your next vacation.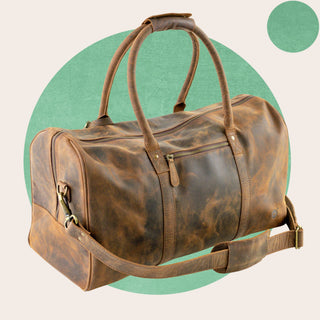 Leather Duffle Bag
How to Travel on a Budget: Tips for Budget Travel
If you're wondering how to travel for cheap, one of the most important things is not to spend money where you don't have to. The tips below for budget travels will help you understand how and where you can save the most money to get the most out of every trip while spending as little as possible.
Sign up for Travel Rewards Programs
If you're going to spend money anyway on groceries, gas, and other daily essentials, why not earn travel points for your purchases. There are numerous credit cards that will reward you with discounted flights, hotel or cruise ship stays, and other incentives. 
When you're spending money anyway on things you need, you may as well put these daily purchases to good use. You may be surprised at how quickly these rewards can add up and how much of an impact they may have on your trip.
Choose Locations Where You'll Get the Most for Your Money
If you're looking for tips for luxury travel on a budget, the destination you choose can have a huge impact on your total costs. Leaving the United States, Western Europe, or other countries that have a stronger currency and choosing to travel to a country with a weaker currency will make your money go a lot farther.
Here are a few cheaper alternatives to consider when you're shopping around on travel sites:
Central America
South America
Southeast Asia
Eastern Europe
East Africa
Avoid High-Peak Travel Times
Another one of the best travel on a budget tips is to avoid traveling during the peak season. The travel dates you choose are important. Avoid the peak season for your travel destination—which is during the summer for many locations.
When you travel during the off-season, you'll find better flight deals, cheaper lodging (even vacation rentals should be less expensive), and will be able to save money in other ways during your trip. Another advantage of traveling in the off-season is that there will be fewer tourists, so you'll be able to avoid crowds.
Track Flight Deals
When you want to know how to travel cheap, it is very important to track flight prices. This can help with saving money for you and the other travelers in your group. Keep an eye out for deals, or even make the small investment to sign up with a flight-tracking website.
You can get some really great deals this way—like flights to Europe for well under $1,000—to help you avoid spending unnecessary money on transportation. Flying is often one of the most expensive parts of travel. Minimize your costs by choosing the right flight. You may also want to add travel insurance to save your investment if your experience any unforeseen issues before flying.
Dine-In Whenever You Can
Save money by cooking meals whenever possible. Budget travel doesn't normally include fancy restaurants. Pick a few select meals to eat out, and then try to make your own meals using ingredients purchased from a local grocery store. If you want to/can't avoid eating out, opt for local restaurants. They're likely to have cheaper prices than larger chains.
Choose Free Entertainment and Sightseeing Options
Another tip to try when you're looking for cheap ways to travel is to avoid spending money on expensive entertainment options. Most travel destinations offer a wide array of free activities that will still be quite enjoyable.
Some examples include free walking tours, visiting the beach, exploring scenic hiking trails, and walking around the historic areas of the city. Depending on your destination, you could also explore purchasing a city pass. While this won't be free, it will provide you with access to a variety of different landmarks, museums, and other locations around town for one reasonable price. 
Use Local Transportation Options
Avoid paying for a pricey rental car by taking advantage of more budget friendly local public transportation options. While this won't be possible for every destination, if you're visiting a major city, you can certainly save a lot of money by taking a bus or a subway.
Traveling by train between two cities is almost certainly going to be cheaper than renting a car or flying. Another benefit of using local transport is that you'll be able to learn more about the local culture and local language.
Work While Traveling
Working while traveling may be the cheapest way to travel. Instead of only spending money on your vacations, you'll be making money. Some work opportunities may even provide you with a free accommodation. These include house sitting (check different house sitting websites to find opportunities), working on a local farm (WOOFing), or becoming an Au Pair.
Some of these opportunities may involve staying longer, which can help you enjoy an immersive experience. Other work options that you can consider if you're looking to enjoy an extended stay in a foreign country include teaching abroad and working seasonal jobs (think ski resorts, summer camps, festivals, etc.).
Become a Budget Traveler
Even if you have a tight budget, you can still travel the country—or even the world. Using the tips we shared above from budget travelers can help you find cheaper prices and the best deals to help you save money on your trip. Where would you like to travel? Which of our tips did you find the most useful to help you get there while staying in your budget?
FAQs
What is the best way to travel on a budget?
If you are looking to travel cheap, there are a few different ways to save a lot of money. Some of the best tips include traveling during the off-season, hunting for cheap flights, dining in or packing meals, taking local transportation, and schedule a free walking tour.
If you have an extremely tight budget or want to find somewhere to stay for free, consider finding a job while you travel. Flexible job options include house sitting, pet sitting, teaching English as a second language, or finding a seasonal job.
What should I budget for when going on a trip?
The cost of travel can vary quite significantly depending on your destination. Research your destination to get an idea of local costs and set a travel budget that accounts for the following:
Transportation costs (airfare, gas, bus tickets, etc.)
Lodging
Food and beverages
A few souvenirs (if desired)
Excursions and events