It may seem hard to believe, but Thanksgiving is nearly upon us once again. Thanksgiving is a time for giving thanks and thinking about everything in our lives that we have to be grateful for. Before planning your turkey dinner and all the sides you want to make, stop and think about who in your life you are truly thankful for. While giving gifts on Thanksgiving isn't always expected, it can still be a nice way to show how much you appreciate someone special—and what better gift to give than a top quality, genuine leather product. Read on to learn more about some of the top leather gifts for Thanksgiving.
Why Give Leather Gifts on Thanksgiving
As we shared about, Thanksgiving is the perfect time to show your appreciation and give thanks to someone special in your life. Whether you celebrate Christmas, Hanukkah, or any other winter holidays that are coming up soon, there is something special about giving a gift on Thanksgiving. You may decide to give a present to thank someone for hosting you at their home on Thanksgiving, or just to share your appreciation for anyone special in your home.

When you're searching for the best gifts for Thanksgiving, you can't top a high-quality leather good. Leather is a timeless product that is well-loved and appreciated. It is durable, attractive, and long-lasting. Giving leather to your friends or loved ones will send a message about how important they are to you.
Leather Gift Ideas for Thanksgiving
Wondering what to gift on Thanksgiving? Keep reading for some of our favorite leather gift ideas. You can shop in store or from your favorite online retailer. Just be sure to leave sufficient time for shipping.
Leather Journal
As you're thinking about the best Thanksgiving leather gifts, a premium leather journal should be near the top of your list. Celebrating the holiday by giving a loved one a high-quality journal will allow them to reflect on their life, set goals, and enjoy some quiet time as they write. They could even decide to turn the journal into a gratitude journal to celebrate the principles of Thanksgiving all year long.
Tree of Life Journal (Blank)
Leather Briefcase or Messenger Bag
Does your gift recipient have to bring their laptop back and forth from the office each day? Has their old briefcase seen better days? If so, they're certain to appreciate a fine leather messenger bag or briefcase. This will allow them to head to work each day in style while also knowing that their laptop is safe and secure in the durable leather bag. Each day when they head to the office or return home, your gift recipient will look at their bag and think about what a thoughtful and functional gift it was.
Leather Messenger Bag
Leather Duffle Bag
Leather bags can also make wonderful gifts at Thanksgiving. A leather duffle bag may be the ideal solution for a friend or loved one who likes to travel. Giving them a beautiful, yet low maintenance, leather duffle bag from their wishlist will help them prepare for their next excursion.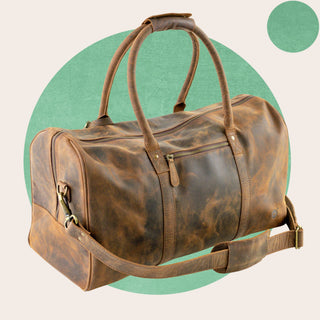 Leather Duffle Bag
Leather Wallet
A stylish leather wallet can also make a wonderful Thanksgiving gift for both men and women. Leather wallets are durable and long-lasting, so your friend or family member will be able to enjoy this gift for years to come. Each time to remove cash or credit cards from the wallet, it will make them think about the significance of your relationship.
Women's Wallet
Leather Toiletry Bag
A leather toiletry bag is another of the top leather gift ideas. Leather toiletry bags can have a simple or more rustic look to match different preferences. Beyond their beauty, leather toiletry bags are also functional. They offer storage for shampoo, shaving cream, razors, deodorant, and other grooming essentials—both at home or when traveling.
Leather Hanging Toiletry Bag
Leather Tablet or e-Reader Case
If you're searching for the best Thanksgiving gifts for someone who is difficult to shop for, why not give them a leather tablet or e-reader case. Nearly everyone has an i-Pad, tablet, or Kindle. A stunning leather case will keep your gift recipient's valuable electronics protected, while also giving them a sleek and professional look. If your recipient does have a tablet or e-reader, you could consider a leather phone case instead.
Leather Portfolio
Leather Gloves
Finally, leather gloves can also make a wonderful Thanksgiving gift. As the weather is starting to get colder and winter is approaching, your loved one will certainly appreciate a warm and stylish pair of leather gloves to protect their hands from the frigid outdoor temperatures.
How to Pick the Perfect Leather Thanksgiving Gift
Deciding on a gift can be challenging. When we're shopping for someone we care about, we want to make sure to select a gift that will convey our feelings of gratitude and love, while also ensuring it is something the other person will enjoy and be able to use. Below are a few pointers to help you choose the perfect gift for anyone on your list.
Consider their Interests: Before you begin shopping, think about what your friend or loved one is interested in or what they enjoy doing during their free time. This will help guide your search and find a gift that they are certain to use and enjoy.


Think About Functionality: While there is certainly a place for decorative gifts, some individuals prefer receiving something they'll have a use for. If this description matches the person on your list, choose a gift that they can put right to work—such as a new leather messenger bag, journal, or leather portfolio.



Laptop Folder

Quality Matters: Never skimp on quality when giving a gift to a loved one. Choosing a high-quality gift, like a full-grain leather duffle bag or journal, will show the gift recipient that you put a lot of thought into the gift and that you truly treasure your relationship.
Giving Thanks on Thanksgiving
Thanksgiving is a holiday where we celebrate all we have to be thankful for. What better day to give a genuine leather gift to someone special in your life to show them how much they mean to you and how grateful you are for everything they do. Now that you've read through our list of some of the best gifts for Thanksgiving, have you decided on which one(s) you'd like to give to someone you care about?