Want to know some of the key travel accessories for men to take on their worldwide travels? What exactly should you take when leaving the country for the first time in a while?
If indeed you have not left the country in some time, then it can be hard to know what to bring to another country when you are visiting. Luckily, we have your back, for today we will be exploring 10 of the most important travel accessories each man might be lost without.
1. Travel Journal
What would a journey away be without a journal with which to chronicle all that you get up to? The next trip you go on, make sure you have all the essentials and carry on a journal into the next life.
The best part about having a journal is that you can personalize it entirely to yourself and your own tastes. After all, a journal for men is not really a journal unless it has been made your own. While away the hours in your hotel room waiting for something to happen by writing out your last words.
This is not exactly male-centric (for this should be among the most important travel accessories for women) but still important nonetheless.
Refillable Classic Journal (Lined)
2. Toiletry Bag
As travel essentials go, this one is pretty darn essential! Men's travel accessories would be nothing without a handy bag within which to contain all your nifty little cosmetics and gadgets.
Why not upgrade your travel toiletry bag to something a little fancier and go leather? Many see it as a must-have - once you go leather you scarcely ever go pleather again.
Moonster toiletry bag is good for travel but big enough for all your needs:
• 1 clear plastic compartment
• 1 mesh compartment
• 4 elastic loops
• 1 large compartment
• 3 internal mesh pockets
• 1 external pocket
Leather Hanging Toiletry Bag
Some are even so proud as to capture it with a wide-angle lens to get a picture of it in their hotel suite next to the fancy shaving cream and the packing cubes.
3. Beard Grooming Kit
This is just what your resident beard enthusiast ordered! It has been a hot cultural minute since beards were in fashion to such an immense degree. All through the 20th century, it seemed that bears were a universal symbol of subversion and poverty.
In fact, it seemed like capitalism wanted it to be this way. But now, lo and behold, the beard is back in spectacular fashion. And, what better way to tame it into a presentable shape than with an entire beard grooming kit? A family vacation really would not be the same without a dad fussing over his beard after all.
4. Duffle Bag
Duffle bags are one of the most popular types of travel bag. The best travel duffle bag will offer comfortable handles or shoulder straps and plenty of space to hold all your essentials. Duffle bags offer a more basic design than many other bag types and often have just one main compartment with a few smaller outside pockets. 
Some of the main features of Moonster duffle bag include:
Durable zippers
A multitude of compartments
Phone pockets
Pen holders
Double leather handles
Padded straps
A detachable shoulder strap
A leather luggage tag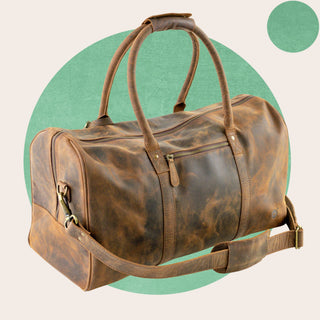 Leather Duffle Bag
5. Travel Razor
Of course, you might be the kind of guy that is more than happy to dispose of your facial hair as soon as it presents itself, whether completely or partially. For you, the American dream may still reside in the bare fields of stubble on your groomed cheeks.
Thus, you would not want to be without an electric travel razor, lest you be caught in a spot without being able to groom yourself properly. Blood flow of worry might cause your head to pop off. No travel bag would be fit to function without one.
6. Messenger Bag
Messenger bag is the ultimate companion for the modern man on the move. Its spacious compartments keep your essentials organized, while the adjustable shoulder strap ensures comfort during your journeys.
Whether you're navigating the urban jungle or exploring exotic destinations, messenger bag is the perfect travel accessory.
Moonster messenger bag has all you need for a comfortable trip:
A main padded & zipped compartment that accommodates laptops up to 16 inches
2 pen holder loops
2 external pockets with zips
2 internal sections
Magnets with buckles
Leather Messenger Bag
7. Travel Kit
Speaking of which, how could we forget to include a travel kit for the convenience of each male traveler?
The kind of traveler that is especially averse to shopping will not want to miss this opportunity to purchase all of their essential items for traveling in one neat and tidy package.
Such travel kits will save a whole bunch of miserable traversing of malls, featuring all the small bits you will need in one convenient place. Often, these are geared for international travel too, meaning that you can rest assured that the toiletries are small enough to fit luggage requirements.
8. Phone Holster
A phone holster is a handy travel accessory that keeps your phone easily accessible and safe from scratches or drops. Whether you're navigating unfamiliar streets, taking pictures, or checking messages, a phone holster keeps your hands free and your device secure.
The phone holster offers secure transport, convenient access, and extra storage:
Easy-Access Magnetic Closure
Belt Loop
Metal Clip Loop
2 Main Pockets
1 Zip Pocket
Pen Loop
Lined Interior
Convenient Charge Cord Hole
Attractive Gift Box
Leather Phone Holster
9. Luggage Lock
Even if a country feels entirely safe, there will still be an element of anxiety, paranoia, and unease that might permeate the atmosphere. If it is an especially tourist-centric destination, then there is always the chance of potential con artists and thieves preying on you.
Hence why a luggage lock is often considered among the most essential travel accessories for men or women. Keep things on lock while you are taking a nap during travel or keep all your belongings safe when you sleep in your hostel, safe in the knowledge that all your belongings are safe.
10. Electronics Organizer
Organization can only do you good, especially when you are regularly moving to and from different places around the globe. Got a portable charger or two, or even a bunch of different travel adapters for all the countries you are visiting
Then such an electronics organizer will be of the utmost importance in navigating the stormy seas of international travel.
Seeing as men are stereotypically portrayed as having a whole bunch of gadgets or something, then this will be really useful to you when you want to take all your gadgets overseas.
11. Travel Adapter
Of course, if you want to just keep it simple, you can always opt to take one single travel adapter to beat them all.
Nowadays, there are a whole bunch of options to choose from, so the choice really is yours in the making. Perhaps you are simply traveling solo and, thus, will not need a whole bunch of sockets.
Alternatively, you might be going away with a lover or partner, and so might need a few sockets to use at any given time. Similarly, you could even be taking the whole family away. In such instances, a travel adapter that can divide the power between all the families from one socket will be essential.
12. Porfolio
A portfolio is a practical travel accessory for business trips as it keeps your important documents, like passports, boarding passes, and business cards, organized. With pockets and slots, it reduces the hassle of searching for items during your journey. Stay prepared and look polished with a leather portfolio on your next business trip.
Our leather portfolio includes:
A deluxe silver ballpoint pen
Space for a notepad
2 v-shaped pockets
2 other separate pockets
Leather Portfolio
13. Power Bank
Even if you brought a universal travel adapter or indeed a specific travel adapter for each circumstance, you might very well be caught off guard in a place without any mains electricity. This can be a crucial deciding factor in a day and age when we are so reliant on the information our phones provide us with.
Therefore, to save your battery life out in the world, why not take a power bank with you wherever you go? Better than your battery dying on you in a crucial moment.
14. Noise Cancelling Headphones
Sure, this might not seem essential right now but picture this. You have just sat down on the plane and you are looking forward to listening to some music and closing your ears when, all of a sudden, a baby starts screaming their lungs out.
There is, of course, nowhere to escape. The toilet can only be visited for about five or ten minutes before a steward or stewardess checks up on you.
In such instances, you will no doubt wish you had brought some noise-cancellation headphones, eh?
Last Word
So, there you have it! Even if you have not had your itch scratched wholly, then we at least hope you are a little wiser about the kinds of things men tend to take on their travels these days. Perhaps you have even been inspired as to what to take away yourself.
FAQs Travel Accessories For Men
What accessories do I need to travel?
Technically you do not need any accessories for travel. Hence why they are called accessories - they are add-ons that are not entirely necessary but that make traveling a whole lot smoother. That being said, there are a lot existing today that it would be difficult to do without, especially now we have had them. A universal travel adapter, for example, makes the communication between your technology and foreign electrical current smoother by a significant amount.
What is the most useful item for traveling?
This will very much vary depending on who you ask. Some of you might not be able to travel without, say, a power bank so that none of your devices die on you all of a sudden. Some, alternatively, might be more invested in personal grooming than staying connected to the internet all the time. For these latter folks, electric razors and/or beard grooming kits will be of the utmost importance while away, though what would they be without a universal travel adapter to ensure that these devices can connect and communicate with a foreign electrical current?