Are you looking to explore your gender but do not know where to turn? Perhaps you are wanting to delve into your sensuality and map out your deepest desires without fear of shaming and societal rejection.
Well, you have found yourself in the right place, for today we will be exploring 10 of the best journals for women on the market today.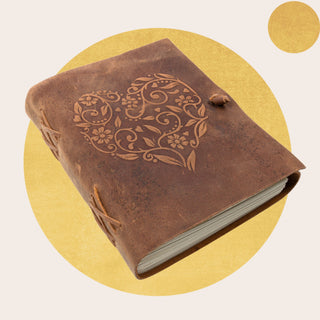 Heart Journal (Blank)
Not only is this journal ranked as a best-seller on Amazon, but it is also sold in stores across all corners of the globe. The selling point is that it is the ideal method for mindfulness without dealing with fake rainbows and hallucinatory crap. This is, then, one of the best journals for women who do not like to mince words.
Author Monica Sweeney says, "Zen as F*ck flips toxic positivity on its head. So much of what we see in the world of 'inspiration' demands people to cheer the f*ck up without giving them the space for acknowledgement. Zen as F*ck is a guided journal that has an upbeat attitude, but it gives the writer room to breathe and feel catharsis in a fun and irreverent way."
For the woman whose journal writing has much to do with her mental health and her sensuality, there is Sensual Self by Ev'yan Whitney. This a journal whose pace is dictated by each individual user, featuring more than 150 pages of prompts to help each woman define her sensuality without fear of societal judgment.
Never before has a guided journal so deeply allowed you to delve deep into self-discovery, providing ample room for the exploration and expression of your private pleasures and desires. Of course, this would be nothing without a safe space to check in with the mind and body on each piece of paper, helping to navigate self-acceptance and self-care and elide the shame of a religious gaze.
For the budding writers among us, there will scarcely be a more apt self-journal to relieve stress, and writer's block, and to otherwise reflect on the artistic process than this offering from the zen priest and teacher Bonnie Myotai Treace.
Detailed within are countless thought-provoking prompts to help unclog the flow of creative blood through the arteries of the mind, even including several drawing exercises to side-step the limitations of language on thought. As far as a wellness journal goes, there has never been one better for the personal growth of one's own writing.
4. My Wellness Journal
It is often said that it is best to engage in a journaling habit at least once a day for the best effects. Try using a night reflection journal like this one to help you unpack and reflect on the course of the day behind you, allowing you to process it in time for another one tomorrow.
Besides a bullet journal, there are scarcely any other guided journals more up to the job than this one.
Anyone who has any semblance of awareness about the wonders and benefits of journaling should no doubt have already heard how powerful gratitude journals can be in your self-care practice. More than bullet journals, a gratitude journal can actually help you feel better within yourself, expressing thanks for the things you have and ending the lament for the things you do not.
This journal is especially well-suited for busy people, helping them to break patterns of negative thoughts and redirecting the mind to more positive things about life. And all on acid-free paper that doubles as ink-proof paper, so you can lather it with your glyphs without fear!
If the central idea behind journaling is a reflection and self-exploration of some variety, then this one offers plenty of this through its extensive series of self-reflective prompts and inspirational quotes.
What sets this journal apart is the sheer length of its span, containing a five-year chunk of time that might be overwhelming for some, at least at first. If, though, you are using it to focus on the now and not dwelling too much on the past, then this can be a vital tool for growth and just what you need to progress.
For the yoga fanatics among us, there is thankfully an offering like this, which offers a trauma-informed approach to alleviating stress and promoting self-esteem through yoga, meditation, and other therapeutic arts like art journaling.
This is a journal brimming with prompts that are strategically strung together in such a way as to leave your eyes and hearts open to the good within that can engulf us if we give it the chance. Use the blank pages as a day journal too and you will soon be the well-rounded individual you wish to be.
This is another offering by Monica Sweeney and, much like her other book above, another Amazon bestseller with tens of thousands of great and laudatory reviews.
Much as the title lets slip, this is a journal for ridding your troubled mind of the things by which it is plagued. Similarly, in a more subtle way, the title is also suggestive of the vulgarity of the journal, a crude way of allowing you to vent your daily frustrations into one place so that you can then be rid of them.
As a wise person once said, worrying is much akin to praying for something that you don't want - much as prayer inwardly manifests something into reality, worry can often be said to manifest ill into reality. Thankfully, this journal is a useful way of nipping these kinds of worries in the bud before they have a chance to wreak any havoc.
One of the best parts of this journal besides the dotted pages is the fact that it will look different to every single person, full of 124 activities, prompts, and lists that help you to compartmentalize whatever is disturbing your mind. This is the best journal for sorting through your head.
One of the best guided journals in this list just happens to be one of the only female-founded and LGBTQ-owned journals on the market today, made exclusively in Southern California. Essentially, this is an 88-page guided workbook filled with journal prompts and other exercises to help you reconnect with yourself.
Daily journaling can be a difficult thing to get fully into, so it is lucky that we have such adept and well-structured guided journals to get us started, eh?
Refillable Heart Journal
Final Words
So, there you have it! Hopefully, you have now found a journal that is amply suited to whatever your central theme was from the beginning.
FAQs Best Journals for Women
WHAT ARE THE BEST SELF-CARE JOURNALS?
This will depend on what exactly you intend to use the journal for. Nowadays, there is a whole panoply of different journals that you can buy. Sure, there are plenty that are left blank so you might use them however you wish. There are, however, plenty more that are designed to give you a specific type of experience. These are known as guided journals and there is one for just about any issue you might be facing. So, if you are really keen on trying to boost your level of self-care and attention, then you can easily go and find a guided journal that is specifically designed to tackle this issue.
WHAT SHOULD I JOURNAL ABOUT AS A WOMAN?
Perhaps this will be an unpopular opinion, but what you journal about should not be gender specific. Rather, it should be specific to your own experience - your own needs, desires, and intentions for your journal - rather than fulfilling some expectation of genderhood. When asking yourself what you should journal about, the best thing you can do is as accurately and closely as possible your own issues. In asking Google or another resource what to journal about, you have already failed.