Are you looking to inject a little more spontaneity into your life? Are you sick of following the same old sodden routine and desire something a little different to spice up your life and get you thinking and feeling different things? Are you in a rut and need something new to heave you out of it?

Then allow us to explore 12 apposite tips for encouraging more spontaneous trips and other behaviors more frequently.
1. Use a Discount Site
Using hotel booking sites like booking.com to plan a spontaneous trip is your best bet for getting a cheap deal while still maintaining the spontaneity that makes this kind of trip so exciting.
Such websites are specifically designed to trawl through booking across various other sites to try and find you the best deal overall, saving you a whole bunch of work while also helping you to find a great deal that you might otherwise have missed without putting a whole bunch of extra effort that is frankly unwarranted.
2. Haggling & Price Matching
The art of the haggle is something that many would say is dying in today's day and age where we are more often found to be staring down at our phones for solace. If you have any plans to engage in spontaneous travel, then you will be much better equipped if you have some basic understanding or ability in haggling.

A last-minute trip sure can be expensive, but it is often rendered cheaper if you appeal in a human way to the owner of, say, a hotel to get a better deal, using a friendly form of bartering to achieve your ends.
3. Comparing Deals
Of course, if you are not willing to use a booking website to arrange your surprise trip, then you can have so much fun by arranging it all yourself, comparing deals from the comfort of your own home. If this is your first spontaneous trip, then perhaps it might be best if you use a website for the job, but if this isn't your first rodeo and you fancy a challenge, then by all means go ahead.

You might be surprised at the kind of deals you can when working at your own behest on these things!
Leather Hanging Toiletry Bag
4. Deals, Deals, Deals!
Working specific to region, you can find plenty of great deals, especially if you are working within the limits of the United States where there are lots of great options to choose from.

Thanks to the revolution of the internet, you can delve deep into the deals available in any area without the need to worry and leave room for the entire trip on a weekend getaway. So, whether you intend to go to Central Park or elsewhere, make sure you keep a keen eye on some of the deals that are available for your specific route.
5. Fridays
Every spontaneous traveler should be aware that Fridays are an important day upon which to search for available deals and offers. If you are booking last minute, you can find the most incredible savings and discounts on Fridays.

This is likely because Saturdays tend to be the busiest days for hotels and flights in general. It stands to reason then that there are, thus, likely to be more cancellations on a Friday than on any other day of the week. So, keep your eyes peeled for a last-minute deal on Fridays - though this isn't exactly the most spontaneous policy, it also is in a weird way!
6. Social Media
Those who divorce themselves from social media in an effort to connect more with everyday life are handicapping themselves in terms of finding last-minute flights and affordable car rentals.

Sure, they might find themselves better able to curb the constant dissociation that can occur from day to day, but they might simultaneously be shooting themselves in the foot in terms of their ability to spontaneously travel. As those who have already visited the Lincoln Memorial will already know, you win some and then you lose some - you can scarcely ever have it both ways
7. Apps
If you are stubbornly going to avoid using social media to book your last-minute trips, then you might as well substitute that great idea for another great idea - the use of some of the best travel apps for the express purpose of finding you a good deal.

If you have already done your own research on this topic, then you will no doubt already be aware of just how powerful these services can be in helping you book a last-minute vacation. Certain locations will benefit more from such services of course but when is this not the case?
8. Tour Operators
Alternatively, you could use a stress-free service called a tour operator to get more value when searching for last-minute deals on a spontaneous vacation. A global tour operator like Friendly Planet Travel offers all-inclusive trips to more exotic destinations around the world, meaning you can visit such locations on a whim for a decent price on the spur of the moment.

This is definitely the better option for someone who prefers not to visit just one location and also for their entire holiday to be sorted in one fell swoop.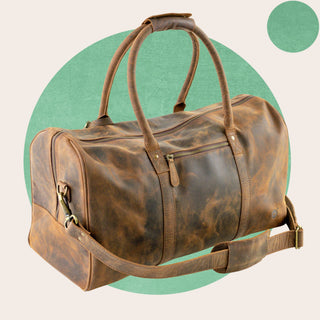 Leather Duffle Bag
9. Expectations
One thing to bear in mind when booking spontaneous trips is that you should seriously lower your expectations unless you are willing to fork out a serious amount of cash. If you are indeed working within the confines of a budget, then you would do your best to accustom yourself to the eventuality that you are not exactly going to be staying in the most luxurious hotels.

If you are more open to the idea of living in an affordable but still lovely place, then you will no doubt be satisfied with many of the affordable options available at short notice online.
10. Negotiations
As already elucidated in other words earlier, when all the internet and technological methods fail you, you can always rely on the older methods to get the job done. One such method involves calling travel providers at the last minute to try and search for any spontaneous deals that might arise and that might otherwise not be listed online.

This is a perfect way to find those kinds of deals that you might completely miss if you are so reliant on the internet for finding your deals when you are looking to travel at short notice.
11. Driving
Funnily enough, a car is one of the most spontaneous ways you can get about. As long as you have got enough money for gas, you can afford to get to just about anywhere within reason. Of course, if you plan on going overseas, then you will need to book a ferry service, but you can always take your car on such a service.

Many people are instead choosing to keep their travel within national boundaries and the use of a car is a perfect way to adhere to the current trends in travel and trickling along to the stream of the many.
12. Rewards
For those not already in the know, there are more and more credit card companies that offer benefits alongside the use of their credit. A lot of these benefits often revolve around helping people see more of the world - i.e. flying miles and the like.

If you check out your own credit cards and the offers they might have, you might find a bunch of things that can help you travel more spontaneously. Do as much research as you can before you make a financial investment, lest you be left cursing your luck.
Final Words
So, there you have it! Hopefully, you are now feeling ready and able to engage with spontaneity in your own way, changing up your routine and habits from time to time for the greater good!
FAQs
WHAT IS A SPONTANEOUS TRIP?
A spontaneous trip is a trip that has been engaged upon at short notice. A trip such as this is never planned for but rather is the object of someone's desire to suddenly travel to a new place without much forethought if any. As you might already be able to tell, this is more often the preserve of those with some expendable income, more likely those in the middle classes and up.
ARE SPONTANEOUS TRIPS GOOD?
This remains to be seen by each individual user. Some people might be fond of doing spontaneous things - it might fulfill them in a way that can scarcely be replicated. For such people, spontaneous trips to places near and far will likely be fulfilling to the utmost. Similarly, though, there are plenty of people who are less inclined to do things spontaneously. Those, for example, who have autism are certainly less likely to want to do anything spontaneous, fond as they are of routine and habits.
WHERE CAN I SPONTANEOUSLY TRAVEL?
You can spontaneously travel just about anywhere you can normally travel to. That being said, it is far easier to spontaneously travel to locations by car. Using other means of transportation will leave you dependent on the schedule and whim of the various travel providers that you will need to use to travel, whether that be by train, plane, or any other form of transportation. If you have a car, then you can travel at your own behest whenever you like, thereby circumventing the chokehold that these conglomerates have on the ebbing and flowing of prospective spontaneous travelers around the world.
WHY ARE SPONTANEOUS TRIPS THE BEST?
There are plenty of reasons that you might feel more inclined to take up a trip spontaneously, especially if such a reason is in direct protest to the limits of a busy calendar. There are also reasons pertaining to travel anxiety and the like. Planning trips well in advance may sound like a good way to avoid anxious anticipation, but that's not always the case. Traveling spontaneously can actually reduce stress and anxiety. It also introduces a level of playfulness into day-to-day life. Still, don't take our word for it. Feel it out for yourselves.
HOW CAN YOU BE A SPONTANEOUS TRAVELER?
Though there are plenty of more personal ways you can become a better spontaneous traveler, here are a few general tips to get you started: be curious and desire to learn more about the world and other places; engage more with your surroundings, no matter how fast they might move before your eyes; do things in different ways, adapting yourselves to changes in your routine no matter how big or small; do things at random to encourage this adapting technique; say yes to things that you might otherwise say no to; talk to strangers, no matter how smelly or weird they may seem; and practice spontaneity in all these ways and more.