Are you struggling to keep track of all of your recipes? Wouldn't it be handy to have a recipe journal where you could keep all those precious recipes old and new in one handy place?

Well, step forth and learn the way as we explore seven top tips for getting started with your own recipe journal!
1. Cover
How else are you going to feel inspired if your cover isn't in its own way inspiring? A recipe book full of your favorite recipes should be inviting and intriguing, full of enthusiastic spunk as well as recipes.

You can easily decorate your journal any way you like. Heck, you can even forego it altogether, though you will be doing it at your own peril. Investing some time in this recipe binder and the front cover will save you the trouble of trying to reinvent the wheel later down the line.

With a bright and inviting cover, you can be sure that every meal will be a welcome challenge, something to be excited about and not to dread. You might even prefer simply to write on the cover what the purpose of this journal is and who it is owned by, and that's okay too!
2. Index
Having a cover is all well and good and is bound to be inspiring in its own way, but without an index how are you going to navigate your bright and colorful journal? You can use this section to really go to town to capture all of the details of your cooking for exhibitionist purposes.

Similarly, an index is a perfect place for you to lucidly and succinctly detail all of the recipes in the book so that you can quickly and easily find them when you need to. Perhaps one recipe contains information that you need for another recipe and you need that information QUICK!!! Well, if you'd taken the time to invest in an index of sufficient notation, then you'd have a perfect place for all the things you cook.

Everyone thinks they can do without making note pages for their index until it's too late!
Classic Journal (Blank)
3. Fast Meals
If you are the kind of person whose busy schedule is already tightly woven with a gastric band and for whom there is never enough time in the day to cook a decent meal, then you can always dedicate a box or some pages of your journal to quick recipes. Cooking is, after all, a very healing thing.

Maybe you have an impromptu gathering at your house and your friends are hungry. You don't have time to buy any fancy ingredients or prepare a spread but you can still knock something up quickly, right? Just as you might use YouTube to follow a cooking recipe, you can dedicate some space in your recipe journals to recipes that matter on a whim.

Why not even fill out a certain spot in your journal with recipes that can be made from simple ingredients that you are frequently likely to have around the house, thereby never getting caught with your pants down?
4. Recommendations
How often have you been recommending something (anything) and then had difficulty recalling it when the time was right? We have all been there, whether you are referring to book or music recommendations, or indeed for sanitary products. This is the complete same thing for recipes too. Thankfully, you can use a recipe journal to make a space where you can store these recommendations for when they are most useful.

As with any journal, you can make this look any way you like, though the more visually appealing it is, the more likely you are to actually keep coming back. So, use stickers and customize it to heck. Talk to your friends about it and organize it the way you think is best. Now, you won't roll your eyes and sigh every time someone tries to get your life organized by offering you a recipe.
5. What's Next?
Well, what are you going to cook next? No doubt you ask this all the time, whether you are meting it out silently in your head or whether you actually orate it aloud to someone nearby. It can be difficult to know really, especially if you have such a wealthy stash of recipes to choose from. Then, it will feel like a great opportunity is being passed up, to cook something specifically attuned to the very moment that you are in.

In such instances, wouldn't it indeed be handy to have a list in your journal that tells you what to make next? Such a list would be incredibly helpful, especially if you are the kind of person who is already fond of lists and thus likes to order things numerically. This way, you shouldn't have any trouble choosing which recipe to follow next or choosing how to personalize it to your own whim. Such acts are great for improving your journaling habit.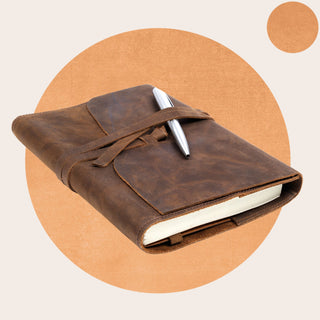 Refillable Classic Journal (Blank)
6. All-Time Favorites
Of course, all this prioritizing and recommending is good sometimes. A lot of the time you simply want to make something classic that you love making. Your recipe journal doesn't have to just be a place to keep content and keep smiling in the face of disaster. No, you can reserve a place in there for your favorite recipes, those that you have made many times and never get sick of.

Of course, you should really know the recipe by heart now, though there is always room for experimentation. For this reason, it is probably helpful to have the original de facto recipe to hand just in case you feel as though you need it.

For a fun twist, why not have a dedicated section for your death row meal, imagining what you might have for your last meal on this cruel and cold earth
7. Spreads
Now you have established these different sections, you can begin to actually fill your recipe journal with recipes. Don't be afraid to be as creative as possible, creating panoramic and colorful spreads that fill several pages at once. The more detail you go into in this recipe spread, the more accurately someone else will be able to replicate it when you eventually pass away and those close to you are looking to replicate your culinary gifts.

There's always room to write more creatively in these kinds of spreads too. You can, for example, include an introduction section as though this is a published piece of work. Touches like this serve to suspend the illusion that this recipe journal matters and that you, in turn, matter. Nothing matters, of course, but it is more than okay to sustain this illusion for as long as possible.
Final Words
So, there you have it! Hopefully, you now feel able to get started with your very own recipe journal!