Have you a lust for travel that can scarcely be sated? Do you want to make money traveling the world?
Then buckle up as we explore 10 of the best roles to do it in.
Flight Attendant
I suppose we ought to start with the obvious traveling jobs. Indeed, travel jobs scarcely come better equipped to let you see more of the world than the form of the flight attendant.
The job itself is intrinsically tied to flying as you are tasked with attending to the whims of the flying customers while in flight between locations. Besides the experience of seeing more of the world, you are given domestic as well as international work, good income, paid stays in hotels, as well as extra cash provided by the airline for expenses incurred during the stay.
No wonder this is many people's dream job!
Cruise Ship Worker
Another more obvious traveling job comes in the form of a cruise ship worker. Much as a flight attendant is tasked with flying from place to place attending to the customers' whims, a cruise ship worker is doing much the same at a slower pace.
There are many different cruise ship jobs, though, from a virtual assistant to a caterer to a manual laborer, a technician, a scuba-diving instructor, or even a performer on one of the stages if your cruise has onboard entertainment. This is something you don't necessarily need a pesky college degree for!
International Aid Worker
There are scarcely better jobs for feeling like you are actually making a change in the world than that of international aid workers. There is always a shortage of such dedicated people for the job, so why not send yourself to the front line today?
This is among the most travel-friendly jobs, though it isn't exactly going to be all peaches for you will no doubt encounter plenty of situations that are uncomfortable and scary. Thanks to the internet, this has become one of those digital nomad jobs where you can pick up work wherever you are.
Foreign Service Officer
Those with a little more experience in politics and international relations might be inclined toward expat jobs in the civil service sector. If you are looking for remote jobs, then look away now, for this is a role that needs no virtual assistants. Rather, it will be incredibly hands-on (you will literally be shaking the hands of diplomats from across the globe).
Have your travel expenses paid for and visit ski resorts and plenty of other locations for your country at their behest.
English Teacher
Being one of the most commonly spoken languages in the world, English can get you far in the realms of backpacker jobs and the suits of government workers. But, the best job for those who are already fluent in English is arguably teaching the language to students in foreign countries.
There is no shortage of demand for travel lovers to don their smart shirts in a foreign country and teach the younger generation how to speak English. Thanks to institutions like TEFL, the process of qualifying to teach abroad has never been easier or more affordable.
Tour Guide
If you are particularly knowledgeable about one place or country, then you can always capitalize on this knowledge and make some money sharing it with the world.
What tourist doesn't want to hear about the natural disasters that have occurred in an area they are staying in or the atrocities committed by the major airlines to the indigenous population?
Excusing curious factoids such as this, you can always be of use in providing a stranger with some helpful advice on the local area. This is a travel job which, much like that of a ski instructor, could be of mortal consequence.
Writer
If you have enough money to sustain yourself without manually working, then what's stopping you from just living wherever inspiration takes you? Plenty of people fantasize about doing so but simply lack the means to learn a foreign language without funding it with administrative tasks.
If you have enough, then grace some hostel workers with free food and witticisms as you travel the world in search of inspiration. Even if you aren't necessarily sat on that much money, you can try and find free accommodation anywhere you go. Heck, if you are really dedicated (and if the weather is nice enough), you can even pack to sleep rough!
Au Pair
A travel job that has seen increasing popularity as office space becomes an ever more common part of the work makeup is that of an Au Pair. It's no wonder about the popularity, though, for this role offers the opportunity to be paid to visit another country.
That being said, you will need to be working in the role, usually helping a family with daily chores and the like. In this way, you become a staple part of the family. You can travel to almost any country in this role and even accrue some extra cash all the while for payment while your accommodation and food are all provided free of charge.
Freelancer
Arguably one of the best ways to ensure that you can visit anywhere without the commitment of staying in one place for longer than necessary is to engage in freelance work.
Nowadays, such work can almost solely be done online, meaning that there is really nothing stopping you from jetting from place to place as you can take all of your work on your computer or travel app.
Translators
Where there are people, there will need for translators. This is especially true in certain sectors like engineering and medicine, for there are lots of workers from all sorts of different countries bearing different nationalities that might otherwise struggle to communicate. And failure to properly communicate in these environments can have mortal consequences.
Thus, there is always a need for good translators out there that speak the local language. This is also a role that can be done online or in person, too, so you really can take it anywhere you would like, even if your desired location doesn't necessarily speak the language you know.
Final Words
So, there you have it! Hopefully, you have found a role to suit you!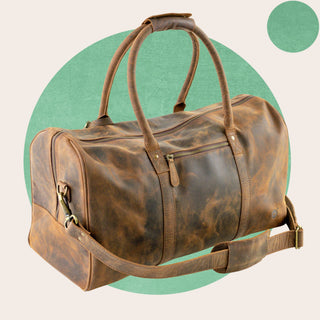 Leather Duffle Bag
FAQs Traveling Jobs
HOW CAN I TRAVEL FOR A LIVING?
There are plenty of roles that you can take around the world with you, the most common being those of airline attendant and cruise ship worker, though there are plenty more.
CAN YOU GET PAID FOR TRAVELING?
Indeed, you can. This is, in fact, the whole basis for the roles of flight attendants and cruise ship workers, though there are many other jobs that can be worked into a desire to travel.