Are you starting to get the travel bug? Have you been dreaming of getting away for a vacation? Knowing where to start and how to plan a vacation can be a very overwhelming task. If you're stuck with what you should do to get everything in order, you're in the right place. Today, we're going to share the various steps you should take when planning a vacation to ensure your trip goes smoothly, you have a memorable experience, and you don't spend more than your budget allows.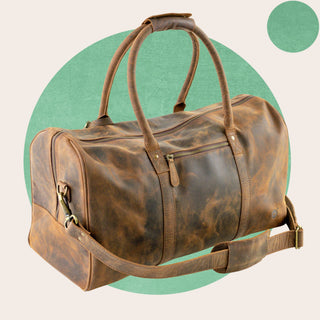 Leather Duffle Bag
How to Plan Your Vacation
Read on to learn more about the trip planning process, the steps you should take, and the order in which you should take these steps when you're ready to start planning your next vacation.
Choose Your Destination, Travel Dates, and Length of Your Trip
The first step when you're trying to figure out how to plan a vacation trip is to decide on your travel destination. Where do you want to visit? Europe? South America? Australia? A different state in the US? A beach town? 

After you've made a decision about where you want to go, or at least narrowed down your choices, select your ideal departure date. Keep in mind that traveling during peak season will make your trip more expensive (peak season will vary depending on your destination). If you have some flexibility with your departure date, it could help you when you get to the point of actually booking tickets.

You'll also want to determine how long you want to go on vacation for during these early planning stages as well.
Decide Who You are Traveling With
Next, if you're thinking about how to plan a family vacation or how to plan a girls or guys trip, decide on how many people will be traveling with you. Will you be bringing all of your family members, or just a spouse or a close friend? You may also be planning to travel solo, which is perfectly OK too!
Research Transportation, Lodging, and Food Costs
Regardless of whether you are looking for how to plan vacation on a budget or if you have no real budgetary restrictions, you'll still want to do some research to get an idea about what things are going to cost. Look up flights, hotel or rental costs, food costs, and any other expenses that you think may come up. Try to put together an estimate of what the entire trip will end up costing you based on these figures and the length of time you are planning to stay.
Save Up for Your Trip
Once you have an idea of the total costs, it is time to save money for the trip. If you're trying to find how to plan a cheap vacation, and the estimate you landed on above seems too high, it may be time to go back to the drawing board and research some less expensive destinations. Saving money before you travel will help ensure you're able to afford the vacation and avoid racking up credit card debt.

On a related note, be sure to find an ATM card that won't charge ATM fees before you travel. This can be a huge money-saver when you are away from your local bank.
Book Your Transportation
Once you have your trip plan in place and you have saved enough money, it is time to get your transportation secured. Google flights and look for the best deals you can find. You could also consider working with a travel agent, especially if you are planning international travel. After booking flights, look up rental car options, if you think you'll need one. If you're going to rent a car, make sure you have Google maps on your phone so you'll be able to find your way around.
Book Your Accommodations
After securing your flight, turn to making reservations for where you want to stay. You may choose to stay in a hotel room, or you may decide to look into vacation rentals. Another option if you're trying to save money is to look for budget friendly hostels in the area.
Finalize Your Vacation Plans
Now that all the reservations are made, you can start planning all the exciting things you want to do. Whether you're looking for how to plan a vacation to Europe, Asia, South America, or any other location, check out online resources and travel websites to learn more about the best things to do. Save articles with appealing ideas so that you can go back and look at them later. Whether you are looking for a relaxing vacation or are up for scuba diving, mountain climbing, or other adventures, you'll find some great ideas online.
Take Care of Housekeeping Tasks Before Leaving
Another essential part of how to plan a trip is to make sure that you take care of all the housekeeping related tasks before you leave. One of the most helpful travel tips is to contract your credit card companies before you leave. Let them know you're traveling to a foreign country so they don't mark your cards as being stolen and freeze your accounts. Some other important housekeeping-related tasks include making sure your bills are automated and can be paid online, arranging for pet sitters or boarding, if needed, and having your mail held.
Purchase Travel Insurance
No vacation plan is complete without travel insurance. While we all like to think that we won't let anything interfere with our vacation, it is possible that something unavoidable may come up. Travel insurance protects your investment and allows you to get your money back or reschedule if something comes up. It is worth the added expense to avoid losing all the money you've spent already.
Pack
As the date of your vacation is approaching, start packing your bags. Check the weather forecast to make sure that you pack appropriate clothing. Consult checklists online to make sure you don't forget something essential, like underwear.
Have Fun
After all the hard work of vacation planning, now the most fun part arrives: vacation time! With all the effort you put into this special trip, you should be all set to have a memorable time. Enjoy your trip!
Leather Hanging Toiletry Bag
Get Started Planning Your Dream Vacation Now
Are you feeling excited thinking about your next trip? Where will you be heading? Use the tips and suggestions we shared above, and you're sure to enjoy a wonderful trip while avoiding many of the hiccups that can set other travelers back.
FAQs
How do you plan a vacation step by step?
To plan a vacation, you first need to decide where you are going, when you are going, how long you are staying, and who will be traveling with you. After making these decisions, you need to research expenses for the area, save money, look for deals, and book your flight and overnight accommodations. Once all of this has been completed, you can start planning the more specific details of your trip, such as the activities you want to do and some restaurants you want to try. Then, before heading off for your trip, pack your bags, purchase travel insurance, and be sure to tell your credit card companies where you'll be traveling.
How do you start a vacation?
There are many steps involved in planning a vacation. One of the first steps is to choose where you'd like to go and select the travel dates that will work best with your schedule and budget.
How much money should I have saved for a vacation?
The amount of money you'll need to save for your vacation will depend on where you are going, how long you'll be staying, and the number of people traveling. To determine a good budget for your vacation, you'll need to research flight prices, hotel costs, dining costs, and other expenses during the trip (such as museum admissions).