Are you approaching a milestone birthday and want some birthday trip ideas of where to go? Are you looking to treat yourself in the sun?
Then join us as we explore 10 popular birthday trip ideas!
Croatia
One of the more popular birthday trip ideas these days has to do with exercise alongside leisure. What this means is that instead of just going somewhere in the sun to get a tan, people are more often going abroad to do something a little more active (try a travel app to settle on it)
Croatia for example is one of the best places to go abroad if you are a keen cyclist or hiker of some kind. There is plenty more to explore of course, and you will likely see it all en route.
Belize
This is a location well-known for its beautiful beaches, so why not spend a milestone birthday where other intrepid explorers are already traversing the UNESCO-designated marine preserve Glover's Reef off the coast of Belize
Those who have gone before have shown the world that you can easily imagine your own self inside a tent-walled cabana with real beds, wooden floors, and porches. Who said glamping had a ceiling?
Still, despite its reputation for many a sandy beach, there are still plenty of activities to get around to doing, not to mention numerous fine-dining experiences to be had. For a birthday getaway on a 40th birthday, you can't really do much better.
Moab
Southern Utah (and all the surrounding areas of America for that matter) is a place replete with sources of natural beauty and wellsprings of poetical inspiration. If you are the kind of person who prefers trekking with your friends to fancy and delicious food and art galleries, then Moab, Utah is going to have plenty to offer you on your potential 50th birthday.
Create your own national historic landmark on this road trip, making sure that you leave your mark on a place that seems as though it has always been.
Banff
Those yearning for big skies and vast unending views will no doubt have their desires utterly placated by the Banff national park in the Canadian Rockies.
As a birthday trip idea, this one will be overflowing with gorgeous moments that beg to be photographed. Spend as long as you like in the glorious fresh air hiking from hut to hot beneath the towering mountains, waterfalls, and glacier-fed lakes.
This might not be some people's idea of a birthday party, but if you are more inclined toward the appreciation of mother nature's gifts, then you will, without doubt, be gladdened to be there.
Leather Hanging Toiletry Bag
Jordan
Perhaps, though, you are more interested in visiting a country that is warm enough to heat up your cooling attitude towards mortality.
Despite its much-filmed terrain, this place still retains much of its wild vibe, so with the right guide by your side it could easily be among the best birthday trips full of the most fun things. Having such a guide will be especially useful if you are looking to dodge all of the tourists and the traps that they tend to encourage.
Whether floating in the dead sea or riding a camel across the desert, you are no doubt going to have a grand old time.
Palm Springs -> Las Vegas
For the true Fear and Loathing experience, you might try anticipating your own birthday vacation ideas, trailing across the desert in a bright red bug of a car towards the dusty light bowl in the center of the desert for some live music and even liver casinos.
Yes, nothing proclaims happy birthday out of the top of a speeding convertible quite like speeding across the bare desert under a rabid sun toward sin city, right? Don't forget your road trip accessories!
Florida Keys
Florida has just about anything you can conceive of in a holiday, already making it one of the best birthday trip ideas.
The Florida Keys is best known for its outdoor adventures and the amazing quality of the rental accommodations and gear in the area. Going to such a place a the Key west will not only allow you to do all sorts of things in go, but also for you to bring as many people as possible with you, as you can easily accommodate a whole bunch of different people's preferences.
For example, there's SUP, surfing, snorkeling, and even shipwreck diving - the saying goes that if you can do it in or on water, then it can be done in the Florida Keys. The Everglades are also right around the corner too!
The Grand Canyon
Many people still choose to spend their birthdays at this monumental landmark, whether for a day trip or even longer. Let it be known that this likely isn't for those who enjoy being hotel guests as this can get pretty nitty gritty, though there are plenty of opportunities for more tourist-led excursions.
Still, if you are looking for yoga retreats, then how can the wide expanses of a grand canyon having a sunset upon it be matched?
Cancun
Simply looking for a beautiful city to stay in with spectacular scenery, a private beach, amazing views, day trips, white sand beaches, luxury resorts, and a food tour?
Then perhaps the Mexican seaside city of Cancun will have you covered, located as it is on the shores of the Caribbean Sea, providing excellent services, rental options, food, and drinks.
For those milestone birthdays that are simply a way to hit pause and reflect on the here and now, a city as beautiful and relaxed as this can simply not be ignored.
Hungary
Among the best places in Europe to visit (and a great jumping-off point if you have never visited the continent) is the city of Budapest in Hungary. This has a reputation for being one of the cheapest cities in Europe, providing plenty of things to do that are either affordable or totally free.
There are plenty of castles, rivers, and museums to visit free of charge, though if you are the kind of tourist who likes a party then make sure you visit the city's Ruin Bars.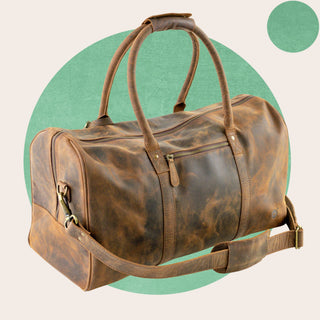 Leather Duffle Bag
Final Words
So, there you have it! Hopefully, you have found a place for you and your friends to jet off to!
FAQs Birthday Trip Ideas
HOW DO I PLAN A BIRTHDAY TRIP ON A BUDGET?
Work out how much you would be willing to spend on each part of the trip after having worked out how much you would be able to spend in total.
HOW CAN I MAKE MY BIRTHDAY SPECIAL ON A TRIP?
This will depend on your budget and your own self, though the best you can do is do something that you want to do. This is especially effective if you have wanted to do it for a long time and it is on a milestone birthday.
WHERE DO YOU WANT TO CELEBRATE YOUR BIRTHDAY?
I'm not too partial to the celebration of birthdays, but if I had unlimited money to go to a certain place I would probably pocket it and stay at home.
HOW DO I PLAN A GROUP BIRTHDAY TRIP?
The first thing to do would be to decide who is going to come and put them all in a group chat. Then work out how much each person will need to pay and which parts they will need to buy on their own.