Looking to expand your horizons a little and get to know a whole new type of leather? Well, what is crossgrain leather? Where does it come from and why? How can it be of use to you?

All this and more today as we explore the history and physiology of crossgrain leather, as well as the pros and cons, and some interesting statistics to tell your friends.
The History
In the grand scheme of things, crossgrain leather is a relative newcomer to the party. Due to the production techniques inherent in its manufacture, this leather came about as a result of the increase of the leather industry in the late 20th century due to burgeoning reliance on the chromium tanning process.
While corrected grain leather (such as full grain leather and other types of genuine leather) was still being produced, the embossing of leather became way more popular, both as a symbol of status and simply an aesthetically lavish gesture.

Crossgrain leather stepped in as a great alternative to those looking for the pebbled leather look without the incredible expense that this can incur. Likewise, crossgrain could also come close to emulating the look of Saffiano leather.

This style of embossed leather is visually captivating and, though initially only really popular in a certain area of the world - i.e. near the place of its inception - has gone on to occupy a staple place in the hearts of most if not all leather enthusiasts.

Why is it called cross-grain leather? Because it is made from natural leather with a synthetic pattern on top where the hide has been corrected to fully conceal any imperfection that might otherwise rear its head. In this way, it is not quite a top-grain leather.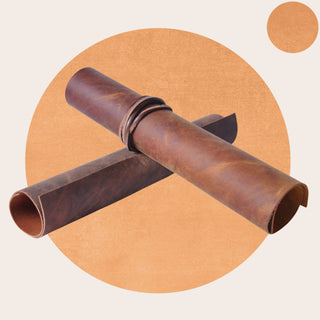 Leather Craft Bundle Set
Pros of Crossgrain Leather
The specific pros and cons of this kind of leather will definitely depend on where you purchase it from and who has manufactured it. The quality of most leather can vary wildly and should be bought from legitimate manufacturers who not only know and care about the process but also who care about the animals and people involved.

The idea is that it offers a fairly affordable alternative to the often costly Saffiano leather, emulating the pebbled appearance of this leather to a significantly potent degree of mimicry. Likewise, it is also produced with the idea that it is easier to clean and maintain while also being slightly more durable than the leathers it is attempting to emulate due to the crossgrained nature of the material.

In fact, you should only really require a slightly damp rag to clean this leather and remove any imperfections and, since it comes in many different colors, you shouldn't really ever have to replace it or anything about it.
Cons of Crossgrain Leather
So, just as we have explored the pros of using and wearing cross leather, we must inevitably explore the cons.

For all its perks in terms of durability, crossgrain leather can feel rather different from other types of leather. This isn't to say that it's not real leather - it is! - but rather the production technique has such a bearing on the end product that it is worth at least considering before you go on ahead and rush into purchasing your own crossgrain leather.

One of the main differences in terms of characteristics is the fact that the pores of crossgrain leather are far thinner than, say, some Italian leather. Thus, though this is a durable leather, it is decidedly less porous.

The main aesthetic effect this can have is to bring about an artificial look and feel to the leather that is at odds with other varieties of leather such as Nappa leather.

For this reason, it is also difficult to craft things with - the nature of the material means that it is more difficult to create anything with straight lines. This is no small part due to the rigidity of the leather which also creates its own set of issues during use as it can crack far more easily than other varieties of leather.
How It's Made
Since the idea is to coach crossgrain leather from a state of imperfection to surface perfection, the process starts with an imperfect hide that clearly bears blemishes. Such blemishes are usually a result of brand marks, scratched surfaces, and other sorts of damage - this is, after all, the skin of an animal, an animal that might have, for example, got into a scrap with another animal and felt consequences the morning after.

Instead of leaving them aside as undesirable for normal tanning, the surface of the hide is sanded down or cut to remove this blemished top layer of grain in order to create a fresh and otherwise even surface to imprint the cross leather upon.

Once it has been sanded and/or cut down, the leather is dyed to the desired color and then embossed with a particular pattern going into the grain. The process of manufacture is then usually concluded with an acrylic coating that seeks to make the leather more durable, at least in the short term, though in the long term will inevitably bring about cracking of sorts.
Leather Craft Bundle
Some Statistics
What better way to round things off than by having a look at some interesting statistics about the manufacture of crossgrain leather in the world today?
In terms of volume per year, almost 216 million square feet of cross-grain leather is produced every year. Of course, this pales in comparison to the sizeable 1.8 billion total square feet of leather produced annually, but this is still an immense amount of slaughter on a cosmic scale.
South Africa, India, and Indonesia are among the key producers and exporters of this kind of leather, largely owing to the immense amount of cattle in this part of the world.
Of these three countries, it is South Africa that is chief among them, being the largest exporting country for crossgrain leather in the whole world. When rendered in a particular statistic, we can see that South Africa accounts for over 30% of the world's crossgrain leather production.
On the flip side, if we are to concern ourselves momentarily with which country is the largest importer of crossgrain leather, the prize would go to India. Yes, even though India is one of the largest manufacturers of this material, they can't seem to get enough of it.
Final Words
So, there you have it! Hopefully, you are feeling ready and able to go out into the world and educate the masses about crossgrain leather! Away you go!
FAQs Crossgrain Leather
What Is Crossgrain Leather?
Crossgrain leather is a type of leather that is made using real leather as a base, correcting any imperfections on the surface of the leather by imprinting and embossing distinct and often desirable diagonal patterns upon it.
Is Crossgrain Leather Real?
Mostly, yes, though there are exceptions. Generally, most crossgrain leather is made from real leather that is otherwise not suitable for public consumption, usually because it bears some undesirable imperfection(s). In such instances, the leather is repurposed to make something different - in this way, this is a rather sustainable way to go about doing things instead of simply throwing away the leather.
Is Crossgrain Leather Good Leather?
Though crossgrain leather uses real leather as its central material, many leather aficionados will likely tell you that it is not good leather. While it is certainly not the best leather, there are plenty of benefits to using it.
How Is Crossgrain Leather Made?
The production of crossgrain leather begins with an imperfect hide that is usually considered undesirable because of various surface imperfections like brand marks, scratched surfaces, etc. The surface of this hide will be sanded and/or cut to remove this undesirable top layer, whereupon the fresh surface is dyed and then embossed with a pattern across the grain, finished with an acrylic coating to make the leather more durable.
Does Crossgrain Leather Last?
While crossgrain leather isn't going to fall apart as fast as other leather products of lesser quality like, say, faux leather, it is not known to last. The stiffness of the leather as a result of the cross-grain process means it is more like to crack easily.
Does Crossgrain Leather Break?
It certainly can depending on how you treat it. Because of the cross-grain process, the leather produced is often stiffer than genuine leather, meaning that it is more likely to crack more quickly than these other types of higher-quality leather.
What Makes Good Crossgrain Leather?
Good crossgrain leather will be leather that fits the MO of what crossgrain leather is intended to be, that being a type of leather that repurposes otherwise undesirable and successfully imitates other styles of leather like Saffiano leather and the like.
How Should You Maintain Crossgrain Leather?
The process by which crossgrain leather is manufactured means that, though it is rather stiff overall, it is also incredibly durable. For this reason, you should only really have to use a damp cloth to clean it, though by all means go ahead and condition it as you wish.
Is Crossgrain Leather Hard or Soft?
Because the surface of crossgrain leather is embossed, the material itself is far stiffer and more rigid compared to other leathers. For this reason, leather aficionados have been known to steer clear of it, especially as this stiffness can often lead to cracking and the like.