Are you looking to get hip on the most famous diaries in the western world? Want to learn more about diary writing from the world's biggest success stories?
Then you are in luck, for today we will explore 5 famous diaries that eventually became books of their own.
The Diary of a Young Girl by Anne Frank
Well, let's the most obvious diary out of the way first. The Diary of a Young Girl by Anne Frank is likely the most famous diary of all time, full of the most famous diary entries ever. And it should be no wonder why - this is an opportunity to look at World War II through the eyes of someone who directly experienced the tragedies inflicted upon the Jewish population of Europe.
Frank herself wanted so badly to be a writer and, though she was eventually successful, she was never to know this, for she died in a concentration camp in March 1945 aged 15 years old, just months from the end of the war.
Anne Frank's Diary is a summation of her family's fleeing from the Nazis during their occupation of Poland. From the first to the final entry, we experience Frank's family hiding in an Amsterdam warehouse for two whole years.
Eschewing the typical 'dear diary' format, Frank explored frankly her environs, and the situations that befell, offering up a timeless sociological text by which to understand the very real effects of war upon the young and hunted.
Journals: Captain Scott's Last Expedition by Robert Falcon Scott
Another example from the many famous diaries out there comes in the form of this harrowing account by Robert Falcon Scott. World-renowned as the leader of two expeditions to the South Pole and discoverer of the first Antarctic fossils that proved the Antarctic had once been forested and connected to other continents, this is a personal document more than it is a diary entry.
Though his leadership qualities have since come into question - albeit questions that have themselves come into question with a 'revision of the revisionist view' - Scott's reputation at the time was of a national hero. The release of his diary was readily consumed by those with ready access to the literature of the time, likely one of the first contemporary diaries to receive such a readership, much redolent of the current cult for biographies.
Scott's personal journal was discovered with his body in the Antarctic after his failed 2nd expedition and greatly inspired the public imagination. Following both the first expedition - where Scott and his party returned across the Antarctic after having been beaten to their goal by the Norwegian Roald Amundsen - to his party's demise on the 2nd, we are given a poignant and intimate account of life on the edge through his journal entries.
Refillable Classic Journal (Lined)
Leonardo's Notebooks: Writing and Art of the Great Master by Leonardo da Vinci
If you haven't already heard of this world-famous Italian polymath, then chances are that you have been living firmly under a rock for a considerable period of time. With a full name like Leonardo di ser Piero da Vinci, you can already expect him to be a man of many talents, some of which include:
Draughtmanship
Painting
Engineering
Science
Sculpting
Architecture
Most of his fame has rested on his achievements as a painter, chiefly of the Mona Lisa, though he has become famous for his notebooks since his death. These notebooks contain many drawings and notes on a variety of different subjects like anatomy, astronomy, botany, cartography, painting, and paleontology. Those more concerned with his personal life might like to look elsewhere.
Sure, Marie Curie pioneered research, but Leonardo da Vinci pioneered art and reality, so it is no wonder that his achievements, diverse interest, and empirical thinking never fail to incite excitement and inspiration in the cultural imagination. Sadly, though he was clearly a genius who had a mind that was far ahead of the curve, much of his thinking had little to no direct influence on subsequent science owing to the fact that his musings were unpublished during his lifetime.
Lewis Carroll's Diaries by Lewis Carroll
Born as Charles Dodgson, this writer is no doubt most famous for his playful and mischievous excursions into nonsense and its relationship with logic and reasoning in Alice's Adventures in Wonderland and the sequel Through the Looking-Glass. Despite his eschewal of so-called 'normal logic', perhaps you will find the final entry explained in rather reasonable terms.
As an avid puzzler logician, he also developed a long and fruitful relationship with the Christ Church, Oxford where he lived for most of his life, regularly attending debating societies and other religious groups.
The historical events surrounding this famous writer are numerous and incalculable, and likewise his diaries of full of significant moments, especially for those already interested in his work (and how a German composer can be another).
His diaries mysteriously lack several volumes of his life, notably between the ages of 21 and 31 when he is purportedly supposed to have written many love poems and experienced something of a sexual awakening. Try and fill in the gaps yourself!
The Diary of Frida Kahlo: An Intimate Self-Portrait by Frida Kahlo
Through the mass export of cultural images via the internet, the art and philosophy of Mexican painter Magdalena Carmen Frida Kahlo y Calderón have become known to all. Her art style was heavily indebted to Mexican popular culture and folk art, using this as a basis to explore questions of identity, postcolonialism, gender, class, and race within Mexican society.
These paintings often bore strong autobiographical likenesses to real life, purposely blending realism with fantasy to make clear that the line between the two is never as clear as you might think. This is something readily reflected in her diaries which you can see for yourself. Hers was clearly a playful spirit who found joy in the surreal and mysterious.
After her death in the 50s, her work was relatively unknown until it was rediscovered by art historians and activists. By the 90s, she had become a well-recognized and beloved figure in art history, regarded as an icon for the Chicanos, feminists, and the LGBTQ+ community, and celebrated as emblematic of Mexican national and indigenous traditions.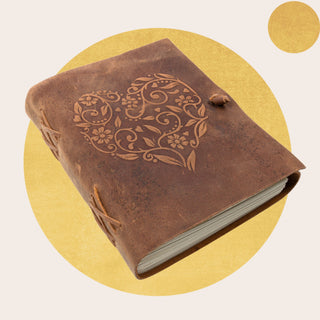 Heart Journal (Blank)
Final Words
So, there you have it! Hopefully, one of these will appeal to you, though there are plenty more.
FAQs Famous Diaries
WHAT IS THE MOST FAMOUS DIARY?
The most famous diary is likely the diary kept by Anne Frank while she and her family were fleeing Nazi occupation and the genocide of the Jewish population during the Second World War.
WHAT FAMOUS PEOPLE HAVE KEPT DIARIES?
Most political and historical figures will have kept a diary at some point, even if just as a way of keeping track of what has happened and how they felt about it. Nowadays, it is rare for a famous person not to at least publish their memoirs as some stale cash-grab when their career has seen better days.
WHAT IS AN EXAMPLE OF A HISTORICAL DIARY?
Think of any notable historical figure and the chances are that they will have kept a diary of some kind. Heck, even Hitler is purported to have had a diary, or at least a hoax of one. And if that one wasn't legit, then there are always his dental records to scan - he was petrified of the dentist.