Are you looking to show your groom-to-be the time of his life before sending him out into the world of married life? Are you looking to keep it a surprise and, thus, unable to ask him directly what he would like from a bachelor party? Do you want a simple and cogent list of the best places for a bachelor party?
Then you're in luck, for we will be outlining below 10 of the best places for a bachelor party so you don't have to!
1. Miami, Florida
Who can deny the pull of bachelor party destinations like this? Spots like South Beach in particular have become synonymous with some of the best bachelor party destinations out there. And why wouldn't it considering how much there is to do there?
Yes, besides getting trashed on cheap liquor all the time, you can actually engage in some activities with your homeboys. And there is plenty to be getting on with, including art galleries, museums, and beaches galore. And, when you get hungry, there will no doubt be a restaurant around the corner to tide you by.
2. Nassau, Bahamas
Make your bachelor party destination stand out a little more by visiting Nassau deep in the heart of the Bahamas.
So many bachelor parties eventually find themselves in Las Vegas, but Nassau (specifically the Baha Mar Resort) blows Vegas out of the water, concentrating over 40 restaurants and lounges, the largest casino in the Caribbean, a golf course, beach club, and waterpark into its slim confines.
Indeed, it's no wonder this is one of the top bachelor party destinations, for when you are nursing a hangover, you don't need to leave the resort for anything whatsoever.
Leather Phone Holster
3. New Orleans, Louisiana
But, what if you fancy choosing from one of the less international bachelor party destinations? Well, fear not, for there are places within the United States that have something continental about them.
One of these places is, indeed, New Orleans, the distinctly European-flavored music city in the heart of the American South, a place where you don't need to worry about eating healthy while traveling. If you are in charge of the bachelor party planning, then you shouldn't have a difficult task in finding something to do. Besides pool parties in your hotel, there are also tours of the famous wetlands, or even just hopping from bar to bar on the world-famous Bourbon Street.
4. Necker Island, British Virgin Islands
Perhaps one of the more decadent destinations in the world in the world for bachelor party locations, Sir Richard Branson's Necker Island is definitely one of the more extravagant spots for a destination bachelor party.
Traveling in style all the while, you will traverse the distance between yourself and the island in a private jet suited to only six passengers, delivering you straight to the Bali Lo complex. Here, you will be met with a spacious two-story suite and a private pool. Yes, water sports equipment is included!
5. Punta de Mita, Mexico
Those still wedded to their romantical notions of being a counter-cultural surfer flying in the face of social norms might want to check out this surf-inspired getaway. For the groom seeking a laid-back escape from sin city submerged in sun, surf, sand, and slop, then check out one of Mexico's premier surf breaks.
Beyond surfing, though, there is still plenty to do, including whale-watching tours, private catamaran parties, or simply watching local surfers at their work from the comfort of your boutique hotel. For this reason, this is one of the best bachelor party places for anyone who has ever enjoyed counter-culture through the lens of capitalism.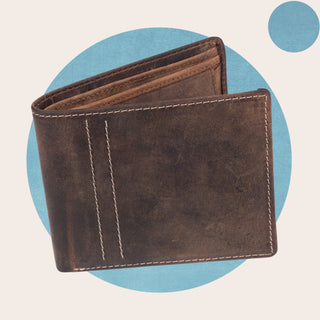 Men's Wallet
6. Hella, Iceland
Far from simply being the birthplace of experimental pop icon Björk, there is much more to Iceland than any of the xenophobic 'bantering' from the neighboring Scandinavian countries would have you believe.
Chief among Iceland's pulls is the incredibly clear skies that make an apposite canvas for the Aurora Borealis regularly. In a playful contrast with some of the more tropical climes on this list, you can also explore some of Iceland's black sand beaches, glaciers, and geysers for some more astral bachelor party activities.
7. Jackson Hole, Wyoming
Why, oh why, did you ever leave Wyoming? When bachelor party ideas get this Western, it's hard to even answer why, so why not let your groom-to-be saddle up and ride a horse into the sunset with his bachelor party group and celebrate the last time?
No other bachelor party location is going to allow you such a close relationship with the wild west as this one. Indeed, you can indulge your fantasies as much as you like, going as far as having a custom hat fitting so that you will always have a memento of this momentous moment.
8. Toronto, Canada
Perhaps, you are still lusting over a bachelor party destination that is a little closer to home, somewhere that you have never been before but have always wanted to.
Well, why not try the bustling metropolis of Toronto?
Visiting a city like Toronto is just like visiting any other bustling city apart from the fact that this one is supremely underrated and never given its fair dues in terms of size and respect.
Indeed, anything you could hope to do in any other city, you will find on display here, and plenty more!
9. Tucson, Arizona
Still haven't quite got your fix of the wild west from your bachelor party? Worried about booking flights? Then fear not, for Arizona has got you covered also! Here, you can fully immerse yourself in an authentic snapshot of the Southwest American scene, so much so that it will be a small wonder if you make it back without bearing a catatonic depression.
Still, though one of its feet is firmly planted in the past, the other foot is a thoroughly modern one, pressed deep into soil that is eco-friendly and welcoming of all-comers, especially in its burgeoning and exciting nightlife.
10. Palm Springs, California
Boasting a yearly average of 350 days of sunshine, and even more pools, this is a culture that many can certainly see themselves in, especially if they are more used to overcast skies and skyscrapers tearing any hope from thy heart.
Besides the seemingly endless swimming pools and hot sunshine, there are plenty of other things to be getting up to, including the largest collection of mid-century architectural designs or taking a tour through the Indian Canyons.
This is a place where the urban enchantments of a rich city meet the grand scenery of the outback in a fitful way.
Final Words
So, there you have it! Hopefully, you are now feeling ready and able to book that bachelor party and get you and your boys away!
FAQs Best Places for a Bachelor Party
HOW DO I CHOOSE A BACHELOR PARTY LOCATION?
Unless it is a surprise bachelor party - something that is inherently pretty damn difficult to do - then the best thing you can do is consult the groom in question. Visiting somewhere that is meaningful to them would be a great way to get off on the right foot. If the groom, however, doesn't know for sure where they want to go or what they want to do, then there are plenty of tried and tested locations you can go for.
DOES EVERYONE PAY FOR A BACHELOR PARTY?
This will vary depending on the relative wealth of the groom in question. If the groom is particularly wealthy, then it would make sense for them or their family to cover at least a large portion of the costs such as accommodation and flights. If, though, the groom is not so wealthy and the bachelor party expedition is more local, then it would make more sense for the attendees to pay their own way.
WHAT ARE SOME HACKS FOR THE BEST BACHELOR PARTY LOCATIONS?
Though the more common practices at bachelor parties include being privy to pole-dancing while gulping down gallons of beer, you might also invest some time in the following: hunting, riding bareback on a horse into the sunset, surfing, skinny dipping, spooning, adventuring out into the wilderness with no hope of returning, going out on safari, watching the sunset on an open horizon, etc.