What is a weekender bag? Do you need one? How do you know and who do you ask?

All this and more today as we explore the ins and outs of this most compelling bag!

At root, a weekender bag is simply a type of bag for weekends or trips of a few days. But wait, there's more!
What is a Weekender Bag, then?
Otherwise known as a weekend bag, this is a type of bag that is, you guessed it specifically used for short trips, typically taken on a weekend away. This is, though, to altogether pigeonhole this type of bag into a specific purpose when, really, weekender bags can be incredibly versatile.

Most weekender bags are actually a variation on a duffel bag, a much-beloved travel bag that has seen plenty of use alongside the dopp kit and the backpack.

Proportionally, a weekend bag is a way for you to travel unencumbered while still being ready for anything. It is typically bigger than a backpack but smaller than a suitcase, making it the perfect size to pick up and go with whenever the need to travel takes your fancy.

Thankfully, this size is just right to take on a flight as carry-on luggage, though don't forget to declare it beforehand, for even carry-on luggage such as this costs money to bring along. Still, though, some of the best weekender bags can get away with it.

It is best, though, to check the specific requirements of your airline. Some weekend bags might simply be too big to carry onto the plane.

Sure, they all seek to serve a similar purpose but they are not manufactured to exacting standards. Thus, the sizes can vary considerably throughout the market. Do the right thing and measure your own yourself before proceeding and including a trolley sleeve with your own.

If you are going on a road trip, then size is likely going to be no object, so go right on ahead and take a weekend bag however big you like.
What Makes a Good Weekend Bag?
The best carry-on bag will preferably have a soft exterior with at least one zippered enclosure. Likewise, though, this exterior material should be made of a durable material that can put up with the difficult demands of regular travel. Similarly, the hardware should also be durable enough to last.

A zipper is, like the crotch of a cyclist, the first thing to wear out on a trip. By finding a classic weekender bag made from durable materials like leather or waxed canvas, you can be sure that you are buying a piece of luggage that is going to last.

There isn't much worse in this game than having to constantly replace your luggage. It is well worth the extra expense to buy a decent item of luggage and eschew the use of a tote bag through customs.

Traditional weekend bags will typically include two carry handles, with most bags for a weekend trip also including a longer strap for carrying at arm's length or over the shoulder. The best weekender bag is one that is going to cater to the fact that the two carry handles are likely to cramp both your style and your arms.

Thus, when looking for a good weekend bag for yourself, search for one with a shoulder strap that is not only adjustable but also removable and padded. Likewise, the carrying handles should also be made of a durable and comfortable material that isn't going to get on your nerves through repeated use.

Any decent weekend bag will also be open and roomy enough to contain all the various things you need for a few days away from home, typically feeling at least one pocket for smaller items to be kept together in one neat place.
Stitching
It is not enough that you choose the best materials. It is equally important to look at the craftsmanship. A strong and durable bag is only as good as its stitching, so no matter how high the quality of the material is, if it is poorly made then it will break as easily as low-quality material. This is very important to consider, especially if you are packing heavy.

So, be sure to look closely at the stitching patterns. If you are unsure what to look for, to begin with, take a closer look around the load-bearing areas which will receive more pressure. Strong stitching is done in a way that no matter which direction you pull it will stay in place.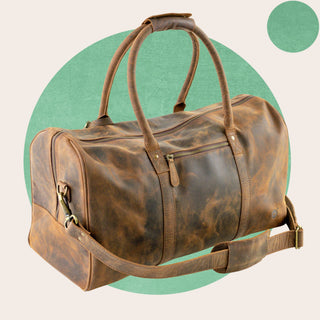 Leather Duffle Bag
Weekender vs Duffel Bag
So, while these two bags may look similar, they can actually be quite different.
A weekender bag is not necessarily a specific type of bag, you must realize, but rather a bag that is used for the purpose of going away on short trips of a few days (or weekends). A duffel bag is a specific type of bag made to particular specifications.

Some, however, disagree and believe that there is no difference between the two and, to a certain extent, they are not wrong. These people tend to believe that a weekender bag is a variant form of a duffel bag, a design that doffs its metaphorical hat to the duffel bag but that is in some way different from the original duffel design, whether in material or otherwise.

Despite these various differences, both are incredibly well-suited to traveling for shorter lengths of time, thanks to the adjustable shoulder strap (shoulder straps that are also padded are a must), spacious innards, and convenient slip pockets.

So, if you haven't already got the idea, no weekend getaway is quite complete without an overnight bag of some kind, whether or not that's specifically a weekend bag or more generally a duffel bag.
Final Words
So, there you have it! Hopefully, you have found out whether or not this type of bag is for you!
FAQs What is a Weekender Bag
WHAT IS THE PURPOSE OF A WEEKENDER BAG?
The clue's really in the name. A weekender bag is a bag that is typically used for weekend trips or trips that otherwise take up the two or three days that a weekend consists of. Thus, this type of bag is called upon by those taking such trips who need a reliable and sturdy bag to get the job done.
WHAT CAN FIT IN A WEEKENDER BAG?
Since a weekender bag is intended to keep together the various things that you are to take on a weekend trip (or another trip that lasts for a few days), what can fit will very much depend on what kinds of things you usually take on such journeys.
HOW BIG SHOULD A WEEKEND BAG BE?
This will very much depend on how much and what kind of stuff you are likely to take on a weekend trip away. Similarly, you are also going to want to make note of the various size requirements that you need to follow when going on an airplane. Not all weekend bags are created equal and, thus, you may need to measure your own against these requirements, if only for some peace of mind.
WHAT IS THE BEST WEEKEND BAG?
The best weekend bag will no doubt be different for each individual person, though there are no doubt some things that every person's weekend bag might feature, including a roomy amount of space that fits any size requirements required as well as a soft and supple material.