Looking to expand your horizons and learn a little about something new? What if we were to tell you that split leather is something that has almost certainly been under your nose this whole time, lurking in the corners of almost every vehicle and every domestic environment?
Far from instilling within you a keen sense of paranoia and a feeling of impotence, it is our hope that this knowledge will simply better inform your thinking later on in life.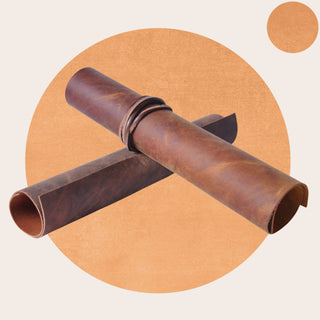 Leather Craft Bundle Set
The Basics
Any leather - whether full-grain leather or otherwise - is essentially the skin of animal hides repurposed for use as a material by which to make other things. If this skin is divided into several layers over the entire surface, this process is called splitting, the process by which split leathers come into being. This split-grain leather is essentially a way of splitting up the grain side with the flesh side.
Thicker leather - such as cow leather - is around 5 to 10 millimeters thick and thus can be split into grain split or top-grain leather split. Sometimes, genuine leather might even be wide enough for a 'middle split', something which is otherwise known as a drop split (as in drop split leather).
When adjusting the machine for splitting, a leather tanner must consider the thickness of this stage of the leather vs later. The skin will be thicker at this stage due to the high water content, something that not only makes the leather thicker but also around 3 times heavier. Thus, it is important to consider the final product instead of the present item.
The tanning method also plays a part in this process, with vegetable tanning agents filling the more and resulting in a thicker leather that is often attributed to having higher quality. Once it has left the tannery, the phrase 'split leather' is no longer used.
Some Split-Leather Products
Perhaps it would be easy to visualize these practices with some real-world examples.
Clothing
In the manufacture of clothing, pork split and goat suede are rather common. Pig leather is generally at least a little stiffer and not as tear resistant as the similarly-popular goat suede. In this way - and by the logic of clothing manufacture and luxury - pig leather is generally used to make leather clothing of lesser quality.
Shoes
This is perhaps the area of split leather manufacture where you will most likely have caught glimpse of it in the wild.
Instead of overly using real leather, companies that manufacture sneakers are often drawn towards using split leather instead. This is due to the fact that the material called split leather offers considerable benefits of breathability when compared to that of bonded leather.
Furniture
Other split leathers and their uses involve the manufacture of furniture. Specifically, this is the manufacture of furniture in lower price brackets. Where better leather is processed and used to make the contact surfaces like backs, seats, and/or armrests, the rest of the leather used - either on the outsides and/or backs of furniture) is coated split or imitation leather.
In some instances - when the item of furniture is priced even lower - the entire thing is covered using this coated split leather. Such furniture tends to have a considerably shorter lifespan, something that benefitted those more astute buyers who tend to pay heed to the length of a warranty and whether their sofa lasted as long as the warranty promised to protect it.
Cars
You can even find this kind of coated or embossed split leather in car interiors. This is especially the case in low-contact areas such as door linings and headrests. This is often unbeknownst to a buyer who might, say, be buying a luxury car under the impression that its interiors are as decked out as its high price point suggests.
Despite the fact that no car manufacturers provide any information about processed split leather in their vehicles, companies that specialize in split leather manufacture suggest that an estimated 10 million steering wheels have been produced using this method.
Damage
One of the first realizations that the leather item you own is not of as high a quality as you previously thought is when it starts to become susceptible to damage. This is especially true of split leather produced at lower prices, where the coating dissolves, the leather tears, and also becomes sticky in areas of repeated and prolonged contact with skin and hair.
Cheap, coated split leathers are more likely to detach from the film layer, producing characteristic welts, not unlike various natural phenomena like geysers and volcanoes. Similarly, the leather can just tear entirely, far more susceptible to cracking fibrously.
Leather Craft Bundle
Final Words
So, there you have it! Hopefully, you are now feeling more knowledgeable and ready to impart this knowledge to a random stranger on public transport who definitely did not ask for it.
FAQs Split Leather
IS SPLIT LEATHER REAL LEATHER?
Sometimes, yes, split leather is real leather. The extent to which the split leather is real leather will depend on the overall price of the product. More expensive products will have far more care and attention put into the process as a whole, meaning that there is likely to be more quality leather in the finished product. Inversely, this is less likely to be the case for bonded and coated split leather products.
IS SPLIT LEATHER ANY GOOD?
This depends on what you are using it for and why. If you are manufacturing something and looking to get the costs down, then using split leather can be a great way to maximize your materials and profits. In the manufacture of furniture, for example, the use of split leather is far less binary, with many manufacturers opting to use split leather in parts of, say, a sofa that are less likely to be touched, thus driving down the costs overall. For quality, though, there is only so far split leather can really take you unless you are talking about suede or something like that.
IS SPLIT LEATHER LOW QUALITY?
Not always, though there is a tendency for split leather's quality not to be so good, and certainly not as good as full-grain leather and the like. This is primarily due to the fiber structure of split leather, which is not as strong as top-grain leather. This results in a considerably reduced tensile strength, though interestingly enough embossed split leather and corrected grain leather are not all that easy to distinguish from one another. This is a quality that goes down the atomic level, as it were.
WHAT IS SPLIT LEATHER USED FOR?
Split leather is used for a multitude of things and the chances are that you have likely come across something made from split leather already (perhaps even today)! Often, this material is used in the manufacture of sneakers because leather in this form is far more breathable than full-grain leather. Split leather is also regularly used in the manufacture of furniture, both within the home and increasingly the upholstery of vehicles. By using this more affordable material in areas of furniture that do not come into contact with humans as regularly, manufacturers can cut costs and offer cheaper products as a result.